[bsa_pro_ad_space id=4]
25-06-2014 – 01-01-1970
Auction sale 223: Ancient Jewelry / Gems, Cameos, Seals
Gorny & Mosch re-discovers an old collecting field: engraved gems and cameos
AMUGS, that is how the most renowned series of numismatic monographs in Germany published by the German Archaeological Institute is abbreviated. AMUGS stands for 'Antike Münzen und geschnittene Steine' (English: Ancient coins and cut stones), which is an interesting choice of title in the light that not a single volume was ever published dealing with the latter. When the title was formulated, in 1969, it referred to an age-old combination: by tradition, every coin cabinet not only housed coins and medals but likewise gems, cameos and seals. That simply may have had something to do with the sizes since both material genres comprise objects of a rather minor format that were stored in the one and the same cabinet as early as Renaissance times. Perhaps the registrars likewise kept in mind that the art of cutting stones on the one hand and the art of cutting dies on the other hand are so closely related to each other that these activities were often performed by the same artists.
1101: Gem made of carnelian with bust of Apollo. Hellenistic, 2nd cent. B. C. B 1.8 cm. Tiniest chips. Estimate: 5,000 euros.
Munich auction house Gorny & Mosch, specialized in coins and medals, is now going to auction off a collection comprising 250 cameos, gems and seals in its auction sale 223, which will be of interest not just to the collector of ancient coins: after all, a major part of the items was created in the periods of Baroque and Classicism, and they reflect not just classic topics and figures but contemporary ideas as well.
1157: Portrait of a French politician (Raymond Poincaré?). Paris, end of 19th cent. 4.4 x 3.8 x 1.6 cm. White agate layer, embedded in large, cut amethyst. Mounted as brooch in gold and platinum with brilliants. On golden setting signed MELLERIO DITS MELLER PAIX PARIS. Estimate: 10,500 euros. Intact.
A case in point is the virtual gem of the collection, a cameo in white agate, set into a large polished amethyst (1157; estimate: 10.500 euros). The magnificent item presumably depicts Raymond Poincaré who so rigorously disapproved of anything German before, during and after WWI and who became the driving force behind the occupation of the Rhineland. This piece of jewelry, mounted as a brooch in gold and platinum and embellished with brilliants, was designed by one of the most famous jewelers of the 19th century, by Maison Mellerio at Paris that continues until the present day to sell expensive jewelry in glamorous Rue de la Paix and that celebrated its 400th anniversary in 2013.
In ancient tradition, the Renaissance rediscovered the ancient custom to express one's beliefs in a signet ring bearing some kind of elaborate depiction. Hence, the images cut into the stone, representations of deities, historical figures and saints like Athena and Dionysus, of Socrates and Alexander the Great or Ignatius of Loyola became a manifestation of its wearer's attitude to life. The portrait of Poincaré on a brooch, too, expressed the political attitude of its wearer – be it a man or a woman –, for everyone plain to see.
The accomplished design of these gorgeous items is in no way inferior to its models of ancient times:
1178: Dionysian scenery with satyrs lifting a wine-intoxicated silenus. Cameo, probably malachite, mounted as brooch in modern gold frame, gold mark at the edge. Presumably Italy, 16th cent. 3.9 x 2.5 cm. Intact. Estimate: 5,000 euros.
Let us look for example at a cameo from 16th century-Italy that once was part of the collection of a Russian prince. It depicts a wine-intoxicated Silenus whom a satyr tries to right. The Dionysian setting is framed by further satyrs as well as a billy-goat and a donkey (1178; estimate: 5,000 euros). Generally speaking, the drunken entourage of Dionysus was very popular as subject, as evidenced likewise by a large, oval-shaped cameo made of sardonyx, that was being produced in the second half of the 17th century. The cameo exhibits the bust of a wine-intoxicated Silenus with the facial features of Socrates, an association that goes back as late as Plato who already drew that parallel when he thought about the bald head and the large nose of his mentor (1162; estimate: 6,000 euros).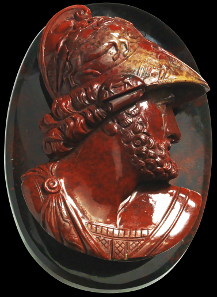 1215: Menelaus with decorative helmet. Presumably Italy, end of 18th cent. 7.5 x 5.5 x 3 cm. Large cameo, bloodstone. Tiny bruise at the lower rim of the bust, extremely fine condition. Estimate: 7,000 euros.
To more heroic times takes us a cameo made of bloodstone made in Italy at the end of the 18th century with the depiction of the cuirassed bust of Menelaus. By the way, that subject wasn't invented all of the blue but refers to a detail of the Pasquino Group so famous with archaeologists: the moment Menelaus spots Hector approaching when he is just recovering the body of dead Patroclus (1215; estimate: 7,000 euros).
Naturally, Gorny & Mosch not only offer the modern pieces but their ancient models as well. That department's highlight is a large quartz cameo with a depiction of Gorgo, rich in detail and rendered in a highly three-dimensional manner, which probably was worn as an apotropaion once (1090; estimate: 5,000 euros). Of Classical beauty is a Hellenistic intaglio made of red carnelian with the draped bust of Apollo to the left (1101; estimate: 5,000 euros). Presumably everyone would like to know what the white-grey cameo offered under lot no. 1100 meant to its original owner. You see, it features an ear, held by a thumb and an index finger, bearing the writing: 'Remember!' (estimate: 4,000 euros).
By the way, these highlights don't provide an accurate representation of the estimates of all objects. Ancient and modern gemstones alike can be bought for as low a sum as 200 euros. In addition, there are a good number of lots that come with rather interesting prices.
1001: Large neck ring with gold coins of Philipp II. Roman, around A. D. 244. Estimate: 65,000 euros.
Let's end this auction preview with an object combining ancient jewelry and numismatics, with a very special necklace: to the torques with its two ends, each bent up to form a hook, two set gold coins of Roman Emperor Philipp II, son of Philippus Arabs, are attached. Parallel pieces to this rare neck ring are housed in such important collections as the Metropolitan Museum of Art in New York or the Benaki Museum in Athens (1001; estimate: 65,000 euros).
To much earlier times date a Hellenistic pair of earrings with sphinxes and garnets (Lot 1005; estimate 40,000 euros) and a Hellenistic gold ring with a gem made of garnet depicting the tiered busts of two women (Lot 1006; estimate: 40,000 euros).
Have we successfully teased you? Then check out the catalog on the internet.
There you also will find auction sale 222 featuring works of Ancient Art. On that auction you can also read an auction preview here.
Gorny & Mosch gladly provides you with a printed copy as well. Request your copy at Gorny & Mosch, Giessener Münzhandlung, Maximiliansplatz 20, D-80333 Munich, phone +49 / (0)89 / 24 22 643-0, fax +49 / (0)89 / 22 85 513. The next auction sale 'Ancient Art' is scheduled for December 2014. Consignments are welcomed until September 2014.