[bsa_pro_ad_space id=4]
16-06-2015 – 01-01-1970
Auction 231: Ancient Art
Ancient Art at Gorny & Mosch Sparked Great Interest
Spectacular, gorgeous and historically highly interesting material was sold in auction 231 'Ancient Art' held by Gorny & Mosch. The customers showed their interest for the wide range of carefully selected objects by great delight in bidding. Thus, many objects obtained outstanding, sometimes surprising, results.
1: Large Herculaneum Woman. Roman Imperial Times, 1st cent. AD. H 34 cm. White finely crystalline marble. Estimate: 40,000 euros. Hammer price: 85,000 euros.
One of these objects was already lot 1, a 34 cm high head of a Large Herculaneum Woman dating to the 1st century AD. The object with its museum-like quality had been estimated at 40,000 euros. It went under the hammer for 85,000 euros, though.
A real surprise was the left arm of an Aphrodite made in the 2nd century AD. The auction catalog had listed the finely worked piece for 5,000 euros. It changed hands for a bid as high as 30,000 euros.
47,000 euros were obtained by a menorah, made in the Levant between the 5th and the 7th century AD. Published in 2009, the object was exhibited in the Jewish Cultural Centre, London.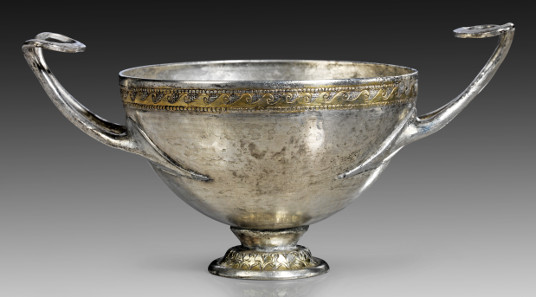 37: Hellenistic silver bowl, 3rd cent. BC. H with handles 8.6 cm. W with handles 17 cm. Ex D. D. Collection, London, purchased between 1975 and 1980. Estimate: 5,000 euros. Hammer price: 22,000 euros.
A truly marvelous item was the Hellenistic silver bowl with its elongated handles dating to the 3rd century BC, which had been offered for sale for the modest estimate of 5,000 euros. The hammer went down at 22,000 euros.
A lot of history for really little money – that was what the lucky winner of lot 60 got himself with a terra sigillata bowl depicting an animal fight. The fighting gladiators surround a damnatio ad bestias, a particularly cruel type of execution to which likewise coin counterfeiters were sentenced. The interesting object had been estimated at 3,000 euros. The hammer went down at mere 3,400 euros. That was less than the price obtained by a terra sigillata bowl with floral decoration from La Graufesenque. It started at 2,500 euros and was sold for 4,000 euros.
137: Mesopotamia. Stone duck-shaped weight, 1500-1100 BC. Ex S. W. Collection, Chiemgau, 1990s. Estimate: 1,500 euros. Hammer price: 10,000 euros.
More than one surprise was caused by the objects from the ancient Near East. Take the bronze halberd-axe from Luristan, made in the 7th century BC, for instance: purchased in 1978, the elegant item was called out for 1,200 euros, to be sold for 8,500 euros in the end. The same result was yielded by a panther head from Mesopotamia from the Early Dynastic Period. The marvelous item, made of greenish steatite with inlaid eyes, had carried a pre-sale price tag amounting to 1,000 euros. 10,000 euros was the hammer price for a stone weight in the shape of a duck, notabene on an estimate of 1,500 euros. A possible explanation for the high price might be that the stone measuring weight is of interest to metrology: weighing 243 grams, it was equivalent to 30 Babylonian shekels of 8.4 grams each.
287: Torso of Diana of Ephesus. Late 2nd cent. AD, Asia Minor. H c. 61 cm. Ex B. H. Collection, London, purchased in 1968. Estimate: 15,000 euros. Hammer price: 90,000 euros.
The auction's stunner was a torso of Diana of Ephesus, with her chest being decorated by pendants made of bulls' testes with which the cult statue was ritually adorned to perform the hieros gamos, the sacred marriage, as mistress of animals. The catalog had listed the almost 61 cm high torso for 15,000 euros. The hammer went down only at impressive 90,000 euros, making the torso the most expensive object of the auction.
387: Mycenaean Psi type idol, 1300-1100 BC. H 11.7 cm. Ex J. Z. Collection, Switzerland, purchased in the 1980s. Estimate: 1,000 euros. Hammer price: 5,000 euros.
Yet it did not always take that much money to acquire great art. That was proven by, amongst others, three elegant Mycenaean idols of the Psi type. All three statuettes, roughly 12 cm in height and decorated with geometric patterns, had been estimated at 1,000 euros. They obtained hammer prices ranging between 2,500 and 5,000 euros.
A collection of ancient objects can be assembled for much less money, as was proven by the multiple lots. Lot 564 comprised three Greek vases made in the 5th century BC. Estimate and hammer price were identical: 500 euros. This is not much for three genuine testimonies from the time of the great Pericles.
All results are published online and can be viewed online. The next auction 'Ancient Art' is scheduled for December 2015. Consignments are welcomed until the end of September 2015. Further information is available at Gorny & Mosch, Giessener Münzhandlung:
Maximiliansplatz 20, D-80333 Munich, phone +49 / (0)89 / 24 22 643-0, fax +49 / (0)89 / 22 85 513 or email.