[bsa_pro_ad_space id=4]
16-12-2014 – 01-01-1970
Auction sale 227: Ancient Art
Works of Ancient Art at Gorny & Mosch
Roughly 650 lots comprising ancient works of art will be offered for sale by Gorny & Mosch in Munich on December 17, 2014. Every connoisseur will find something interesting, whether a larger than life-sized bronze torso or a Classicistic snuff box. The price spectrum ranges from 60 euros to 150,000 euros. A special focus of this auction is jewelry as well as gems and cut stones: originals and antique-like imitations from Classicistic times.
1A: Torso of a male god or hero. Roman copy of a Greek model. Finely crystalline, white marble. Height (without plinth): 94.7 cm. From a German private collection, prior to that at Gordian Weber, Cologne; ex Christie's New York December 12, 2002, 233; prior to that part of private collections, first in Switzerland, then in Germany. Estimate: 150,000 euros.
As always, the sale kicks off with some very special items. Let us first look at the object with the highest estimate, a male torso made of marble from Roman times following a model from Greek Classical times. The idealized sculpture of a young man mirrors the Classical ideal of beauty with the engaged right leg and the free left leg as well as – in perfect chiasm – his relaxed right arm and the tense left arm. The wonderful work of art that probably imitates a bronze original and, the statics of marble being different, cannot do without a supporting tree trunk is estimated at 150,000 euros.
The dancing maenad dating from the 1st century A. D. will likewise find its admirers. Her ecstatic movements are brilliantly captured in the white marble. The torso, estimated at 40,000 euros, comes from a French collection and had been auctioned off in the Hotel Drouot in the 1970s. A charm of another kind exhibits the Greek torso of Apollo. The marble statue was made in the first half of the 5th cent. B. C., at the turn of late Archaic and early Classical art (estimate: 55,000 euros).
16: Larger than life-sized bronze torso (part of an Imperial portrait?). Roman, 1st – 2nd cent. A. D. H. 54 cm. From a Dutch private collection. Acquired from the Bert van der Gen Collection in 2002. Acquired on the art market in Amsterdam in 1969. Estimate: 65,000 euros.
Another highlight of this auction sale is a larger than life-sized bronze torso, the upper body of a nude man dating from the 1st or the 2nd cent. A. D. This elaborately sculpted work of art very likely was part of an imperial statue once. The emperor was depicted in heroic nudity, enthroned like Jupiter. The object from the Bert van der Gen Collection is estimated at 65,000 euros.
Another magnificent object is a fulcrum, i.e. the head of a Hellenistic kline. As befitting its function – it certainly was one of the beds on which the guests of a symposium used to recline – the fulcrum is decorated with Dionysiac imagery. Juvenile Dionysus is accompanied by a naturalistically depicted panther. The estimate of this monumental testimony of the Hellenistic minor arts is 30,000 euros.
47: Mastoid silver bowl. Hellenistic, 3rd – 1st cent. B. C. H. 9 cm. From the possession of a community of heirs, acquired in the 1980s. Estimate: 50,000 euros.
A drinking cup made of silver would be a good match, both in terms of subject and chronology, which likewise was made during Hellenistic times. Its shape is called 'mastoid' because it imitates the drinking vessels shaped like a breast nipple (= mastos) that were developed in Corinth albeit our cup does not end in a nipple but has a flat base. It exhibits an elaborate decoration: a gilded frieze of wine tendrils is circulating below the lip (estimate: 50,000 euros).
Anyone more fond of military history will surely be attracted by the 3 gold phalerae from the time of the soldier emperors. They served as military decoration and were worn attached to a complex network of leather straps (estimate: 30,000 euros).
85: Cut glass bowl. 5th – 4th cent. B. C. H. 5.8 cm. From a US-American private collection, 1980s. Estimate: 15,000 euros.
From an American collection comes the extraordinary glass bowl made in Classical times, in the 5th or the 4th cent. B. C. (estimate: 15,000 euros). According to ancient writers, Aristophanes for example, such glass bowls were used at the Persian royal court on festive occasions. Glass vessels from this early period are extremely rare which is why only few parallel pieces are known, for example in the Landesmuseum Stuttgart, the Corning Museum of Glas, the British Museum und in Düsseldorf.
In the 3rd millennium B. C. a Central Greek marble idol was produced that has been estimated at 35,000 euros. It belongs to the S. M. Collection and was acquired around 1965.
256: Gold ring of faith of Constantinus I. Roman, 4th cent. A. D. From G. G. Collection, prior to that part of a European private collection since the 1990s. Estimate: 11,000 euros.
Historically interested collectors will surely consider the gold ring of faith with the name of Constantine the Great something of a relic. After all, rings like this one were presented as reward to merited officials and military officers. Perhaps Constantine himself held this ring in his hand before he gave it to the future wearer (estimate: 11,000 euros).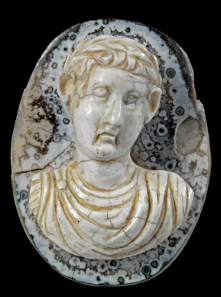 290 Cameo with the depiction of Tiberius. Roman, A. D. 14 – 37. 4 x 3 x 1.65 cm. Layered agate with frontal bust of Emperor Tiberius with laurel wreath, paludamentum und armor. From an English private collection. Ex Gorny & Mosch 154 (2006), 173. Estimate: 12,000 euros.
This auction sale likewise offers numerous gems and cut stones for sale, including original pieces such as a cameo with the frontal bust of Emperor Tiberius with an incredibly high relief (estimate: 12,000 euros). Many collectors will be intrigued by the Classicistic objects, some of which display an even more ornately execution than their ancient models. A case in point is the cameo made of black stone graced by the image of Tsar Paul I (1796-1801) that is inserted into an ivory snuff box (estimate: 1,000 euros). This section also consists of items with estimates as low as 60 euros! You may bid for a gorgeous, intact layered agate from the K. M. Collection, for example, that carries a pre-sale price tag of 80 euros and features the head of Dionysus. This work of the minor arts was made in the late 18th/ early 19th cent. and follows a Hellenistic model from Alexandria.
Honestly, you don't have to be a millionaire to collect interesting ancient art. The only thing it takes is a careful inspection of the multiple lots on offer. Amongst others, they include a convolute of Coptic textile fragments a collector had acquired between 1954 and 1976. The 10 pieces which are decorated with birds, hares, ornaments and saints, come with a modest estimate of 500 euros.
The whole catalog can be viewed online here.
Gorny & Mosch will also be pleased to send you a printed catalog. Request your copy at Gorny & Mosch, Giessener Münzhandlung, Maximiliansplatz 20, D-80333 Munich, phone +49 / (0)89 / 24 22 643-0, fax +49 / (0)89 / 22 85 513.