[bsa_pro_ad_space id=4]
16-06-2015 – 01-01-1970
Auction 231: Ancient Art
Ancient Art at Gorny & Mosch
Strictly speaking, Terra Sigillata is not that extraordinary. Any number of manufactures produced this famous kind of pottery that had been developed in Arezzo at the end of the 1st century B. C. Thanks to the use of moulds, it had become possible to facilitate and to expedite the production to the effect that the attractive vessels could have been delivered to the entire Roman world, at a price that was even more attractive. As mentioned above, Terra Sigillata actually is nothing out of the ordinary but the selection of Terra Sigillata which Gorny & Mosch offers as part of its Auction 231 on June 17, 2015, is worth more than a second look.
59: Large Terra Sigillata plate. Roman, Arezzo, Claudian times, A. D. 40-50 H 5.7 cm. Diameter 31.7 cm. Estimate: 10,000 euros.
A special highlight is the large Terra Sigillata plate with a diameter of almost 32 cm that had been produced in the manufacture of A. Manneius Kapella between A. D. 40 and 50. Not a single fragment is missing and it may serve as an example to illustrate how this comparatively inexpensive tableware may have looked like on a richly decorated Roman table. Dancers and acrobats are whirling across the rim with its surface carved in relief. In the middle of it, an Eros is playing a string instrument. The sandal-shaped monogram of the producer has been stamped on the interior. The estimate of this rare plate is 10,000 euros.
60: Terra Sigillata bowl depicting 'damnatio ad bestias' scene. Roman, La Graufesenque, 2nd-3rd cent. A. D. H. 12.9 cm. Diameter 22.6 cm. Estimate: 3,000 euros.
To only 3,000 euros amounts the estimate of a Terra Sigillata bowl dating from the 2nd or the 3rd century A. D. featuring a multi-figured circus scene. Not only gladiators fighting against animals are shown, but also a bound man that is attacked by a lion. The topic of this bowl thus alludes to the 'damnatio ad bestias' which refers to a special type of execution, considered particularly dishonorable, in that criminals were killed by wild animals. This type of execution was the capital punishment for deserters, sorcerers, poisoners, patricides, kidnappers, leaders of a rebellion and – of course – counterfeiters of coins. We are familiar with this cruel type of execution mainly from the persecutions of Christians. Christians were being sentenced to this kind of death because they could be accused of performing magical deeds. Besides, many Christians refused to do military service, which was considered desertion. The Christian authors, however, seem to have grossly exaggerated the number of their brothers in faith that actually ended up between the lions' jaws. The almost perfect Terra Sigillata bowl now on offer at Gorny & Mosch thus is a high-ranking testimony to the history of Roman history of law and an object that continues to touch people until the present day.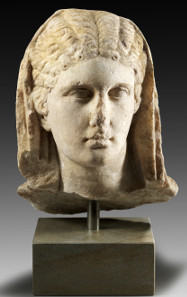 1: Large Herculaneum Woman. Roman Imperial Times, 1st cent. A. D. H 34 cm. White finely crystalline marble. Estimate: 40,000 euros.
Naturally, these are only two lots out of 643, and every collector will find something for his collection in every price range in Auction 231. As always, Gorny & Mosch offers many spectacular stone sculptures, like the fragment of the head of a Large Herculaneum Women with her head partly veiled (Lot 1; estimate: 40,000 euros) or a head, worked for insertion, with the facial features of Antonia minor from the first half of the 1st century A. D. (3; estimate: 25,000 euros). Likewise remarkable are a painted grave relief from the 4th cent. B. C. with a sculpted depiction of deceased Lykios, son of Apollas, saying farewell to a woman (11; estimate: 16,000 euros) as well as a Roman table leg with a particularly animated head of a lion (13; estimate: 15,000 euros).
18A: Small Geometric horse made of bronze. 8th cent. B. C. H 8.4 cm. L 8.5 cm. Estimate: 10,000 euros.
The bronze sculptures are likewise worth mentioning. In its austerity almost modern appears a Geometric horse made of bronze dating to the 8th cent. B. C. (18A; estimate: 10,000 euros). The roughly 8 cm high figurine of a murmillo, a gladiator with a sword, a rectangular shield and an elaborate arm protection recalls the Roman entertainment industry (25; estimate: 5,000 euros), and the head of an athlete or an entertainer, made in the 2nd-3rd centuries A. D. is so lively that he almost looks like someone from our own time (31; estimate: 2,500 euros).
33: Menorah. Levant, 5th-7th cent. A. D. H 36.5 cm. Cast bronze. Estimate: 40,000 euros.
The auction is further highlighted by a menorah made of bronze, with a height of nearly 37 cm and produced in the Levant in the 5th to the 7th centuries A. D., which was published in 2009 (33; estimate: 40,000 euros), and a Hellenistic silver bowl with a depiction of Bellerophon riding Pegasus made in the 4th cent. B. C. (36; estimate: 15,000 euros).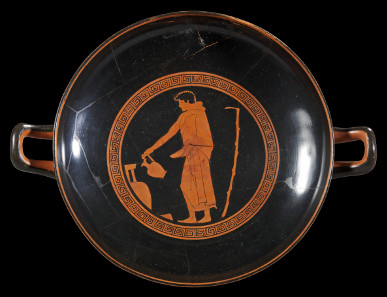 52: Attic cup of the Santa Barbara Painter. 480-470 B. C. H 9.7 cm. Diameter 24.2 cm. Estimate: 25,000 euros.
Many masterpieces can be found under the heading 'vases', like an Attic neck amphora depicting Dionysus accompanied by a satyr and a maenad (49; estimate: 20,000 euros), an Attic kalpis that shows two hoplites fighting against each other (51; estimate: 15,000 euros) as well as an Attic cup of the Santa Barbara Painter with the depiction of a youth, wearing a wreath and a cloak, sacrificing (52; estimate: 25,000 euros). These bowls used to be attributed to the Pistoxenos Painter.
The cover of the catalog, a rare Ptolemaic mummy mask from the 3rd to the 1st centuries B. C. points to the section of North Africa. This item is remarkable because it comes in a wooden chest with its original export license of the Lebanese director general for archaeology from 1975 (99; estimate: 4,000 euros).
176: Chalice. 10th-11th cent A. D. Diameter 17 cm. H 21 cm. Tinned bronze. Estimate: 40,000 euros.
An idol of the Kusura-Beycesultan type dating to the middle of the 3rd millennium B. C. (117; estimate: 28,000 euros), a magnificent Byzantine liturgical chalice with the famous quote of Matthew that has become part of the Christian liturgy (176; estimate: 40,000 euros) an a gold cross with incised decoration made in Middle Byzantine Times (184; estimate: 35,000 euros) make additional highlights of this auction sale.
There are many more attractive items. Nevertheless, the connoisseur does not have to spend a lot of money to discover precious objects. Let us return to the Terra Sigillata. Under lot number 577, the multiple lots come up with a selection of 20 Terra Sigillata fragments most of which exhibit figural representations: a reclining Dionysus with a thyrsus, members of the imperial house, the sacrifice of Isaak – all these examples bear testimony to the virtuosity of Roman pottery factories. And best of all, the estimates of the fragments add up to 400 euros.
Some comprehensive lots of literature, estimated at extremely reasonable prices, should not be omitted, either, which are definitely worth examining first-hand.
All auction sale catalogs can be viewed online here.
Gorny & Mosch gladly provides a printed copy. Request your copy at:
Gorny & Mosch, Giessener Münzhandlung, Maximiliansplatz 20, D-80333 Munich, phone +49 / (0)89 / 24 22 643-0, telefax +49 / (0)89 / 22 85 513.
The next auction 'Ancient Art' is scheduled for December 2015. Consignments are welcomed until the end of September 2015.