[bsa_pro_ad_space id=4]
29-06-2017 – 01-01-1970
Auction 248: Ancient Art
Ancient Art at a reasonable price for novice collectors
Everyone who is not yet collecting ancient art should actually start at once. Objects of such a quality with an ironclad provenance have never been offered this inexpensively before. Auction 248 of Gorny & Mosch, the Munich-based auction house specialized in coins and ancient art, offered 934 lots comprising ancient art that covered the two-figure- to five-figure regions. Many experienced collectors embraced the opportunity. Above all, the lower four-figure region witnessed significant jumps in prices: The estimates were doubled, tripled or even quadrupled.
Lot 222: Hedgehog-shaped bronze weight. Anatolia, late 3rd to early 2nd millennium BC. L 2.3 cm, H 1.9 cm, W 1.6 cm. 24.5 g (= 3 shekels according to the Babylonian standard). From the Ernst Langlotz Collection (1895-1978). Green patina. Intact. Estimate: 600 euros. Hammer price: 2,400 euros.
That was proven, for example, by a bronze weight in the shape of a hedgehog from Anatolia that was produced at the end of the 3rd or the beginning of the 2nd millennium BC. Just 2 cm in height, the small sculpture had been estimated at 600 euros but obtained four times this sum when it hammered at 2,400 euros. The fact that the piece stemmed from the collection of famous archaeologist Ernst Langlotz might well have contributed to this result.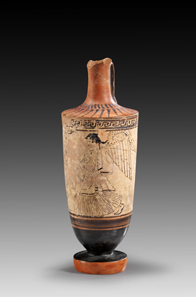 Lot 15: Attic lekythos, circle of Aischines Painter. Around 450 BC. H 16.8 cm. From the Lord Elgin Collection, published in Münzen und Medaillen AG, Basel, Sonderliste N (May 1971), 48. Mouth missing, foot and small hole on the head's back restored. Color partially worn off. Estimate: 800,- euros. Hammer price: 1,200 euros.
Speaking of collections, an Attic lekythos illustrated that prominent names aren't necessarily costly. – Please don't let yourself be fooled, for 'Attic lekythos' is the correct term: Despite the ending with '-os', the shape of this vessel is of female gender, at least in the grammatical sense. – It used to belong to Thomas Bruce, 7th Earl of Elgin, who became world-famous through the sculptural decoration of the Parthenon in Athens. Starting with an estimate of 800 euros, it finally sold for 1,200 euros.
Lot 502: Gold rhyton decorated with animals. Hellenistic times, Northern Black Sea Region, 2nd to 3rd cent. BC. L ca. 58.4 cm. Restored and stabilized with wood core, cracks in gold leaf. Estimate: 5,000,- euros. Hammer price: 40,000,- euros.
Such results prove the market to be healthy. But in an auction review you certainly want to read about spectacular numbers. Auction 248 witnessed a large number of those, too. The undisputed highlight was the increase of Lot 502. It is a Hellenistic gold rhyton decorated with animals that was probably made in the Northern Black Sea Region in the 2nd or the 1st cent. BC. Its estimate of 5,000 euros had clearly been too low. Obtaining 40,000 euros, the hammer price amounted to eight times the sum.
Lot 265a: Necklace with spear-head pendants. Late Classical times, 2nd half of 4th cent. BC. Gold. L 35.5 cm. 41.5 g. From the possession of the von Bismarck family. Few pendants are missing. Estimate: 30,000,- euros. Hammer price: 55,000,- euros.
55,000 euros was the price of a late Classical necklace from the second half of the 4th century BC. The piece is composed of five interlinked chains with 115 lancet-shaped spear-head pendants. Only the most skilled gold smiths of their times could produce an elaborate jewelry like this. It doesn't come as a surprise that this piece was published by Barbara Deppert-Lippitz in her 1985 book on Greek gold jewelry. The necklace was owned by a great grand-daughter of Otto von Bismarck and rose from its estimate of 30,000 euros to 55,000 euros.
Obtaining 24,000 euros, the hammer price of an ensemble of 2nd to 1st century BC Greco-Sarmatian gold jewelry, consisting of a necklace, a bracelet and two bail earrings, was equally impressive (estimate: 10,000 euros).
Lot 234: Oceanus-shaped bronze lamp with attachment in the shape of a ship. Roman, 1st-2nd cent. AD. Lamp in the shape of bearded Oceanus' head with crab claws. At the head attachment in the shape of a Roman galley. From the Shlomo Moussaieff Collection, since 1948, Israel. With export permission from the Israel Antiquities Authority. Black-green patina, mast and edge of sail broken, mast repaired with a pin, tip of mast missing, parts of ropes missing, small hole on one nozzle. Estimate: 50,000,- euros. Hammer price: 55,000 euros.
A bronze lamp shaped like the head of the god of the sea Oceanus, with an attachment in the shape of a ship with a lot of intriguing details, was among the most attractive objects of the Shlomo Moussaieff Collection. The object's estimate had already amounted to an impressive 50,000 euros. It went over the auction block for 55,000 euros 'only' which made the new owner visibly happy.
Lot 591: Stone mask. Teotihuacan, AD 100-650. H 20 cm. W 18.5 cm. Alabaster. From the Prof. Dr. Günther Marschall Collection, Hamburg. Acquired 1967-1975. Four drilled suspension holes, small hole in right check, otherwise intact. Estimate: 3,000,- euros. Hammer price: 14,000 euros.
In Gorny & Mosch Auction 248 the collection of architect and urban planner Günther Marschall was sold as well. Among other things, he had been interested in pre-Columbian art. From 1966 to 1975, he had assembled a comprehensive collection that covered the chronological range of the Olmecs to the time shortly before the arrival of the Spanish.
The objects of this collection sold particularly well, for instance the beautifully abstract alabaster stone mask from Teotihuacan, dating from AD 100 and 650. The masterpiece has been appraised at 3,000 euros, only to obtain a hammer price of 14,000 euros. Also bearing resemblance with works of modern art, a Mezcala idol made between 400 and 100 BC rose from its estimate of a modest 600 euros to 4,000 euros. Made in Veracruz(?) between AD 500 and 700, an anthropomorphic vessel depicts two males with oversize heads and short, stocky legs. With 3,400 euros it realized more than four times its pre-sale estimate of 800 euros.
Lot 637: Stirrup jar in the shape of a sitting fox. Moche, around AD 500. H 22 cm. From the Prof. Dr. Günther Marschall Collection, Hamburg. Acquired 1967-1975. Spout added, otherwise intact. Estimate: 400,- euros. Hammer price: 600,- euros.
It's important to mention that a connoisseur could acquire spectacular objects from this collection also for little money. A little Moche stirrup jar, made around AD 500, serves as evidence. The art of this civilization has created marvelous figural representations, for example this small sitting fox. It had an estimate of 400 euros, to sell for only 600 euros in the end. Just consider how little 600 euros is when you compare this unique work of art with a Roman sestertius of which several hundreds of thousand specimens were minted…
Lot 655: Buddha, Gandhara, ca. 2nd cent, AD. H 51cm, W 19.5 cm, D 9.5 cm. Green grey slate. From the Prof. Dr. Günther Marschall Collection, Hamburg. Acquired 1967-1975. Nimbus, forearms, feet and small parts of coat hem broken. Estimate: 6,000,- euros. Hammer price: 14,000,- euros.
Let's conclude the review with an object from the Marshall Collection that takes us to the East, to Gandhara. The wonderful torso of a standing Buddha from the 2nd century AD had been estimated at 6,000 euros, only to hammer at 14,000.
You can view all results online.
You can find the Gorny & Mosch website here.
Gorny & Mosch would also be happy to provide you with a printed list of results. Please request your copy at Gorny & Mosch, Giessener Münzhandlung, Maximiliansplatz 20, D-80333 Munich, phone +49 / (0)89 / 24 22 643-0, fax +49 / (0)89 / 22 85 513. The next auction 'Ancient Art' is scheduled for December 2017. Consignments will be taken in up until September 2017.