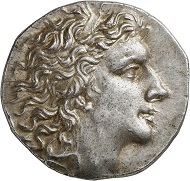 [bsa_pro_ad_space id=4]
09-10-2016 – 13-10-2016
Auctions 240-242
Excellent results for coins of Frederick II of Sicily
Between October 10 and 14, 2016 numismatic dealership Gorny & Mosch held three auctions. The spectrum ranged from ancient times to the present, with a focus on Roman coins. Not only Auction 240 featuring high-quality ancient coins attracted special interest, but Auction 241 as well, containing ancient coins and multiple lots in which the remaining inventory of the Munich auction house Karl Kress was auctioned off. Auction 242 not only entailed a large offer of medieval coins, which sold particularly well, but also collections of Bavaria, Stolberg, and Salzburg. Those specimens achieved respectable results which the "ordinary" collector aspires and can afford to acquire for his own collection: rare specimens, graded above average, with hammer prices in the three- and four-digit regions.
Lot 205: Mithridates VI, 120-63 (Pontus). Tetradrachm, 67/6. Almost extremely fine / FDC. Estimate: 3,000 euros. Hammer price: 7,000 euros.
Auction 240 – High-quality ancient coins
In Auction 240, around 650 selected ancient coins, from the Celts to the Migration Period, were offered for sale. They vouched for the healthy state of the collector's market, particularly in regards to those specimens for which the potential buyers did not stem from the small circle of large investors only. Let us single out two examples: a tetradrachm featuring a superb portrait of Mithridates VI of Pontus. Graded almost extremely fine, the obverse was struck from an interesting die which captures much of the individual facial features of this great enemy of the Romans. As a result, the specimen rose from its estimate of 3,000 euros to a hammer price of 7,000 euros.
Lot 59: Olbia (Sarmatia). Quarter stater, ca. 360-320. Extremely fine. Estimate: 6,000 euros. Hammer price: 11,000 euros.
Something very similar occurred in the case of a not too rare tetradrachm of Prusias I of Bithynia. Having been estimated at 2,500 euros because of its outstanding portrait, the hammer price was nothing less than 6,000 euros.
A coin for the specialist was the gold quarter stater from Olbia which was brought to Germany from Nikolajew at the Black Sea by the German merchant Arnold Vogell around 1900. Anyone possessing the Russian standard work of reference on Olbia published in 2000 knows about the rarity of this type. Only 9 further specimens are said to have survived, the majority of these housed in museums. On a pre-sale estimate of 6,000 euros, the final bid amounted to 11,000 euros.
Lot 469: Titus, 79-81. Sestertius, 80-81, Rome. Av.: Colosseum. Very fine. Estimate: 60,000 euros. Hammer price: 75,000 euros.
All participants in the auction eagerly awaited what the extremely rare sestertius of Titus would obtain whose obverse features the Colosseum and whose provenance stretches as far back as 1978. The very fine specimen had been estimated at 60,000 euros. The hammer price was 75,000 euros.
In the Roman department, not only the extraordinary strikings achieved good results. The mid-priced section in particular proved how healthy the collector's market currently is. We would like to single out a few denarii, all rare and of an excellent grade. An extremely fine denarius with the magnificent portrait of Caesar was auctioned off for 8,500 euros (estimate: 5,000 euros), a wonderful denarius of Augustus from his victory coinage after Actium for 3,200 euros (estimate: 2,000 euros), a denarius of Hadrian for 1,600 euros (estimate: 500 euros), and a denarius of Julia Domna, featuring her children's portraits on it reverse, for 3,100 euros (estimate: 1,000 euros).
Achieving 22,000 euros, a very rare solidus of Decentius which was struck in the Mint of Augusta Treverorum, realized more than twice its estimate of 10,000 euros. And, graded FCD, a solidus of Irene changed hands for 6,000 euros (estimate: 4,000 euros).
Lot 1088: Imitation. Of type of Irene, 797-802. "Solidus", unknown mint. From the inventory of Karl Kress. Very fine. Estimate: 250 euros. Hammer price: 1,600 euros.
Auction 241 – Ancient coins and lots
Let us stay with Irene a bit longer for an extremely rare Barbaric imitation of this solidus was offered in Auction 241. What made this specimen special was the fact that it stemmed from the inventory of the auction house Karl Kress which operated in Munich until 1986. The very fine specimen had been estimated rather modestly at 250 euros. The hammer price was as high as 1,600 euros.
Auction 241 once again vouched for the fact that collectors have a sharp eye and that using this eye pays off. 200 euros had been the estimate of an inconspicuous legionary denarius of Marc Anthony. Its reverse bears the legend LEG – IIX, as an error of the die cutter who was supposed to engrave LEG – XII. In 2015, the second specimen of this variant, albeit of a perfect grade, achieved 16,000 CHF. Made from a porous planchet and graded just very fine, the third known specimen at Gorny & Mosch rose from its estimate of 200 euros to 2,200 euros.
Let us take a look at the multiple lots which constitute Gorny & Mosch's specialty. They contained a large number of coins from the inventory of the Kress numismatic dealership with old coin notes and an exact provenance. Most of these were unsold lots from Kress auctions conducted during the 1960s. Their prices rose impressively, from 300 euros to 2,200 euros for 17 tetradrachms of Alexander the Great, from 200 euros to 3,600 euros for 69 Greek coins, from 1,500 euros to 7,500 euros for roughly 300 Roman strikings, and from 1,500 euros to 5,500 euros for a comparable lot with roughly 260 specimens.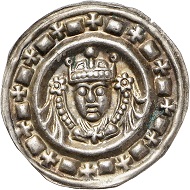 Lot 4104: Ulm. Frederick II,1212-1250. Bracteate, ca. 1235. Extremely fine. Estimate: 200 euros. Hammer price: 600 euros.
Auction 242 – Medieval and modern times
Auction 242 was kicked off by a comprehensive batch of interesting medieval coins with estimates ranging in the lower three-digit regions. As soon as both grade and style were out of the ordinary, the prices rose. Cases in point are three bracteates from Southern Germany. On its estimate of 350 euros, a rare, almost mint state bracteate from Lindau achieved 700 euros. Even higher, when compared against their estimates, were the prices fetched by an extremely fine striking from Schongau (80 / 250 euros) or a rare variant from Ulm, featuring Emperor Frederick II with two wings of an eagle raised (200 / 600 euros).
This makes a perfect transition since Auction 242 offered a small series of strikings of the "Boy from Apulia", amongst these four augustales which are highly popular with collectors. Depending on their grade, the specimens' hammer prices ranged from 9,000 euros to 20,000 euros. Modeled on the augustales, a grosso da 6 denari from Bergamo obtained 4,000 euros (estimate: 1,500 euros). Also respectable were the prices for Frederick's Sicilian taris without portrait: A multiplo di tari doro with the title of the emperor realized 3,000 euros (estimate: 500 euros).
Frederick's successors were in no way inferior. An extremely rare multiplo di tari doro of Manfred, the illegitimate son of Frederick, crossed the auction block for 9,500 euros (estimate: 2,500 euros) and a likewise very rare multiplo di tari doro "col cavaliere" of Charles of Anjou realized 8,000 euros (estimate: 1,500 euros).
Lot 4566: Saxe-Meiningen. Louise Eleonore as tutor. 20 kreuzers 1812, Saalfeld. Only 4 specimens known. FDC. Estimate: 12,000 euros. Estimate: 22,000 euros.
In this light, the results achieved in the other sections seem rather modest even though the same trend became apparent there, too. Collectors know how to detect a rarity and a good grade. The collection of Bavarian coins and medals, for instance, witnessed decent hammer prices for the ducats: Graded extremely fine to FDC, a 1646 ducat achieved 2,200 euros (estimate: 1,200 euros) while 1765 of the same grade realized 2,800 euros (estimate: 1,500 euros) and 1787 in almost FDC 1,700 euros (estimate: 750 euros).
Not surprising were the high results of some loesers, as a quadruple 1612 loeser of Henry Julius of Brunswick-Wolfenbuettel (7,500 / 20,000 euros) or a quadruple 1647 loeser of Friedrich of Celle (7,500 / 17,000 euros).
Rarity always finding its buyer was proven, once again, by a 20 kreuzer piece from 1812 from Saxe-Meiningen of which only four specimens are known (12,000 / 22,000 euros).
Lot 4769: German Empire. Frederick August III, 1904-1918. 3 marks 1917 E. "Frederick the Wise". Graded NGC PF66 Ultra Cameo. Probably the best known specimen. Proof. Estimate: 100,000 euros. Hammer price: 115,000 euros.
As was to be expected, the most expensive coin of this auction was 3 marks "Frederick the Wise" with 115,000 euros (estimate: 100,000 euros). NGC had described this remarkable specimen as PF66 Ultra Cameo, which corresponds to our Proof.
Many more interesting results would deserve mentioning. The final bids for a Proof 100 kronen piece of the Austrian Emperor Francis Joseph from 1908, for example, was 21,000 euros (estimate: 7,500 euros), 12,000 euros (estimate: 5,000 euros) for an almost extremely fine denier dor à la masse of the French King Philip IV from 1296, and 32,000 euros (estimate: 20,000 euros) for a 100 perpera piece of King Nicholas I of Montenegro from 1910.
Lot 6046: Russia. Peter III, 1762. Cu. 10 kopecks 1762. Overstruck after the debasement from January 7, 1762. Very fine to extremely fine. Estimate: 350 euros. Hammer price: 3,000 euros.
Finally, a word about Russia. Now would be the time for collectors, who quitted this collecting area when prices were skyrocketing, to return again. Prices have gone back to normal. It's possible again to acquire interesting pieces for reasonable sums of money. As matters stand, only the great rarities in gold achieve record prices, as well as superbly graded, rare copper coins such as a 1762 10 kopeck piece of Peter III, overstruck after the January debasement (350 / 3,000 euros), or a very rare 1927 2 kopeck piece (50 / 2,800 euros).
All results can be viewed on the internet. The next auction of "Ancient Art" is scheduled for December 14, 2016, and the next coin auction for March 6-10, 2017. Consignments will be taken in up to December 22, 2016. Please contact Gorny & Mosch, Giessener Münzhandlung, Maximiliansplatz 20, D-80333 Munich, phone +49 / (0)89 / 24 22 643-0, telefax +49 / (0)89 / 22 85 513.