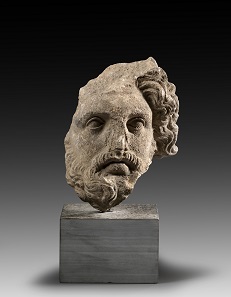 [bsa_pro_ad_space id=4]
15-06-2016 – 01-01-1970
Auction 239: Ancient Art
High prices for ancient art at Gorny & Mosch
High prices for interesting material: Auction 239 of Gorny & Mosch proved that special collectors know exactly about the rarity of individual objects.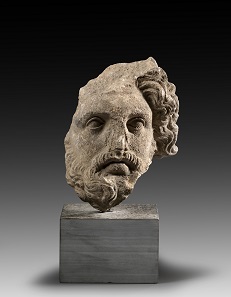 Lot 125: Bearded head. Late Classical / early Hellenistic times, 4th-3rd cent. BC. H. 22 cm. Fragmentary, surface sintered. Ex Dr W.S. Collection, Southern Germany, since the 1970s. Estimate: 2,500,- euros. Hammer price: 42,000,- euros.
2,500 euros had been the estimate of a fragment of a life-size bearded male head, made in late Classical or early Hellenistic times. It was a magnificent portrait, which could be linked with the so-called Mausolus in the British Museum. A few collectors recognized the artistic value of this item that appeared inconspicuous only at a first glance. The result mirrors the interest. The hammer price constituted twenty times the sum, amounting to 42,000 euros.
Lot 27: Lyre player. Central Italy, 8th cent. BC. Solid bronze cast. H. 7.8 cm. Dark-green patina, some strings missing. In the U.S. American W.F. Collection since 1979. Estimate: 3,000,- euros. Hammer price: 14,000,- euros.
Taking place in Munich on June 16, 2016, Auction Gorny & Mosch 239 comprising ancient art once again testified that special objects are not necessarily those that come with the highest estimates. On the contrary, nobody would have expected the small lyre player from Central Italy, a solid bronze cast dating from the 8th century BC, to rise from its estimate of 3,000 euros to 14,000 euros. The same was achieved by a Corinthian helmet from the third quarter of the 7th century BC. Appraised at 3,000 euros, it crossed the auction block for 11,000 euros.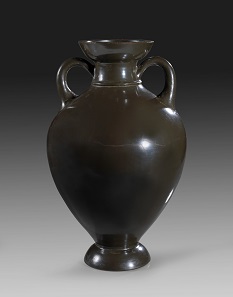 Lot 192: Attic glazed amphora, Pseudo-Panathenaic shape. Around 500 BC. H 42.3 cm. Professionally pieced together from large sherds, breaks retouched, otherwise complete. From the Prof Ernst Berger Collection, Basel (died 2006), who acquired the amphora from Eduard Burkhard, Basel, in 1976. Estimate: 8,000,- euros. Hammer price: 38,000,- euros.
Equally impressive was the rise of the price of an Attic glazed amphora from the Prof Ernst Berger Collection: from 8,000 euros to 38,000 euros.
Lot 340: Pyxis. Roman, 1st cent. AD. H. 4.3 cm. Partially iridescence, intact. Ex Bernard Hearn Collection, London since 1975. Estimate: 1,000,- euros. Hammer price: 30,000,- euros.
The auction's surprise became a Roman pyxis made of opaque blue glass with white marbling from the Bernard Hearn Collection. Estimated at 1,000 euros, the intact object was sold for 30 times as much: 30,000 euros.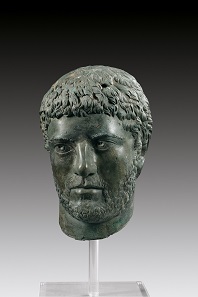 Lot 6a: Severan male portrait. Roman Imperial times, early 3rd century AD. Hollow bronze cast, H. 28 cm. Superb dark-green patina, broken at the neck, most of the face missing. From the stock of Ancient and Medieval Art, Furneux, Pelham, which closed down in 1990. Gorny & Mosch 210 (2012), 13A. Estimate: 30,000,- euros. Hammer price: 60,000,- euros.
Of course, there were also many high prices obtained, in line with expectations. To mention only one example: a Severan male portrait that had been deliberately destroyed by a blow to the face. A damnatio memoriae immediately springs to mind, as it was passed by Caracalla on Geta after the rebel had been executed. The portrait serves as an illustration of Pliny the Younger who describes the damnatio memoriae passed by the senate on Domitian as follows: "It was a delight to smash those arrogant faces to pieces in the dust, to threaten them with the sword, and savagely attack them with axes, as if blood and pain would follow every single blow." The estimate was 40,000 euros. The hammer price amounted to 60,000 euros.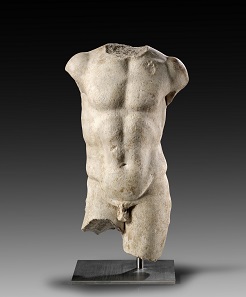 Lot 116: Torso. Roman Imperial times, 1st cent. AD. White finely chrystalline marble. H. 56 cm. Reverse left unfinished, obverse cleaned. Estimate: 25,000,- euros. Hammer price: 65,000,- euros.
25,000 euros was the appraisal of a slightly less than life-size marble torso dating from the 1st century AD. It obtained 65,000 euros. That was the very estimate of a Roman Venus, also less than life-size, from the 1st to the 2nd century AD that went over the auction block for 40,000 euros.
Lot 267: Gold cloth pin, Eastern Greece, 520-510 BC. 44.89 g. L. 13.1 cm. Intact. Ex Antoine Sanna Collection, Belgium, acquired in Brussels in 1967. Estimate: 25,000,- euros. Hammer price: 50,000,- euros.
25,000 euros was the estimate of a cloth pin from Eastern Greece, made of pure gold, which formed part of the Antoine Sanna Collection. Attached to the pin is a sphinx that is worked in the most delicate detail. 50,000 euros was the price the new owner had to pay for this outstanding piece.
This must not create the impression, however, that ancient art is a prerogative of the affluent collector – the contrary is true. Many interesting objects were available in the three-digit range, including some terracotta figurines. An elegant Tanagra lady was sold for 800 euros whereas only 480 euros had to be paid for a figurine of a tragic actor (estimate: 600 euros each).
The hammer prices for the individual lots of a collection of tiles featuring a legionary seal covered a range from 200 up to 700 euros. Featuring a carved mill game, one tile constituted an exception: Starting at 500 euros, it ultimately arrived at 3,000 euros.
Lot 534: Pendant with gem, featuring Diana and nymph. Early 19th century. 10.49g, 37 x 26mm. Large, transverse oval cornelian, in modern gold mounting. Intact. From the collection of Prince Stanislas Poniatowski. Estimate: 1,800,- euros. Hammer price: 3,800,- euros.
Like a Polish prince may feel the new owner of an early 19th century cornelian that depicts Diana with a nymph: Estimated at 1,800 euros, this item formed part of the collection of Polish Prince Stanislas Poniatowski. For this little gem the new owner paid 3,800 euros.
Here you can find the auction catalog with the items for post-auction sale.
Gorny & Mosch would also be happy to provide you with a printed catalog. Please request your copy at Gorny & Mosch, Giessener Münzhandlung, Maximiliansplatz 20, D-80333 Munich, phone +49 / (0)89 / 24 22 643-0, telefax +49 / (0)89 / 22 85 513.
The next auction of "Ancient Art" is scheduled for December 2016. Consignments will be taken in up to September 2016.