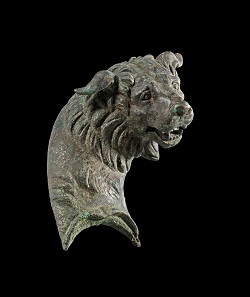 [bsa_pro_ad_space id=4]
15-06-2016 – 01-01-1970
Auction 239: Ancient Art
Ancient art of its finest at Gorny & Mosch
Enchanting bronze statuettes, elegant jewelry, collections of terracotta statuettes and clay tiles, supplemented by a large batch of Classicistic cameos: Auction Gorny & Mosch 239 Ancient Art has much to offer.
On June 16, 2016, the time will have come again: auction house Gorny & Mosch is under the banner of ancient art. This time, the auction sale will kick off with a couple of bronze statuettes, of which several are truly enchanting. We would like to highlight a small sphinx, made in Greece around 500 B. C. (estimate: 20,000 euros), a drinking Gaul with a moustache hanging down, produced in the 1st or the 2nd century A. D. (estimate: 5,000 euros), …
Lot 59: Bronze applique from a kline. Hellenistic Period, 2nd-1st century B.C. Cf. S. Faust, Fulcra (1989) pl. 14 f. Cat. 14. 261. 466. pl. 54 ff. Red-brown patina, intact. Ex K.K. collection, UK, 1950s. Estimate: 1.800,- euros.
… or a Hellenistic Molosser dog with a naturalistic appearance who once formed part of a kline's decoration (estimate: 1,800 euros).
Lot 86: Bronze balsamarium. Roman Imperial Period, 1st-2nd A.D. Cf. G. Faider-Feytmans, Les Bronzes de Belgique (1979) 128 No. 224, pl. 91 ff. Handle and penis reattached, complete. Inherited by current owner by P.P. collection, previously Vienna, since the 1990s. There, acquired at art fair. Estimate: 120.000,- euros.
Yet these objects are slightly outshone by the magnificent bronze sculptures as they are only rarely encountered. They include a remarkable Roman balsamarium dating from the 1st and the 2nd centuries A. D. which measures almost 30 centimeters in height and is shaped like a grotesque boxer with an oversize genital (estimate: 120,000 euros).
ot 2: Lar, Roman Imperial Period, 1st century A.D. Cf. H. Menzel Die römischen Bronzen aus Deutschland III Bonn (1986) 48. Attractive patina and very good style, intact. Ex Gorny & Mosch 154, 2006, 17. Estimate: 30.000,- euros.
Much more elegant is the roughly 20cm high Roman Lar from the 1st century B. C. which used to be placed in a lararium, standing watch over the fate of a family (estimate: 30,000 euros).
These are by no means all of the small and great highlights of this auction. No matter if a collector looks for objects in the lower three-digit regions or can invest as high as six-digits sums, in Auction 239 he will find something to his liking. An Etruscan mirror from the 4th century with the detailed depiction of an ill-matched amorous couple (estimate: 12,000 euros), a small number of helmets, including a Chalcidian helmet from the Hellenistic era, which still exhibits traces of its former tin coating (estimate: 25,000 euros), …
Lot 81: Two Roman greaves of Legion VII, Roman Imperial Period, 2nd-3rd century A.D. Both greaves have reattached eyes. The rims are partially replaced and restored. The second greave is cracked at the top rim. Ex John Moore, Yorkshire, England, since 1973 in his collection. Estimate: 18.000,- euros.
… a pair of Roman greaves which – as is testified by an inscription – once belonged to a soldier of Legio VII Claudia (estimate: 18,000 euros), and much more will attract the attention of every collector and investor interested in ancient art.
Lot 368: Skythian, about 5th century B.C. Part of a golden gorytos (bowcase) with punched decoration in form of griffin heads and stylized deer heads. Cf. Im Zeichen des goldenen Greifen. Königsgräber der Skythen. Exhibit Berlin (2007) p. 75 No. 8. Partially scratched, traces of sinter, tiny fragments missing, tiny fissures. Ex A.D. collection, Rhineland-Palatinate, since 1979. Estimate: 125.000,- euros.
With 125,000 euros the highest appraisal in this auction has been made for an object from the 5th century B. C. The highly decorated gold metal fitting once served as adornment of the gorytos of a Scythian ruler.
A larger group of terracotta statuettes is most likely to be of interest to those who aim at paying a moderate price for a testimony of ancient taste. One such testimony is a Hellenistic sculpture that was made around the 2nd century B. C. which brings the Greek theater to life. The tragic actor wears a mask that deprives him of any kind of individuality (estimate: 600 euros).
Even less money must be invested by the collector who gets himself one of the small clay tiles of which Auction 239 offers a batch. Only 200 euros is the estimate of a tile that was produced for Roman Mogontiacum (Mainz) in 97 A. D., while a tile from Carnuntum will start at its estimated 300 euros. And if you are interested in acquiring a mill game that had been cut into a tile by – perhaps – two bored legionaries you may do so in this auction sale: its estimate amounts to 500 euros.
As usual, the lots will conclude the auction. Almost 130 numbers constitute of beautiful little objects that certainly will be an asset to a collection without costing its owner too much money. Estimates start at 150 euros.
Here, we would like to highlight a fine collection of small terracotta heads a 19th-century traveler brought home as a souvenir. The former owner had been granted a stipend from the Munich University for traveling to Italy and Greece. During his trip in 1886/7, he bought the 33 pieces that range in date from the 6th century B. C. to the 3rd century A. D. The pre-sale estimate of this convolute is 500 euros.
Lot 193: Attic pelike, Villa Giulia Painter or his Circle. 460 – 450 B.C. In the area of Erato few, partially retouched cracks, the surface is slightly rubbed. Estimate: 30.000,- euros.
Another highlight worth mentioning is a beautiful vase with an interesting subject! It comes with a certificate of the Puhze Gallery (copy)! Ex R. and K.U. collection, Berlin, purchased at Gallery Günter Puhze in 1994 in Freiburg, previously in a Geneva private collection.
The catalog can be viewed on the internet.
Gorny & Mosch would also be happy to provide you with a printed catalog. Please request your copy at Gorny & Mosch, Giessener Münzhandlung, Maximiliansplatz 20, D-80333 Munich, phone +49 / (0)89 / 24 22 643-0, fax +49 / (0)89 / 22 85 513.