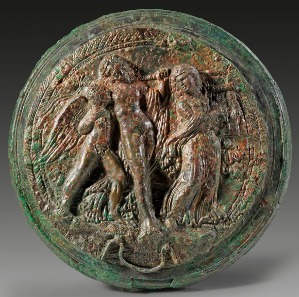 [bsa_pro_ad_space id=4]
15-12-2015 – 01-01-1970
Auction 235: Ancient Art
Rich Selection of Etruscan Art at Gorny & Mosch
Up to the present day, the Etruscans are a slightly enigmatic people to us because they seem to have put no value to recording their achievements in weighty chronicles and thus being remembered by future generations.
Instead, we can make use of their works of art as a medium to communicate with them. On a par with the best art created in Greece, many subjects of the Etruscan art even derive directly from the Greek body of thought. We can grasp the Etruscan vitality in countless images and reach the conclusion that this people, in its hedonistic way of thinking, is in fact quite near to us. If you would like to philosophize about such issues, we recommend to you browsing through the latest auction sale catalog of Auction House Gorny & Mosch. In Auction 235, to be conducted in Munich on December 16, 2015, it will offer Etruscan art stemming from a number of high-caliber collections.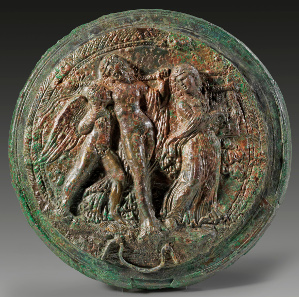 Lot 53: Lid of an Etruscan folding mirror. 3rd cent. BC. In the field a group consisting of Dionysus, Eros and a maenad. Green patina, locking mechanism is lacking. Estimate: 11,000,- euros. Provenance: German private collection. Acquired by Dr Leo Mildenberg on the Swiss art market in the 1970s/1980s. Published in: I. Jucker, Italy of the Etruscans. Exhibition Jerusalem (1991) 116 f. Cat. nr. 126.
Already published a few times, an Etruscan folding mirror from the 3rd century BC is a good example. It features a cheery group of three: in the middle, nude and drunken Dionysus is having his problems standing upright, let alone walking. He is supported by a likewise naked Eros. They are preceded by a maenad playing the cithara. The wonderful piece is estimated at 11,000 euros.
Lot 24: Discobolus. Etruscan, 2nd quarter 5th cent. BC. Solid bronze cast. Excellent style, green patina, intact. Estimate: 35,000,- euros. Provenance: Acquired by Dr Leo Mildenberg for the R.G. Collection, Germany, in 1974-1990. Published in: Italy of the Etruscans. Exhibition Jerusalem (1991), 135 f. cat. nr. 150.
Another example is an Etruscan statuette made in the second quarter of the 5th century BC. Measuring 8 cm in height, the artwork depicts a boy trying to gain momentum to throw his discus as far as possible. A similar statuette, probably from the same workshop, is currently housed in the Berlin Collection of Antiquities. With its superb style, the high-quality work of the minor arts has a pre-sale estimate of 35,000 euros. It stems from the R.G. Collection. The owner of the collection was expertly advised by Dr Leo Mildenberg who is known far and wide not only in his capacity as a coin dealer but also thanks to his noteworthy collection of animals in ancient art.
Lot 31: Etruscan kore. Central Italy, ca. 480-460 BC. Solid bronze cast. Magnificent green patina, intact. Estimate: 4,500,- euros. Provenance: Acquired by Dr Leo Mildenberg for the R.G. Collection, Germany, in 1974-1990. At Gorny & Mosch 222, 2014, 37.
Inspired by Mildenberg, collector R.G. also acquired an Etruscan kore, a 9.4 cm high bronze statue in the round which has been made between 480 and 460. Even though the representation has an Archaic appearance, it nevertheless heralds the approaching era of High Classical times. Displaying a highly appealing green patina, the object is estimated at 4,500 euros.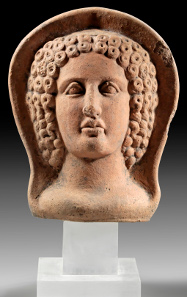 Lot 484: Protome of a young woman. Etruscan, 4th-3rd cent. BC. Slightly under life-sized head of a young woman with a curly coiffure capite velato. Estimate: 1,000,- euros. Provenance: From the Dr. V.Z. Collection, Switzerland, acquired in the 1950s/1960s, loaned to the Archaeological Collection of the University of Zurich for an exhibition between 1986 and 2001.
An appraisal of only 1,000 euros has an object which has been loaned to and on display in the Archaeological Collection of the University of Zurich for almost 20 years. Produced in the 4th or the 3rd century BC, the terracotta protome depicts a young woman who has veiled her head. It stems from a Swiss private collection of which several other terracotta statuettes are also offered for sale, as is a number of interesting ceramic objects of which a large portion used to be on public display.
Lot 506: Etruscan lecythus of the Sokra Group. 375-350 BC. Pseudo-red-figure-style with added red slip. Estimate: 1,500,- euros. Provenance: From a Bavarian private collection, acquired in the early 1990s.
The women's quarters of a young Etruscan lady, on the other hand, provide the setting depicted on a lekythos dating to the first half of the 4th century BC. The figural representation shows a seated young woman, holding a mirror and a cup and receiving another woman paying her a visit. Once belonging to a Bavarian private collection, this object's estimate amounts to 1,500 euros.
It is also important to point out that the admirers of Etruscan art are well-advised to have a good look at the multiple lots as well. In this session, a large number of interesting objects is offered for sale at reasonable prices. Let us single out only one example, lot 719. Under this lot, the connoisseur finds three early Etruscan impasto vessels. Ranging in date from the 8th to the 7th century BC, these objects were on display in the exhibition of the Archaeological Collection of the University of Zurich as a loan between 1986 and 2001. The pre-sale estimate of all three pieces is a mere 850 euros.
It hardly needs mentioning that the collector not only finds Etruscan artifacts but the full spectrum of ancient art: Greek, Roman, Byzantine, Pre-Historic and Egyptian, stone sculpture, bronze statuettes, utensils, armor, ceramics, glass, jewelry, seals and gems, and much more. The prices cover the range from the lower three-digit regions to estimates amounting to six-figure sums.
To conclude this preview, let us present to you some selected interesting examples:
In order to build a collection, you do not have to own a fortune, as evidenced by a Bavarian private collection comprising tile fragments with legionary stamps.
Lot 459: Tile fragment with stamp of Legio II Italica with mention of the Dux Pannoniae. Second third 4th cent. AD. Estimate: 800,- euros. Provenance: Ex Bavarian private collection; acquired ex. Fritzemeier Coll. in the 1970s.
The most intriguing item of the offer is estimated at 800 euros. It not only mentions the Legio II Italica, but also the Dux Pannoniae, Ursicinus, whom Emperor Valentinian (364-375) commissioned with doing repair work on the Danube limes.
Lot 74: Apulian Merrythought cup (lekane) of the Underworld Painter. 330-320 BC. ("late style"). Red-figure style, details in red, white, and yellow. Estimate: 25,000,- euros. Provenance: From the private collection of A. and W. H. in Southern Germany, acquired in the 1970s and early 1980s. Published: R. Lindner, Der Raub der Persephone in der antiken Kunst (1984) p. 27 f. with pl. 6-7.
With 25,000 euros, an Apulian lekane has a slightly higher appraisal. According to the attribution of archaeologists, the figural representation is a creation of the Underworld Painter. Exhibiting marvelously preserved colors, the vessel depicts the abduction of Persephone by Hades. Three-headed Kerberos guides the chariot through the underworld. Eros and Hesperos, the evening star, are hovering above. They indicate that every young woman, in the course of the nightly procession from their family home to the home of her groom, experiences a similar fate as Persephone. Abducted by Hades, Persephone became his bride, as indicated by the joint nimbus which on this cup encompasses the heads of both abductor and abductee. Generally, cups with this imagery were used for the bridal bath as part of wedding rituals. This cup, however, very likely served as a funerary gift for a young girl, perhaps to express the wish for her to ultimately celebrate her wedding in the netherworld.
Lot 283: Gold snake bracelet. Hellenistic, ca. 330-300 BC. Estimate: 45,000,- euros. Provenance: From an Austrian private collection prior to 1980.
When turning to the section of jewelry, a wonderful item can be found. It is a Hellenistic snake bracelet made of gold, with the two endings shaped like naturalistic snake heads. The appraisal of the rare item amounts to 45,000 euros.
Lot 338: Gold disc fibula with almandine inlays. Langobardic, 6th-7th cent. AD. Round cloisonné disc fibula with ribbons made of gold and almandine inlays on hatched gold foil. Estimate: 20,000,- euros. Provenance: Ex A.P. Collection, since the 1990s.
In its own way equally magnificent is a gold disc fibula with almandine inlays from the Langobardic art, made in the 6th to 7th century AD. It has been estimated at 20,000 euros.
Altogether, as many as 859 Lose will be offered for sale at this comprehensive auction. Browsing pays off, particularly in regards to the multiple lots which have become a virtual cult, providing the collector with ample opportunity to acquire fascinating items at very attractive prices.
The catalog can be viewed on the internet.
Gorny & Mosch would also be happy to provide you with a printed catalog. Please request your copy at Gorny & Mosch, Giessener Münzhandlung, Maximiliansplatz 20, D-80333 Munich, phone +49 / (0)89 / 24 22 643-0, telefax +49 / (0)89 / 22 85 513. The next auction of "Ancient Art" is planned to take place in June 2016. Consignments are accepted until March 2016.