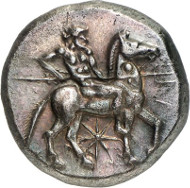 [bsa_pro_ad_space id=4]
09-03-2014 – 11-03-2014
Auction sales 219-221
Archaic silver and German gold
From 10 to 12 March 2014, right after the Munich Numismata, Gorny & Mosch will conduct their auction sales 219 to 221. No matter, which field you are collecting, no matter, which budget you are disposing of, there is something for everybody. The first day focuses on high-quality ancient coins, followed by auction sale no. 220 on 11 March under the heading 'Ancient coins and multiple lots'. On 12 March, coins from medieval and modern times will be auctioned off, including many a rarity especially from Germany, not forgetting an interesting section of ancient-style Renaissance medals.
Auction sale 219 – High-quality ancient coins
He who gets enthusiastic about the beauty of Greek coins discovers many intriguing items in auction sale 219 of Gorny & Mosch, ranging from the classical pieces like a tetradrachm from Akragas with the two eagles gorging a hare (23, VF-EF, estimate: 15,000 euros), a tetradrachm with a slightly rough surface from Naxos of late archaic type (45, VF / VF-EF, estimate: 8,000 euros (sic!)) and a decadrachm made in the workshop of Euainetos (63, VF-EF, estimate: 18,000 euros).
All those who fall for the charm of archaic times will find marvelously preserved coins from Northern Greece.
No. 102. Potideia (Macedonia). Tetradrachm, c. 500-480 B. C. Rare. One of the finest preserved specimens. Very fine to extremely fine. Estimate: 20,000 euros.
The tetradrachm from Potideia, that depicts Poseidon Hippios on horseback on its obverse, is the most beautiful specimen known to exist (102, VF-EF, estimate: 20,000 euros). The Derrones issued an extremely rare decadrachm featuring a biga of oxen on its obverse (105, VF-EF, estimate: 15,000 euros).
No. 106. Edones (Macedonia), Getas. Octodrachm, c. 479-465. Extremely rare variant. About extremely fine. Estimate: 75,000 euros.
The sale's highlight is a splendidly preserved octodrachm of Getas, King of the Edones, with Hermes stealing the cattle on the obverse, a depiction that relates to the descent of the Thracian kings (106, about EF, estimate: 75,000 euros).
Naturally, there are the aficionados of Hellenistic times, with the fantastic portraits being characteristic of that era; and they will appreciate the offer Gorny & Mosch presents to them, like – right at the beginning – the gold stater and the tetradrachm with the portrait of Mithradates VI who slew so many Romans (193 et seq., VF-EF and EF, respectively, estimate: 15,000 euros each), an early tetradrachm of Seleucus I with the panther skin helmet (263, EF, estimate: 12,000 euros) and two unusually beautiful – both in terms of style and condition – tetradrachms of Tigranes II of Armenia (285 et seq., both EF and estimate: 10,000 euros). To list the last example of this section, an extremely rare daric of type III, struck c. 500-485 B. C., showing the royal archer on the obverse (292, nearly EF, estimate: 12,000 euros).
It comes as no surprise that the Roman coins come up with several interesting pieces, too, like some extraordinarily well preserved aurei: of Trajan with the Forum Traiani on the reverse (394, EF, estimate: 10,000 euros), of Hadrian with the personification of Africa (403, EF+, estimate: 25,000 Euro) or of Septimius Severus (436, EF, estimate: 20,000 euros).
No. 499. Roman Coins. Constans I, 337-350. Multiple of 4 siliquae, 337-338, Thessaloniki. Very rare. Rev. Double strike. Extremely fine. Estimate: 20,000 euros.
The two rarest pieces date to late Roman period. Under Constans I an extremely rare multiple of 4 siliquae was struck showing a detailed depiction of the emperor as victor, cuirassed with shield and vexillum (499, EF, estimate: 20,000 euros).
No. 527. Roman Coins. Aelia Verina, 457-484. Solidus, 462-466. Extremely rare. Extremely fine. Estimate: 25,000 euros.
Of particular interest to the aficionado of history may well be the extremely rare solidus of Aelia Verina, struck between A. D. 462 and 465. Verina – most probably a Germanic woman of unknown origin – married Leo long before he rose from officer to emperor in 457. When Leo died of dysentery in 474, his survivors included two young heirs and a power vacuum in addition that Verina tried to fill. She fought for her influence more than ten years and in various alliances before she lost her life during the siege of Antiocheia by Zeno in 484 (527, EF, estimate: 25,000 euros).
Let us end this preview with the Byzantine coins. The connoisseur discovers rarities of historic significance in that section as well, like an extremely rare 2/3 miliaresion of Isaac I Komnenos, founder of the Kommenos dynasty (578, about EF, estimate: 3,500 euros) and a histamenon of Eudocia (578A, EF, estimate: 3,500 euros), who managed to pass power after her husband had died onto a suited successor without any civil war.
Auction sale 220 – Ancient coins and multiple lots
Anyone who can't spend that much money will appreciate Gorny & Mosch catalog 220 containing a number of intriguing and rare coins that you can buy without being a millionaire.
44 Celtic coins, 414 Greek, 297 Roman, and 139 Byzantine coins are on offer, plus 61 coins from the provinces under Roman rule. The catalog is especially interesting for anyone interested in fractions. He who collects Armenia is likewise well-advised to look closely: Gorny & Mosch offers a small number of these highly interesting bronze coins. In the Roman section, it is the many interesting sestertii, dupondii and asses that catch the eye. And those who collect Postumus are particularly requested to examine the catalog in detail for the catalog comprises many extremely scarce rarities. Last but not least – the collectors who not only looks for the gold in the Byzantine coins, but favor silver and bronze instead, will surely find more than one piece in catalog 220.
The great number of quite usefully put together and modestly estimated multiple lots are particularly likely to become a highlight for the bidder who attends the sale in person. Roughly 100 numbers will be called out. A close on-site inspection does pay off! The same applies for a thorough reading of the 156 lots of literature to be auctioned off at the end of the day. You will see, most of the lots contain a number of books of which many range amongst the most important standard works. Anyone collecting Greek, Roman or Byzantine coins is given the opportunity to acquire literature on his field at a low price.
Auction sale 221 – Medieval and modern times / Russia
Wednesday, 12 March 2014, is devoted to coins from medieval and modern times as well as to pieces from Russia. The catalog is dominated by a high number of rare gold coins albeit likewise many rarities in silver are available for sale.
You will find among the medieval coins, well represented with 142 lots, not only a series of coins from Styria but also some exciting gold coins, like an extremely rare Palatinate gold gulden minted in Oppenheim between 1394 and 1396 (3017, EF+, estimate: 2,500 euros), a Trier gold gulden from Koblenz dated to 1430-1434 (3020, VF+, estimate: 2,500) …
No. 3068. Italy / Florence. Fiorino d'oro n. d. (1198-1531). Unpublished mint mark. Extremely rare. Die defect. FDC. Estimate: 3,000 euros.
… and the Italian model, an extremely rare fiorino d'oro from Florence with an unedited mint mark (3068, FDC, estimate: 3,000 euros). We would also like to mention the perfect pierreale d'oro from Messina, issued by Peter and Constance between 1282 and 1285 (3101, EF-FDC, estimate: 3,500 euros).
Many rarities with a five-figure estimate are dispersed in the German section. To state but few examples: the very rare thaler of the Franconian Circle from Fürth from 1624 (3203, mint-state, estimate: 10,000 euros), the Hamburg portugalöser of 10 ducats from 1736 (3210, EF-FDC, estimate: 12,000 euros), …
Nr. 3249: ALTDEUTSCHLAND. Mainz. Friedrich Karl Josef von Erthal, 1774-1802. Konventionstaler 1795, Mainz. Äußerst selten. Stempelglanz. Taxe: 15.000 Euro.
… the extremely rare gold gulden from Mainz from 1373/4 (3246A, EF-FDC, estimate: 15,000 euros) and the conventionthaler, likewise from Mainz, from 1795 with the gorgeous cityscape of which only two examples are known to exist (3249, FDC, estimate: 15,000 euros). Likewise an impressive cityscape, this time from Nuremberg, decorates the reverse of the gold trial strike of 5 ducats 1698 on the Treaty of Ryswick, using the thaler dies (3256, EF-FDC, estimate: 18,000 euros). Regensburg excels with an extremely rare 4 ducat piece from 1664 (3266, about FDC, estimate: 20,000 euros) and Saxony with a perfect schmetterlingthaler of August the Strong (3277, about FDC, estimate: 25,000 Euro). Christian of Saxe-Weißenfels had klippen with the same weight as thaler minted, on the occasion of the bird shooting contest in Weissenfels. Two of these extremely rare pieces will be auctioned off, one dating to 1717, the other to 1718 (3290 et seq., EF and EF+, respectively, estimate: 10,000 euros each).
No. 3315. Germany / Würzburg. Johann Philipp I von Schönborn, 1642-1673. 5 ducats 1652, Nuremberg. Very rare. Extremely fine to FDC. Estimate: 25,000 euros.
A small series Würzburg concludes this preview's section of German coins, whose highlight is a 5 ducat piece of Johann Philipp I von Schönborn from 1642 (3315, EF-FDC, estimate: 25,000 euros).
The section of medals is of interest to connoisseurs of antiquity and the renaissance. A comprehensive series of congenial ancient-style creations of Italian die cutters made the pieces and portraits accessible to the early collectors that, unfortunately, hadn't been produced in ancient times, like the portrait of queen Artemisia (3378, VF-EF, estimate: 5,000 euros) …
No. 3380. Medals. Valerio Belli, also known as Vicentino, 1468-1546. Medal n. d. (c. 1539-1542) on the Spartan king Lycurgus. From auction sale Astarte 8 (2001), 121. Extremely fine. Estimate: 10,000 euros.
… or of the Spartan lawgiver Lycurgus (3380, EF, estimate: 10,000 euros). The highlights are the ancient-style portraits of contemporaries created by the 'Artist of the Paduans' Cavino (3382-3386, most of them EF, estimate between 1,500 and 5,000 euros).
Only a single order is for sale in this auction sale, albeit a very impressive one, a Pour le mérite with oak leaves, awarded to Otto Ritter von Rauchenberger (*1864) in 1917 and 1918 (oak leaves), respectively (3391, VF-EF, estimate: 10,000 euros). After he retired in June 1919, he was granted the honorary rank as General of Infantry.
Numerous rarities are dispersed amongst the world coins, like a 100 drachmae piece from Greece, minted in Birmingham in 1935, on the restoration of monarchy (3426, PP, estimate: 15,000 euros). From Italy comes a considerable number of marvelous testone, of which a testone with the portrait of Alfonso II d'Este (1559-1597) is very likely to be the most remarkable one, whose reverse depicts an eagle standing left (3434, VF-EF, estimate: 15,000 euros).
No. 3439. Italy / Ronco. Napoleone Spinola, 1647-1672. Scudo (spadino) 1669. Extremely rare. About FDC. Estimate: 30,000 euros.
Extremely rare – and the coin with the highest estimate of the entire auction sale 221 – is a scudo from 1669 of Napoleone Spinola, Count of Ronco (3439, about mint-state, estimate: 30,000 euros). Of the coins from Transsylvania, a 5 ducat piece from Hermannstadt from 1662 stands out featuring the portrait of Michael Apafi (3486B, EF-FDC, estimate: 25,000 euros).
Naturally, this sale also offers a large series of coins from Russia, where the collectors will be delighted at the estimates becoming interesting to the somewhat limited budget again. For some specimens, the bidding can be entered with as as low as 20 euros.
Anyone loving bibliophile books should have a closer look at lot 3519 and the following since books and sources from the 17th, the 18th and the 19th centuries are offered for sale.
All catalogs can be viewed on the internet and requested at Gorny & Mosch, Giessener Münzhandlung, Maximiliansplatz 20, D-80333 Munich, phone +49 / (0)89 / 24 22 643-0, fax +49 / (0)89 / 22 85 513.
Consignments for the upcoming October auction sale are welcomed as of now until 25 July 2014.