[bsa_pro_ad_space id=4]
Nothing compares to driving through the landscape around Evora. The sheep, cow and pig paddocks here are scattered with gigantic stones. At first you wonder about this freak of nature until you realise: this is not nature, it is man-made. Evora must have been a thriving centre in the Neolithic Age, perhaps comparable to Southern England or Brittany. The advantage of being in Portugal: While you will step on a lot of people's toes in Carnac, Alentejo allows you to fully take in the faint glow of this mystical past alone and in the midst of beautiful nature.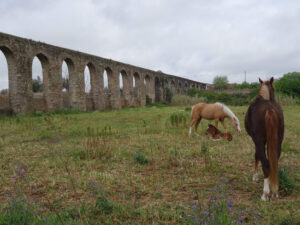 Thursday, 9 April 2015
Today we got our hired car. Not a small Smart but a magnificent Honda Civic with enough room to fit all of our luggage easily. We had decided to move to different quarters. The people at the Pousada were really awfully nice but the rooms unfortunately awfully small. Our new destination was only 25 km outside of Evora. We wanted to give the Pousadas another chance and had booked a night at the Pousada at Arraiolos. Already the drive to Arriolos was a treat. Although the weather forecast had predicted rain, the clouds seemed satisfied with just drifting across the sky and looking pretty, some of them whiter, some blacker. The landscape was verdant, herds of cows, sheep, and horses presented their newly-born calves, lambs, and foals. The green was dotted with blooming trees and ancient ruins … To cut a long story short, the landscape could not have been more picturesque.
We quickly dropped off the luggage at the Pousada, after all we had stayed close to Evora for a reason. We were keen to see the megalithic settlements in the area. Menhirs, dolmens, yes, even a palaeolithic cave with cave paintings!
I had the foresight to bring several maps at once to have a realistic chance of finding at least a fraction of the monuments. Typically attractions of this kind tend to be somewhat hidden. So we were all the more surprised to find a brown signpost some 10 km before the first menhirs. Everything was perfectly signposted right until the end so that we arrived at the first menhir, the menhir of Almendres, without having lost our way even once.
Remnants of megalithic culture can be found in different regions of Europe. It is probably safe to say that the British Stonehenge is the most famous one, but the Carnac Stones in Brittany equally have their place among the world's greatest wonders. Who would have thought that a centre of this culture, which has been dated by archaeologists between the Neolithic Age and the Bronze Age, could be found in Alentejo?! The first list of these gigantic monuments alone, which was presented to the Portuguese Academy of the Sciences in 1734, comprises 315 dolmens, 66 of them in the environs of Evora. They are everywhere, in cow paddocks and even in front gardens.
We walked 15 minutes to the first menhir and realised that the menhir was not even the main attraction. The singing nightingale in bright daylight was just as impressive, not to mention the happy pigs grubbing around in the dirt next to the menhir. The animals belonged to one of the oldest breeds of pigs in the world, the Iberian pig, which provides the popular Spanish ham. Apparently the pigs have been feeding on cork oak acorns since Roman times. And so some animals are still kept on paddocks outside today because it is believed that this is the only way to guarantee the high quality of the ham.
Speaking of cork oaks. They were everywhere. After all Alentejo is one of the most important regions worldwide for the production of the corks we love to pull out of wine bottles. If carefully cultivated, a single tree can provide 100 to 200 kg of cork in a lifetime.
Only the sapwood is harvested and only from the trunk so that the tree can always regrow a new layer of bark for cork extraction. The bark is harvested every 9 to 12 years.
While not long ago winegrowers were facing problems due to a shortage of cork supply, environmentalists today fear the opposite: Since wine is more and more often bottled with synthetic corks and the demand for cork as insulation material is going down, cork oak woods might soon not be profitable anymore. Stopping their cultivation would in turn deprive rare animals like the Iberian lynx or the Spanish imperial eagle of their habitat.
Located only a few kilometres away from the menhir is the Almendres Cromlech. While you need to pay admission to share the sight of the Carnac Stones with hundreds of other tourists from behind a pale, we were completely alone with the neolithic monument in Almendres. A sign kindly asked tourists not to climb on the stones if possible and informed them about the public toilets in the nearby village, subtle indicators that some visitors apparently have no respect whatsoever for the place's sacredness in former times.
It was really an incredible feeling standing in front of this building which must have been erected between 4000 and 2800 BC. 92 stones of weights up to several tons had been moved here, successively, perhaps over a longer period of time, and perhaps to serve as a sacred site for rituals somehow related to the change of seasons. We took our time walking around the circle and looked for the few stones which showed relief decorations (for most of them we were unsure if we were looking at the results of artificial treatment or simply of weathering) and enjoyed the unbelievable remoteness of the place. We were lucky. Just when we got back to our car we saw two quite interesting looking ladies with wild hairdos and a number of accessories stepping out of a taxi. Probably they were intending to activate the "healing powers" of the magical place by some pseudo-Celtic ritual (so far our guess). Oh well, I guess the Almendres Cromlech must have seen worse in its long history.
Also located close to Evora is the Gruta do Escoural or Escoural Cave with its palaeolithic rock-art. Unfortunately it is not always open. Or rather, it is usually closed. Visitors have to give notice of their visit in advance. We had of course tried to do that. The day before, at the tourist information in Evora. Unfortunately, although it is near Evora, the cave falls into a different administrative district. Accordingly, no one felt responsible for the matter. Of course we asked for details, for instance whether we could hope to speak to someone on the phone in English or French (German? – we did not even go there). No, honestly he did not think so, but here was the number, we were politely informed in flawless English. And so we ended up looking at yet another pretty gate with yet another fascinating lock. Oh well.
Leaving the Escoural Cave behind we drove on to Sao Brissos, where, in honour of a bishop who was revered as a saint in Evora, a dolmen was converted into a small chapel in the 17th century. Unfortunately, the chapel was closed, but the stone entrance was impressive enough.
By now the clouds had become thicker and darker and we were under the impression that it was pretty brave of us to begin the short hike that would bring us to our last and most important sight of our tour without an umbrella. Our destination: the Great Dolmen of Zambujeiro.
We left our car between two farms and hiked a good half hour in between cow herds to the megalithic tomb.
What we saw there took our breath away. We had not been aware of the fact that this was one of the biggest megalithic tombs anywhere, already described by poetic authors as the "cathedral of the Stone Age". It was discovered in 1964. A farmer had complained about a huge rock that impeded his ploughing. When the 20-tons heavy stone slab was blasted, it was realised with great surprise that it was part of a neolithic burial site.
Luckily, a professional excavation was undertaken after this first damage. During the excavation pearls, ceramics, stone axes, blades, and 154 slate idols with scratched decorations were unearthed. They were distributed around the 10 m long hallway and the chamber with a gigantic 9 m diameter.
Looking at the stones used to build this enormous architectural structure is truly awe-inspiring when you think about the amount of energy, force, skill, and organisation required to erect gigantic monuments such as this.
The exciting day had made us very hungry. And since the Pousada claimed to possess a good restaurant, we decided to give it a try. That was a mistake. The kitchen staff was visibly out of its depth. The chef badly misjudged how much local colour tourists could cope with. The amuse-geule, an obscure substance reminiscent of head cheese, that was just placed on our table with a bang and no explanation whatsoever was enough to put you on a diet immediately. And when I was served a lump of rice so sticky that I could pick up the entire thing with my fork without even a single grain dropping, I was fed up. While waiting what felt like half an hour for the waiter to throw us a glance eventually, I had almost finished the grilled vegetables on my plate that had been served with the rice. Only three little pieces of vegetables were left when I finally got to show the waiter my rice trick. He immediately took away the plate and returned a quarter of an hour later with freshly boiled rice and three by then cold pieces of vegetables. Well. We stayed at the Pousada for three nights. We would have eaten at the restaurant three times had it been any good. But there are too many good things in the world to waste your time making the same mistake twice.
The next episode leads us to Beja, entitled the "Queen of the planes" by well-meaning authors. Well, queens are also not what they used to be anymore, they say. Let's wait and see.
Here you will find all episodes of our series "Global Power Portugal".