[bsa_pro_ad_space id=4]
01-05-2016 – 03-05-2016
Auction 319 and 320
Spectacular series of gold coins from the German Empire
Auction 319: Ancient Coins
The auction of the ancient coins includes among it's circa 900 pieces some truly magnificent coins. Auction 319 will begin with the Celtic coinage.
53: Kings of Thrace. Lysimachos. 323-281 BC. Goldstater. Estimate Euro 7500,-
The first of the truly exquisite pieces from the Greek coinage is the title piece of the auction, a gold stater issued by Lysimachus of Thrace (323-281 B.C.) in uncirculated condition. It shows the head of Alexander the Great and the enthroned Athena on an especially high relief (Valued at EUR 7,500,-). A stater from Myriandros in Cilicia from the time of the Satrap Mazaios (361.334 B.C.), showing the enthroned Persian King. This coin is of the utmost rarity and is valued at EUR 10.000,-.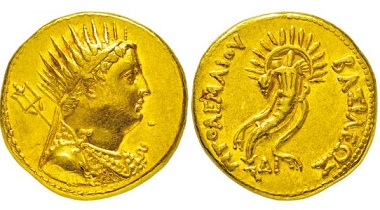 298: Ptolemaic Egypt. Ptolemy IV. Philopator. 221-204 BC. Gold Octodrachm. Estimate Euro 12.500,-
In extremely fine condition, a golden Octodrachm of Ptolemy IV. Philopatoros (221-204 B.C.) from Egypt, showing upon it the deified father Ptolemy III and a cornucopia (Valued at EUR 12.500,-).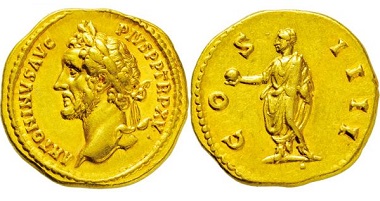 491: Roman Empire. Antoninus Pius. 138-161 AD. Aureus. Estimate Euro 8.000,-
The coins of the Romans will go under the hammer next. The first piece of note is a Aureus struck under Antoninus Pius (138-161 B.C.), showing the emperor with a globe, valued at EUR 8.000,-.
591: Roman Empire. Caracalla and Geta. Aureus. Estimate Euro 25.000,-
An Aureus showing the busts of the brothers Caracalla and Geta (ca.209-211 A.D.), in uncirculated condition, illustrates the order of succession put forth by Septimius Severus and will be going under the hammer at EUR 25.000,-. Another piece of utmost rarity is a Solidus coined under Valentinianus I (364-375 A.D.) struck with the emperors head as well as that of his brother Valens (Valued at 7.500,-).
The Byzantine coinage has among its 50 lots a truly magnificent piece: a Solidus struck under Irene (797-802). She was the first empress to reign alone on the throne of the Roman-Byzantine empire (Valued at EUR 6.000,-)
Auction 320: Modern Coins and Medals
The auction of modern coins and medals by Gerhard Hirsch Nachfolger encompasses nearly 1250 coins.
1042: German States. Bavaria. Maximilian I. 1598-1623. 4 Ducats 1610. Estimate Euro 5.250,-
The first of these pieces of true note to the discerning collector is 4 ducat from the Bavarian duke Maximilian I, struck in 1610, which is valued at EUR 5.250,-.
1275: German States. Hamburg. Free City. 10 Ducats 1855. Estimate Euro 7.500,-
A one of a kind piece is the uncirculated medal of honor from 1855 struck to 10 ducats for the Friends of the Society of School- and Education System of Hamburg, valued at EUR 7.500,-.
1759: German States. Mecklenburg-Strelitz. Friedrich Wilhelm. 1860-1904. 10 Mark 1880-A. Estimate Euro 10.000,-
A true highlight of the auction is a nearly complete collection of the gold coins of the German empire. Among these, the following are of special note: a 20 Mark 1914 of Ludwig III of Bavaria in uncirculated condition (EUR 4.000,-), a 20 Mark 1881 from Hamburg with a valuation of EUR 9.000,-, an extremely rare 10 Mark 1880 of Frederic Wilhelm of Mecklenburg-Strelitz in uncirculated condition (EUR 10.000,-), a very rare 20 Mark 1877 from Saxony (EUR 17.500,-) and 20 Mark 1878 (EUR 15.000,-) …
1949: German States. Saxe-Meiningen. Georg II. 1866-1914. 20 Mark 1882-D. Estimate Euro 20.000,-
… and a proof strike of 20 Mark 1882 of George II of Saxony-Weimar, valued at EUR 20.000,-.
To browse through the auction catalogues please click here and here.