[bsa_pro_ad_space id=4]
Ancient Coins and Modern Coins and Medals at Gerhard Hirsch
Munich-based auction house Gerhard Hirsch Nachf. will be holding their Auctions 348 and 349 on May 8 and 9, 2019. While Auction 348 is dedicated to ancient coins, Auction 349 offers modern coins and medals.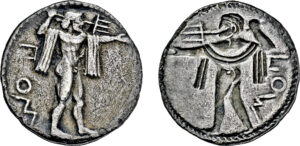 Antique Coins (May 8, 2019)
The auction of antique coins (containing ca. 1100 lots) has among the Greek coins a Drachm from Poseidonia in Lucania( 550-540 B.C.), depicting the god Poseidon (EUR 6.500). A further Tetradrachm from Selinos in Sicily, showing a depiction of Apollo with his quadriga, going under the hammer at EUR 3.750,-.
Among the Roman coins, a very rare Aureus of Caracalla (198-217 AD) is valued at EUR 25.000,-. A further Aureus of Diocletianus (284-305 AD) is extremely rare, perfectly centered and will be offered at EUR 12.000,-. Another Aureus from Maximinus II. Daia (309-313 AD), the nephew of Galerius, is the titular piece of our auction. This beautiful coin in nearly uncirculated condition has an estimation of EUR 8.000,-.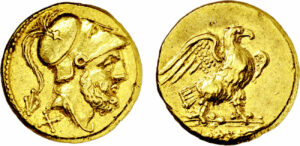 Auction 349: Modern Coins and Medals (May 9, 2019)
The auction of Modern Coins and Medals will be about 900 lots. From the Duchy of Bavaria comes a gold medal of Albrecht V. (1550-1579) with his impressive portrait and bust (EUR 15.000,-). The titular piece of our auction 349 is a 4 Ducats, struck under Ferdinand Maria from Bavaria (1651-1679), which is probably the only know example, is valued at EUR 15.000,-. A bronze medal, showing Joachim I. (1499-1535, the Elector of Brandenburg, has been cast in 1519 and is probably the 4th known example (EUR 27.500,-). From the Habsburg territories a Schautaler struck under Leopold I. in 1686, depicting the conquest of Ofen will go under the hammer at EUR 3.200,-. The coins of the German Empire post 1871 have among it a 10 Mark piece 1874 B from Hamburg, valued at EUR 2.500,-.
On the website of the auction house you can browse through the catalogues of Auction 348 and Auction 349.