[bsa_pro_ad_space id=4]
11-07-2016 – 13-07-2016
eLive Auction 41
Künker's eLive Auction 41 online
Künker's eLive Auction 41is now ready to be viewed online. The online auction takes place from 12 to 14 July 2016 at 6 pm. Just visit the Künker eLive auction website to study all of the items of the upcoming online auction.
Lot 3: Celts. Gaul. El-Stater, 2nd c. BC. Delestrée/Tache 58. very fine. Estimate: 750 Euro.
This time you will find nearly 1,800 lots, featuring pieces ranging from the ancient world to modern times. The online auction starts with a wide range of Greek and Roman coins as well as rarities from the Celts and the Byzantines.
Lot 146: Augustus. AE-As, 8/3 BC., Lugdunum. BMC 550; RIC2 230. Green patina, scarcely preserved, countermark nearly very fine. Estimate: 500 Euro.
A particular intriguing coin is an AE-Aes of Emperor Augustus which was minted in 8/3 BC and shows the presentation of Ara Lugdunensis. Subsequently the commander Publius Quinctilius Varus ordered that coins got his abbreviation – 'VAR' in ligature – during his army stayed in an army camp near to the river Rhine. Ara-Lugdunensis-Aes with punches of Varus are also occupied in larger quantities in Kalkriese near Osnabrück. In 9 AD, Varus led his army against the Germanic tribes in the Teutoburger Forest. He was the protagonist of the battle, who gave it the name to "Varus battle", which is also associated with the location.
Lot 433: George I., 1863-1913. 20 drachms 1884 A, Paris. In NGC plastic holder graded MS 62. Divo 47; Fb. 18; Karamitsos 164; Schl. 9. GOLD. extremely fine-FDC. Estimate: 200 Euro.
From the area of European coins and medals, we present you a nice series of Greek coins, struck under the reign of George I. …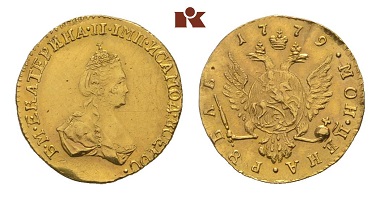 Lot 608: Catherine II., 1762-1796. Ruble 1779, St Petersburg. Bitkin 115 (R); Diakov 388; Fb. 135. GOLD. small traces of treatment, very fine. Estimate: 400 Euro.
… and of course a large collection of Russian pieces. Bidders are also encouraged to take a look at the Overseas section with a beautiful selection from modern China.
Lot 1374: Frederick II., 1215-1250. Pfennig. Berghaus 71. slightly weak strike, very fine. Estimate: 500 Euro.
Künker's eLive Auction 41 will round off with pieces from the Holy Roman Empire and from Germany, with among others an attractive collection of imperial coinage.
You can find Künker's eLive Auction 41 here.