[bsa_pro_ad_space id=4]
Finest Meiji Pattern 10 Yen Leads Heritage Auction Past $17.8 Million
The world's finest certified example of the Meiji gold Pattern 10 Yen Year 3 (1870) MS66 NGC sold for a record $564,000 at Heritage Auctions' World & Ancient Coins Platinum Session and Signature® Auction. The total of that auction was $17,847,520. That, combined with the $67,901,923 sold at Heritage's US Coins Signature® Auction, brings the total for the weekend to $85,749,443.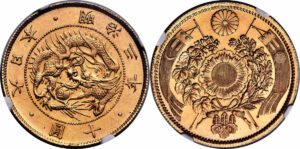 "This is one of the most impressive Japanese coins likely to reach the open market for some time," says Cris Bierrenbach, Executive Vice President of International Numismatics at Heritage Auctions. "It is one of the finest representatives within the entire Japanese series, the epitome of conditional and absolute rarity. Pattern coins produced during the Meiji era remain a difficult portion of Japanese numismatics. So it's no surprise that this coin, especially in such exceptional condition, drew such competitive bidding."
A Victoria gold Proof "Una and the Lion" 5 Pounds 1839 PR63 Ultra Cameo NGC, by William Wyon, soared above pre-auction expectations until it closed at $372,000. Designed exclusively for inclusion in Victoria's delayed 1839 Proof Set, the artistry in this coin is widely recognized to have inspired equal renown when it first was produced 183 years ago. It generated demand that far exceeded the original mintage of approximately 400, subsequently necessitating the Royal Mint's production of additional examples upon demand for nearly a half a century, until 1886.
The Una and the Lion 5 Pounds was one of seven coins by Wyon that sold in the auction. Others included, but were not limited to:
A Victoria Proof "Gothic" Crown 1847 PR65 NGC: $75,000
A Elizabeth II gold Proof "Gothic Crown Quartered Arms" 1000 Pounds (Kilo) 2021 PR70 Ultra Cameo NGC: $72,000
A Victoria Proof "Gothic" Crown 1847 PR64 NGC: $50,400
The finest of all certified and likely uncertified representatives across all mintmarks for the type, an Elizabeth I (1558-1603) gold Pound ND (1595-1598) MS66? NGC doubled its high pre-auction estimate when it sold for $240,000. The coin is a spectacular rarity of not only Elizabethan coinage, but of all British numismatics, struck in the later years of the famed queen's reign and ranking leagues beyond many of even the finest survivors of her monarchy.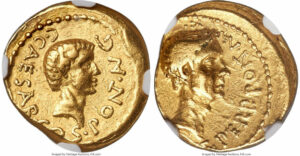 Historical Scholar Collection
Among the highlights in this trove, which included nearly 200 lots, was an Octavian, as Consul (43 BC), with Julius Caesar, as Dictator Perpetuo and Pontifex Maximus. AV aureus (19mm, 8.08 gm, 7h). NGC Choice VF 3/5 – 4/5, which raced past pre-auction expectations until it finished at $228,000. This exceptional example is one of exceedingly few near-contemporary gold portraits of Julius Caesar.
Other highlights from the Historical Scholar Collection include, but are not limited to:
A Gaius (Caligula) (AD 37-41), with Divus Augustus (or Tiberius). AV aureus (19mm, 7.63 gm, 11h). NGC XF 5/5 – 4/5: $192,000
A Mysia. Lampsacus. Ca. 395-350 BC. AV stater (18mm, 8.39 gm, 1h). NGC MS 4/4 – 4/5, Fine Style: $132,000
A Marc Antony and Octavian, as Imperators and Triumvirs (43-33 BC), with Marcus Barbatius Pollio, as Quaestor Propraetor. AV aureus (19mm, 7.95 gm, 1h). NGC AU 5/5 – 4/5, light scuffs: $72,000
A Leo VI the Wise (AD 886-912). AV solidus (20mm, 4.30 gm, 6h). NGC Choice XF 5/5 – 2/5, Fine Style, scratches, edge marks: $57,600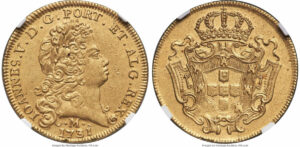 Petropolis Collection
The auction included 206 lots from the Petropolis Collection, Part I – a selection of seldom-seen gold rarities of a caliber of the sale nearly a decade ago of the Collection of Dr. Roberto de Lemos Monteiro – The RLM Collector, who assembled one of the most prestigious collections of Brazilian gold types seen in this century.
The group was led by a João V gold 6400 Reis (Peça) 1731/21-M UNC Details (Saltwater Damage) NGC that tripled its high pre-auction estimate when it sold for $90,000. According to the law in 1732, anyone found carrying these old-edge issues would be considered a counterfeiter, suffering the severe sanctions of four years of exile in Africa, as well a fine on top of having the unlawful coins confiscated. The very few that survived this period are likely pieces that found themselves away from circulation, perhaps hidden in hoards, taken out of Brazil or lost at sea.
Other top lots from the Petropolis Collection included, but were not limited to:
A João V gold 12800 Reis (Dobra) 1731-R AU58 NGC: $50,400
A João V gold 12800 Reis (Dobra) 1730-B AU Details (Cleaned) NGC: $40,800
One of the first coins ever struck in Brazil: Pernambuco. Dutch Colony – Geoctroyeede West-Indische Compagnie (GWC) gold Klippe 6 Guilders (Florins) 1646 UNC Details (Tooled) NGC: $28,800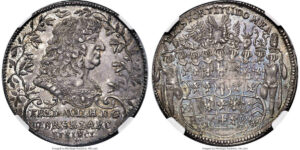 Cape Coral Collection of German Coins
The auction found new homes for 279 lots from this exceptional collection, which included some of the finest World Crowns ever brought to market. Among the prizes in the collection that awaited eager bidders were selections from what is widely regarded as the finest assemblage of German Talers ever compiled by a private collector.
The collection was led by a Brandenburg Friedrich Wilhelm Taler 1679-CS MS66 NGC, the finest-certified representative of this rare, cherished issue, which sold for $31,200. Other top results in the collection included:
South Peru. Republic 8 Reales 1837 CUZCO-BA MS64+ NGC: $19,200
Free City 2 Taler 1740-IT MS64 NGC: $18,000
Free City Taler 1544 MS65+ NGC: $14,400
Complete results of the auction can be found online.
For further information about Heritage Auctions, visit their website.