[bsa_pro_ad_space id=4]
Engagierte Bieter sorgten in der 160. Saalauktion des Auktionshauses Felzmann am 7. und 8. November 2017 für hohe Zuschläge. Im Mittelpunkt stand das Lebenswerk des Sammlers Wolfgang Büge mit Schwerpunkt Antike und Pommern.
Datum/Zeit
06.11.2017 - 07.11.2017
23:00
Veranstaltungsort
Testplatz Stuttgart
Kategorien
Auktion 160
Erfolgreiche Herbstauktion bei Felzmann
Am 7. und 8. November hielt das Auktionshaus Felzmann in Düsseldorf seine Saalauktion 160 ab. Das hochwertige Angebot der großen Herbstauktion mit Münzen, Medaillen und Banknoten sowie Sammlungen ließ das Sammlerherz höherschlagen. Das versteigerte Lebenswerk des Sammlers Wolfram Büge mit Schwerpunkten aus Antike und Pommern gab den grandiosen Auftakt für zwei spannende und erfolgreiche Münzauktionstage.
Los 177: Deutschland, Stralsund, unter Christina von Schweden, 1637-1654. 1/2 Taler = 16 Schilling 1638 mit Titel Ferdinands II. Ausruf: 500 Euro. Zuschlag: 3.800 Euro.
Besonders stachen dabei ein Denar Iulius Caesar (Los 44) mit einem Zuschlag von 560 Euro und zwei Lose aus dem Gebiet Pommern mit einem Taler Herzogtum Pommern (Los 108, Zuschlag: 1.700 Euro) sowie einem Halbtaler Stralsund (Los 177, Zuschlag: 3.800 Euro) hervor.
Aus Preußen erlangte ein Doppelter Friedrichs d'or von 1848 zu Ehren Friedrich Wilhelm IV. den Zuschlag für 3.250 Euro (Los 610) und ein wunderschöner britischer Ryal oder Rose Nobel ohne Jahr auf Edward IV., 1. Regierung 1461-1470, fand seinen Liebhaber für 2.750 Euro (Los 1096).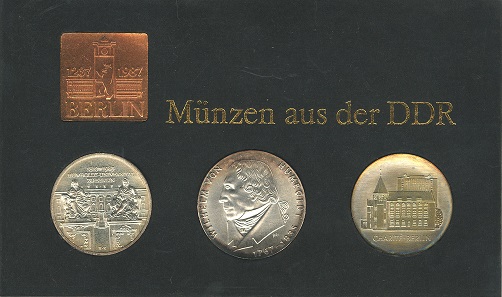 Los 813: DDR, Themensatz 750 Jahre Berlin: 20 M Humboldt, 10 M Humboldt Uni, Charité. Ausruf: 80 Euro. Zuschlag: 1.600 Euro.
Auch beliebt waren die DDR-Gepräge der Sammlung "Leuchten", die fast vollständig an Sammler aus aller Welt verkauft wurden. Darunter gut gelaufene Themensätze, wie der Themensatz "750 Jahre Berlin" (Los 813), der mit einem Zuschlag von 1.600 Euro die Erwartungen bei Weitem übertraf sowie die 10 M von 1974 zu dem Anlass 25 Jahre DDR (Los 860, Zuschlag: 3.000 Euro).
Los 1302: Isle of Man, Elisabeth II., 1952-. Crown 1980. Olympische Winterspiele Moskau. Ausruf: 1.700 Euro. Zuschlag: 4.200 Euro.
Das Gebiet "Isle of Man" wurde ähnlich dem DDR-Schwerpunkt fast vollständig verkauft. Besonders ein Los hatte es gleich mehreren Bietern sowohl im Saal als auch am Telefon angetan und so wurde lange gerungen, bis Los 1302, eine Goldgedenkprägung zur Olympiade in Moskau für 4.200 Euro an den glücklichen Käufer ging.
Los 1965: Ras Al-Khaimah, Saqr bin Muhammad al-Qasimi, 1948-1999. 150 Riyals 1970. Fußball-WM in Mexiko. Ausruf: 5.000 Euro. Zuschlag: 8.500 Euro.
Sportlich ging es ebenfalls im Gebiet Übersee mit Los 1965 zu, einem Gedenkgepräge des arabischen Emirats Ras Al-Khaimah zur Fußball-WM 1970 in Mexiko, das mit einem Zuschlag von 8.500 Euro den Besitzer wechselte. Auch das ägyptische Gedenkgepräge zur Fußball-WM in Italien (Los 1703) gehörte mit einem Zuschlag von 4.350 Euro zu den Highlights.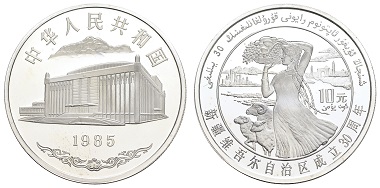 Los 1771: China, Volksrepublik. 10 Yuan 1985. 30 Jahre Uigurische Autonome Region Sinkiang, zusammen mit dem 1 Yuan Stück. Ausruf: 1.000 Euro. Zuschlag: 2.000 Euro.
Aus der Volksrepublik China stach ein 10 Yuan von 1985 anlässlich 30 Jahre Uigurische Autonome Region Sinkiang hervor (Los 1771, Zuschlag: 2.000 Euro), und die 10.000 Francs Jean- Bédel Bokassa, von 1970 auf den 10. Jahrestag der Unabhängigkeit der Zentralafrikanischen Republik erzielten 1.950 Euro (Los 2082).
Bei den Sammlungen kam eine Sammlung Notgeldscheine von 1914-1923 (Los 2884) mit einem Zuschlag von 9.500 Euro unter den Hammer und eine Sammlung russischer Geldscheine erzielte 2.100 Euro (Los 2865). Eine traumhafte Sammlung von internationalen Silbergiganten wurde für 1.500 Euro zugeschlagen (Los 2795).
Alle Ergebnisse der Auktion sind auf der Webseite des Auktionshauses Felzmann einsehbar.
Unverkaufte Lose der 160. Auktion können bis zum 26. November 2017 mit einem Nachlass von 10 Prozent – mit Ausnahme limitierter Lose – im Nachverkauf erstanden werden.