[bsa_pro_ad_space id=4]
13-11-2015 – 01-01-1970
Vente aux Enchères de Monnaies de Prestige
Exquisite Collection of Savoy Coins
You need to remember a new date for the Gadoury sale in Monaco. The auction will no longer be in early December but in mid-November. So, the 5th auction sale of Éditions V. Gadoury has been scheduled for November 14th, 2015. The coin show, which always takes place the day after the auction, was likewise antedated, to November 15th, 2015. Coming to Monaco will thus pay off, to attend both the auction sale and the coin show, not to forget a fabulous exhibition: From November 14 to November 15, there will an exposition titled "Le Roi-Soleil et les Princes de Monaco" (= The Sun King and the Princes of Monaco) featuring many a rarity never seen before at the Musée des Timbres et des Monnaies.
And if you are preferring buying coins to looking at them, Gadoury will present a broad array of numismatic items in his 5th auction. It leads the coin collector all the way from antiquity to the present age. This catalog lists many special collections composed of items you will seldom see.
Lot 45: TRAIANUS, 98-117. Aureus, Rome, 112-114. RIC 257. Rare. Good very fine. Estimate: 5,000,- euros.
The emphasis of the ancient coins is on the numismatic output of the Roman Empire. There, a large number of rare aurei can be found – both, of the finest grades possible and of grades allowing the "normal" collector to bid on the items he desires without over-checking his account. An example is the rare aureus of Trajan featuring the Forum Traiani on its reverse. The specimen is graded very fine, nevertheless, every small detail of the depiction is clearly recognizable (5,000 euros). The aureus of Lucius Verus, on the other hand, is extremely fine and depicts the installation of the Armenian King on the reverse (6,000 euros). Rare denarii of extremely fine quality and fine bronze coins with untouched patina will cross the auction block, too.
Lot 93: MAIORIANUS, 457-461. Solidus, Arles, 458-461. RIC 2631. Extremely rare. Nearly extremely fine. Estimate: 10,000,- euros.
The late antique coinages are impressive with all the rarities, including a solidus of Marjorian graded nearly extremely fine (10,000 euros), an extremely fine solidus of Libius Severus (5,000 euros), and a very fine half siliqua of Julius Nepos (4,000 euros).
A few Byzantine and Celtic coins follow. We would like to highlight a solidus of Justinian II, struck either in Naples or in Ravenna (5,000 euros). The ancient coins on offer are concluded by coinages from the Migration Period, including rare specimens form the Lombard Empire.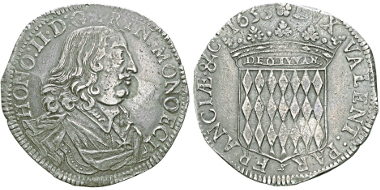 Lot 124: MONACO. Honoré II, 1604-1662. Écu 1653. Gadoury MC30. Good very fine / extremely fine. Estimate: 2,500,- euros.
At Gadoury's, the world coins always start with Monaco. And of course the Monegasque auction house is able to present many a rarity. To name only two: a 1653 écu of Honoré II (2,500 euros) and a 1673 écu of Louis I (3,000 euros). Likewise interesting are the medals and plaques that bear testimony to, among others, the automobilists' attraction for Monaco. Special mentioning deserve the large number of essays and pieforts, including an assortment, still in the original packaging, consisting of 8 pieforts and 8 essays dating from 1950 in both gold and silver (7,000 euros).
Lot 245: EGYPT. Farouk, 1936-1952. 500 piaster 1357 AH (= 1938). Graded NGC PF62. Proof. Estimate: 3,000,- euros.
Turning to the rest of the world, the lots on offer cover the entire geographical range, from 'A' as in Afghanistan to 'Z' as in Zaire. Anyone looking for the special and the extraordinary will find many items to his or her liking, as the sale comprises many specimens that are hard to come by. And by this, we do not only refer to the Chinese 1990 20 ounce piece that depicts the Great Wall of China on the obverse and the dragon and phoenix motif on the reverse, of which only 250 specimens were struck (35,000 euros). This likewise goes for a collection of Egyptian gold coins, spanning the chronological spectrum from the Mamluk Period to the present time.
Lot 535: ITALY. Subalpine Republic. Napoleon. 1808 40 Francs, Turin. Gadoury 1083. Only 346 specimens struck. Nearly extremely fine. Estimate: 10,000,- euros.
Gadoury is a known specialist for French coins, as the famous red book is written in-house. Some of the material listed there as R(4) or R(5) is currently on offer at Gadoury's Auction 5. Chronologically, the spectrum ranges from the Carolingians, the Middle Ages and the Bourbons, to the era of the French Revolution and modern times. Please note the following main fields: A collection of coins of Louis XIV with many rare mints and dates, a small series of specimens from the era of the Constitutional Monarchy (1791-1793), and a large collection of coins issued by Napoleon I, likewise featuring rare mints and rare dates. Napoleon I is going to reappear, when we turn to Italy. Here, an interesting series of coins issued by Napoleon in Italy can be found. This series includes notable rarities, such as a 40 francs piece, of which no more than 346 specimens were struck in Turin in 1808 (10,000 euros).
Lot 450: FRANCE. 5th Republic, 1959-present. Gold pattern for 1959 2 francs seeder. Only 4 specimens struck! Graded NGC MS64. Estimate: 15,000,- euros.
But let's return to France. We have to mention the rare patterns and pieforts of 20th-century circulating coins. Here you will spot one of the rarest coins from the 5th Republic, a pattern for the 1959 2 franc gold coin with the depiction of the female seeder. The French session will be concluded by a broad array of coins from the French colonies.
Lot 672: ITALY. Sardinia. Vittorio Emanuele I, 1802-1821. 80 lire, Turin, 1821. MIR 1027a. Only 965 specimens struck. Extremely fine. Estimate: 25,000,- euros.
After a small selection of gold coins from Iran, Italy – as was said above, beginning with a number of coins issued by Napoleon – will follow featuring many more interesting items. A large special collection is devoted to the Duchy of Savoy, the Kingdom of Sardinia and the Italian royal house, the specimens on offer ranging in date from the 14th to the 20th century. Highlights are a 80 lire piece of Vittorio Emanuele I, of which 965 specimens were minted in Turin in 1821 (25,000 euros), a 20 lire piece from both the same year and the same mint, the rare variant exhibiting a dot following the lettering PRINC on the coin's reverse (20,000 euros) …
Lot 695: ITALY. Vittorio Emanuele II, 1861-1878. 100 lire, Rome, 1871R. MIR 1076c. Only 661 specimens struck. Graded NGC AU58. Estimate: 18,000,- euros.
… as well as a 1872 100 lire piece of Vittorio Emanuele II from Rome, of which 661 examples were struck (18,000 euros), another one from 1878, with the even smaller mintage of 294 specimens (35,000 euros), and, lastly, a 100 lire piece of Umberto I, of which no more than 180 specimens were issued in Rome in 1880 (20,000 euros). A couple of rare coins of Vittorio Emanuele III will likewise come under the hammer, such as a 1903 100 lire piece, of which 966 specimens were struck (18,000 euros), and a 1950 100 lire piece with a total mintage of 1,012 examples (10,000 euros).
Lot 769: RUSSIA. Nicholas II, 1894-1917. Decoration with gold medal, awarded with letter written by Grand Duke Mikhail Mikhailovich for his carriage driver. Unique in this assortment. Extremely fine. Estimate: 5,000,- euros.
There is more to come. The Russian section features several very interesting items, a part of which constitutes a gold medal, awarded by Grand Duke Mikhail Mikhailovich to his carriage driver in 1911. Grand Duke Mikhail, though great uncle of Nicholas II and thus closely related to the Tsaristic family, had nevertheless to go into exile to Southern France for he was married morganatically to Sophie of Merenberg. Ultimately, however, that saved his life because he did not fall victim to the revolution. Gadoury now presents a gold medal that is closely linked to this interesting figure of Russian history. Depicting the portrait of Nicholas II, it was nevertheless Grand Duke Mikhail who awarded this medal to his carriage driver. This is corroborated by a letter addressed to the driver written by the Grand Duke's own hand (5,000 euros).
Finally, as the last of the larger collections that will be called out at this auction, a series of US American gold coins, all of which are graded by PCGS, will conclude the sale.
You may order the catalog at Éditions Victor Gadoury, 57, rue Grimaldi, 98000 Monaco; phone: +377 93 25 12 96; telefax: +377 93 50 13 39; email.
The catalog is likewise available on the website of Gadoury or at Sixbid.