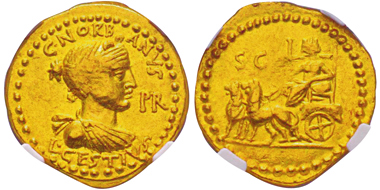 [bsa_pro_ad_space id=4]
02-12-2016 – 01-01-1970
Prestige Auction
Gold: from Ancient Times to the Present Day
Gold coins from all historical eras and countries are at the heart of the upcoming Gadoury Auction, to be conducted in the Hotel le Méridien on December 3, 2016. Almost every piece on offer comes with an appraisal of leading grading companies.
The specialized collector will be happy to find some extraordinary series, for example an assortment of rare Australian coins, a comprehensive selection of Chinese Pandas, a large French section including a greater number of coins minted under Napoleon as well as more than 50 lots composed of patterns and piedforts. Equally rich is the offer of Italian material with, among other items, an exceptionally large number of coins of the House of Savoy. Last but not least, a collection of Liberty Head Double Eagles deserves mentioning.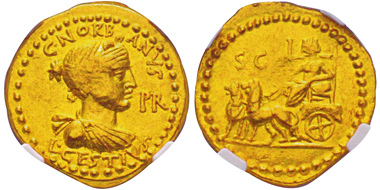 Lot 11: ROMAN REPUBLIC. L. Cestius and C. Norbanus, 43 BC. Aureus. Cr. 491/2. Graded NGC AU. Very rare. Extremely fine. Estimate: 10,000,- euros.
The auction sale will kick off with ancient coins. Eight lots of Greek coins are followed up by 110 lots from Roman Imperial times, the Migration Period and Byzantium, offering a large share of aurei and solidi in appealing grades, including numerous rarities. To highlight some few: a 43 BC aureus of Cestius and Norbanus, an aureus of Otho and another one of Vitellius, as well as an extremely rare aureus for Traianus Pater. Furthermore there are rarities dating from late Roman times, for instance a solidus minted in the name of Libius Severus and several solidi and tremisses of the Migration Period, especially of the Lombards.
Lot 51: MARCIANA, sister of Trajan, 98-117. Denarius, Rome. RIC 743. Very rare. FDC. Estimate: 5,000,- euros.
We should not omit the denarii, a great many of them stemming from the time of Trajan and Hadrian. The highlights are a perfect denarius for Marciana, sister of Trajan, in FDC and a denarius from the restitution series issued under Trajan, bearing the portrait of Octavian, also graded FDC.
Lot 135: MONACO. Louis II, 1922-1949. Gold medal, Pierre Turin (1944). De Vos M15. 3rd known specimen. FDC. Estimate: 8,000,- euros.
As is customary at Gadoury, the collector will be offered a diverse selection of Monegasque strikings. Most likely the biggest attention will attract a 1649 écu de 3 livres in extremely fine, a gold medal with the portrait of Louis II – created by Pierre Turin in 1944, only three specimens of this medal are known to exist –, and a series consisting of three piedforts dating from 1974 and graded FDC.
Next in line are roughly 850 lots comprised of world coins and medals, opening with a spectacular gold medal 200 g in weight issued by the Saudi Arabian king Faisal honoring services for the Islam. Some impressive Australian rarissima are following. This department's top item is a proof essay for a 1856 sovereign, produced in the Sydney Mint, of which only two or three specimens are known to exist.
Lot 306: CHINA. 1000 yuan, 1986. 373.2g of gold. Graded NGC PF64 Ultra Cameo. Estimate: 12,000,- euros.
The next highlight will be China with its more than 100 lots of Chinese Panda coins, ranging from the 1/16 ounce to the 12 ounce piece, from 1982 to 2014. Of course, the extremely rare 50 yuan 1995 is included.
Make sure to have a look at the impressively comprehensive series of Egyptian coins dating from the middle of the 19th cent. to the year 1970. You will spot some 500 piastres pieces all in outstanding grades.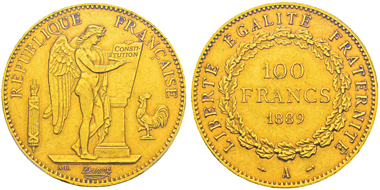 Lot 493: FRANCE. Third Republic, 1870-1940. 100 francs, Paris, 1889A. Gadoury 1137. Only 100 specimens struck. Graded PCGS AU55. Estimate: 25,000,- euros.
Every collector of French coinage would also be well-advised to delve into the catalog. Covering the chronological range from the Carolingians to the Fifth Republic, this section includes many objects that are only rarely encountered. The focus is on the coins of Napoleon in both silver and gold. As telling examples, we would like to mention two 20 francs pieces dating from the year 14, one struck in Limoges (EF, estimate: 5,000 euros) and the other in Lille (EF, estimate: 4,000 euros), as well as a 1 franc 1806 Bordeaux (EF, estimate: 4,000 euros).
Great rarities are dispersed among the material stemming from the Third Republic: a 100 francs piece and a 50 francs pieces from 1889, struck in Paris. Only 100 specimens were minted of each of these two.
Lot 530: FRANCE: Fifth Republic, 1959 to present. Gold pattern for 5 francs "Semeuse", 1959. Taill. 153.3. 8 specimen struck. One of the rarest coins of the Fifth Republic. NGC MS65. Estimate: 15,000,- euros.
Also impressive are the more than 50 lots comprising French patterns and piedforts. Here are the three top items: first, a pattern for 100 francs from 1929 Paris, struck from the dies cut by Lucien Bazor. Second, the gold pattern for 5 francs 1959 Semeuse, which of course refers to the depicted sower, of which no more than eight pieces were struck. Last but not least, a platinum piedfort for 50 francs Hercules dating from 1975, of which only 10 specimens were produced.
Nevertheless you will also find historical rarities at lower estimates, for example the patterns of 10 and 20 centimes of Napoleon IV, who never was able to ascend the throne.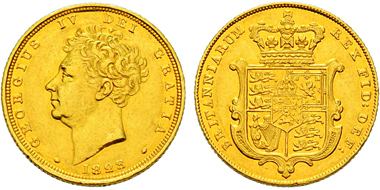 Lot 580: GREAT BRITAIN. George III, 1820-1830. Sovereign 1830. KM#696. Extremely rare. Nearly extremely fine. Estimate: 5,000,- euros.
There is also an impressive series of Great Britain, especially sovereigns, among them an extremely rare sovereign of 1828 in nearly extremely fine and a rare sovereign of 1841 in NGC XF40.
It goes without saying that in this auction Gadoury will offer a wide range of Italian strikings as well. The material includes Genovese coins, a small series from Venice and several spectacular single items, for instance an undated 4 doppie from Mantua featuring the portrait of Ferdinando Gonzaga who is shown wearing the cardinal attire. In 1612 he renounced his ecclesiastical office, when, after the death of his brother, he became Duke of Mantua.
Lot 759: ITALY. Charles Emanuel II, 1638-1648, under regency of Christine Marie, 1638-1648. 4 scudi, Chambéry, 1642. MIR 742b (R9). Very rare. Very fine / Extremely fine. Estimate: 20,000,- euros.
A highlight of this year's auction sale will be, once again, the coins of the House of Savoy. To mention only some of the most outstanding strikings: Charles Emanuel II with his mother Christine Marie as regent, 4 scudi, Chambéry, 1642 (VF/EF, estimate: 20,000 euros), Charles Emanuel III, carlino da 5 doppie, Turin, 1756 (graded NGC MS62, estimate: 50,000 euros), Victor Emanuel II, 100 lire, Rome, 1872 (graded NGC MS60, estimate: 15,000 euros), and Victor Emanuel III, 100 lire, Rome, 1903 (graded PCGS MS61, estimate: 15,000 euros).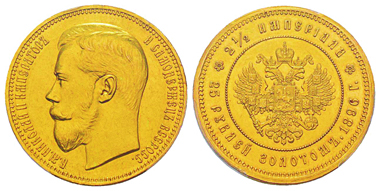 Lot 877: RUSSIA. Nicholas II, 1894-1917. 25 roubel, St. Petersburg, 1896. Bitkin 312. Only 300 specimens struck. Graded PCGS Genuine – AU Details. Estimate: 40,000,- euros.
Collectors of other fields should also carefully browse the catalog, as it contains extremely rare gold coins from a large number of countries: Hungary, for example, is represented by a 4 forint piece from 1892, Fiume, minted in Kremnitz, of which as few as 20 specimens are known to exist (EF, estimate: 10,000 euros) whereas from the Netherlands comes a 10 gulden piece dating from 1895, of which only 149 specimens were struck (graded PCGS AU53, estimate: 10,000 euros), and last but not least from Russia a 25 roubel piece, St. Petersburg, 1896, of which only 300 specimens exist (graded PCGS AUDetails, estimate: 40,000 euros).
Lot 974: USA. 20 dollars. Liberty Head Double Eagle, Philadelphia, 1885. KM #74.3. Only 828 specimens struck. Graded PCGS Genuine Cleaning – AU Details. Estimate: 15,000,- euros.
Finally, there is the large collection of US American Liberty Head Double Eagles that were introduced in the aftermath of the 1850 Californian Gold Rush. The collector discovers different years of issue as well as several mints, among them the incredible number of 15 pieces coming from the Carson City mint! Let's note rarities like 1875 Carson City (graded PCGS MS61, estimate: 5,000 euros), 1879 New Orleans (graded PCGS Genuine Repaired – AU Details, estimate: 15,000 euros), and 1885 Philadelphia (graded PCGS Genuine Cleaning – AU Details, estimate: 15,000 euros).
You may order the catalog at Éditions Victor Gadoury, 57, rue Grimaldi, 98000 Monaco; phone: +377 93 25 12 96; telefax: +377 93 50 13 39; e-mail.
The catalog is likewise available on the internet at the websites of Gadoury, Sixbid, Numisbids, Bidinside, and Biddr. Naturally, live bidding from your computer at home is also available!
By the way, bidders who participated in earlier auctions are kindly invited to take advantage of a very special service of Gadoury's. Anyone who purchased a coin with a hammer price exceeding 5,000 euros in one of its previous auction sales since 2011 can have it resold again free of charge.