[bsa_pro_ad_space id=4]
05-12-2014 – 01-01-1970
Vente aux Enchères de Monnaies de Prestige
Rome is at the center of upcoming Gadoury auction sale
On 6 December 2014, one day prior to the Grande Bourse on 7 December, the auction sale of Éditions V. Gadoury will be conducted at the hotel Le Méridien. Although scheduled for a date right in the winter, not only the bright sun will be attracting visitors to Monaco, into the south of Europe.
The sale is kicked off by 22 coins form the Greek world and hence, via the Roman Republic, leads over to the first highlight, a collection of coins from Roman Imperial Times that were assembled with great expertise and taste. Notably the fine bronze coins catch the eye. Just take the – strictly speaking, not quite so rare – dupondius that had been struck in Nimes in modern-day France. The item on offer, featuring the portraits of Augustus and Agrippa, is one of the most beautiful of this type in existence (71, EF, estimate: 2,500 euros).
No. 118: TITUS, 79-81. For Iulia Titi. Dupondius, 80-81. RIC 391. From Mazzini Collection. About extremely fine with excellent portrait. Estimate: 6,000,- euros.
Equally fine at least is the portrait of Iulia Titi on a dupondius that used to belong to the collection of Giuseppe Mazzini (118, about EF, estimate: 6,000 euros). Many rarely encountered coin types are available, of the finest quality and reasonably estimated, like the completely untouched as of Antoninus Pius that depicts the Lavinian sow with her piglets on the reverse (168, EF, estimate: 1,000 euros). The connoisseurs will be amazed by the great number of semises and quadrantes on offer. And there is a large selection of gold coins with moderate estimates available for sale, some in superb quality, like an aureus of Hadrian with the reverse AEGYPTOS (142, about EF, estimate: 6,000 euros) and an aureus of Lucius Verus showing the installation of the Armenian king on the reverse (188, EF, estimate: 6,000 euros). Do we really have to add that any number of attractive denarii is offered for sale as well? The German market is highly likely to fall on the extremely fine – and very much sought-after – denarius of Hadrian whose reverse depicts a perfect Germania with spear and shield (146, EF, estimate: 500 euros).
Coins of the Celts, from the Migration Period and of the Byzantine rulers complete the offer of ancient coins.
No. 311: MONACO. Honoré II, 1604-1662. 12 gros or fiorino, 1640. Gadoury 6. Extremely rare. About very fine. Estimate: 5,000,- euros.
The second part of the auction sale comprising world coins and medals begins with – and this is anything but a surprise – a rich selection of coins from Monaco. As pars pro toto we only mention the first piece here, an extremely rare and very early coin of Honoré II dating from 1640 (311, ab. VF, estimate: 5,000 euros). Shortly after Honoré's accession to the throne, Spain gained control over Monaco. The court at Madrid officially granted him the title of prince not before 1633. This title came with the right to mint money. The item offered here is one of the numismatic testimonies to the Spanish influence on Monaco before Honoré managed to expel the Spanish garrison in 1641.
The focus of world coins coming next is on the Spanish Empire, on France and – comprising about 400 pieces – on Italy.
This is what we would like to start with. The chronological range covers the early Middle Ages until Modern Times. The time of the testone with their interesting Renaissance portraits are particularly well represented. A case in point is an unpublished testone of Savoy of Emanuele Filiberto (1553-1580) whose obverse exhibits a much smaller portrait than his other testone (619, VF, estimate: 6,000 euros). A second rarity likewise is of a Savoy prince – it is an undated ducat of Charles I, minted at Chambery (605, VF, estimate: 10,000 euros).
No. 520: ITALY. Département de Gênes, 1805-1814. 5 francs, Genoa, 1814CL. Gadoury 584. Very rare. PCGS XF40. Estimate: 20,000,- euros.
The most expensive coin of the Italian section is a 5 francs piece from 1814 with the portrait of Napoleon struck for the Département de Gênes around Genova. This administrative unit was established in 1805 after the French emperor had annexed the Ligurian Republic he controlled. In the very year this coin was struck, i.e. 1814, the département was disbanded and awarded to the Kingdom of Sardinia (520, PCGS XF40, estimate: 20,000 euros).
No. 708: ITALY. Vatican. Alexander VI, 1492-1503. Double florin, Rome, undated. CNI 5. Very rare. Very fine. Estimate: 2,000,- euros.
Most probably many collectors will be attracted by the last part of the Italian section comprising more than 200 lots with many coins of the popes, from Stephen V (885-891) to John XXIII (1958-1963). The many different items have one particular element in common: they come with collector-friendly estimates. We single out just one piece at this point, an undated double florin of the notorious Borgia Pope Alexander VI (1492-1503), father of Cesare and Lucrezia (708, VF, estimate: 2,000 euros).
No. 434: FRANCE. Louis XIV, 1643-1715. Demi-écu de Flandre aux insignes IIe type, Lille, 1705W. Gadoury 195. Very rare. Very fine / extremely fine. Estimate: 8,000,- euros.
France, too, is well represented with its more than 80 coins. The highlights are an extremely rare demi-écu of Louis XIV, minted in Lille, Gadoury 196 (434, VF / EF, estimate: 8,000 euros) as well as an unusually well preserved 24 livres piece of Louis XVI from 1792, Gadoury 61 (448, EF, estimate: 8,000 euros). Apart from these, a 20 francs piece from 1939 with the obverse coining die of P. Turin (472, EF, estimate: 6,000 euros) is on offer, as is the pattern of this piece for the year 1912, of which only 29 specimens had been made (471, PCGS SP63, estimate: 700 euros).
Anyone fond of Spanish rarities ought to browse through the catalog carefully. After all, we can only direct your attention to a few pieces here, like a 8 escudo of Charles II struck in Segovia in 1687 (408, VF, estimate: 8,000 euros), and another 8 escudo, this time of Philip V, minted in Madrid in 1729 (410, VF, estimate: 9,000 euros).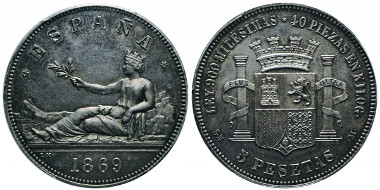 No. 414: SPAIN. Provisional Government, 1868-1871. 5 pesetas, Madrid, SN M. Cal. 2. Extremely rare. PCGS SP64. Estimate: 20,000,- euros.
Highlight of the section Spain is an extremely rare and magnificently preserved 5 peseta piece of the Provisional Government from 1869 (414, PCGS SP64, estimate: 20,000 euros). This 'extemporary' government was constituted after 'La Gloriosa', the glorious revolution in Spain during which Queen Isabella II had been deposited, in order to find a new king.
Naturally, other sections, too, include many an interesting and surprising item. Let us restrict ourselves to a small series of Egyptian coins and the golden 10 roubel piece of Elizabeth I of Russia, minted in St. Petersburg in 1756 (919, ab. EF, estimate: 18,000 euros).
You may order the catalog at Éditions Victor Gadoury, 57, rue Grimaldi, 98000 Monaco; phone: +377 93 25 12 96; telefax: +377 93 50 13 39 or via email: contact@gadoury.com
Or look at it on the internet on Gadoury's website, on Sixbid or Numisbids.
Live-bidding from your own computer at home of course is also possible!