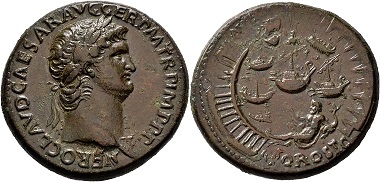 [bsa_pro_ad_space id=4]
01-11-2016 – 03-11-2016
Auctions 417/418
Great success at Peus' autumn sale
The autumn sale at Peus was a remarkable success. The auction of the important Lückger collection of Roman coins was a great success. The overall estimate of 934,000 € for 868 lots resulted in a total hammer price of 1,713,000 €, i.e. an increase of 83 %. Above all, it were the collection's peculiarity and outstanding quality which encouraged the bidders.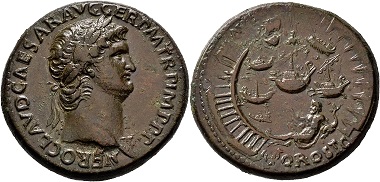 Lot 170: Roman Imperial Coins. Nero, 54-68. Sestertius 64 (?), Rome. Very fine. Estimate: 6,000 EUR. Hammer price: 25,000 EUR.
A first highlight was reached by the Ostia-Sestertius from Nero (lot no. 170). The bidders fought for this totally untouched specimen with its fine patina until 25,000 € (limit 6,000€). Especially honored were the excellent pedigrees which further enobled the material gathered by Hermann-Joseph Lückger.
Lot 223: Roman Imperial Coins. Vespasianus on behalf of Domitianus. Aureus 79, Rome. Extremely fine. Estimate: 3.500 EUR. Hammer price: 14,000 EUR.
An extremely fine Aureus (no. 223) from Domitianus from collection Niklowitz for example rose from 3,500 € to 14,000 €. Especially the gold coins, "heart of the auction" were seeked by the international audience (also supported by their provenance from well-known hoards).
Lot 793: Roman Imperial Coins. Magnentius on behalf of Decentius. 2 Solidi Goldmedallion 352/353. Trier. Extremely fine. Estimate: 100,000 EUR. Hammer price: 240,000 EUR.
Most of the pieces doubled their estimates, the large gold medallion for Decentius (no. 793) reached a hammer price of 240,000 € (estimate 100,000 €) while the smaller one sold for 150,000 € (no. 794, estimate 75,000 €). Moreover, the coins of the Gallic Empire were surprisingly seeked after. Especially the off-strikes from the fine dies of Postumus stood in the center of attraction (no. 611, estimate 10,000 €, hammer price 36,000 €).
Lot 2215: Transylvania, Principality. Georg Rákóczi II, 1648-1660. 10 Ducats 1657 AI. Weißenburg. Extremely fine. Estimate: 40,000 EUR. Hammer price: 93,500 EUR.
Among the results from auction 418, especially the cover coin – 10 Ducats from Georg Rákóczi II. in a probably unique condition stands out (no. 2215). From the estimate of 40,000 € it rose up to 92,500 €. The ever growing request for high graded coins also showed in a series of almost mint-state Talers from the Habsburg realms which multiplied their admittedly modest estimates.
Lot 2133: HRE. Charles VI, 1711-1740. Reichstaler 1728, Prague. Extremely fine/proof like. Estimate: 400 EUR. Hammer price: 2,200 EUR.
For example a Reichstaler from 1738, Prague mint, reached a hammer price of 2,200 € (No. 2133). But also the often neglected field of small coins from the tiny German principalities is still an object of close observation as the results from a remarkable series of Saxe-Hildburghausen showed. For example a rare Groschen from 1788 (No. 2866) reached a notable hammer price of 500 €. As usual the always popular coins of the German Empire and the combined lots closed a successful auction.
All other results can be found in the online-catalogue and also as pdf-file at Peus' website. A printed list will be available after November, 11th. If you would like to order a copy please contact Mrs. Patatas under +49-69-95966225 or at Patatas@peus-muenzen.de.
Unsold pieces may be purchased up to five weeks after the sale for 80% of the estimate under normal conditions of sale, i. e. plus buyers-premium and eventual taxes.