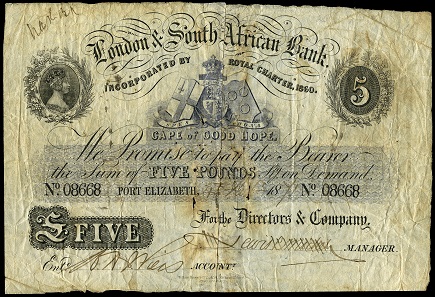 [bsa_pro_ad_space id=4]
09-04-2018 – 01-01-1970
Paper Money
Paper Money at Dix Noonan Webb's Live Auction
On 10 April 2018 Dix Noonan Webb will be holding their Live Online Auction of Paper Money with room bidding available at their London offices starting 11:00 (GMT).
Lot 464: World Banknotes, London & South African Bank, Five Pounds, 4 February 1871, Port Elizabeth, no. 08668, printed by William Brown & Co, London, signature crossed through, 'Cancelled' written on back (Hern 229; Pick S106a). Split and rejoined at centre, pinholes and some short splits mostly around centre, otherwise good fine or better, rare; the first Imperial Bank to issue in South Africa. GBP 900-1,200
Banknotes from all over the world are offered. Part III of the Property of a Gentleman sees Banknotes of South Africa …
Lot 408: World Banknotes, Bank Melli Iran, One Thousand Rials, 1938, B 675536, Khosravi-Hajier signatures (Pick 38Aa). Nick in top edge, otherwise very fine to good very fine. GBP 440-500.
… and banknotes of Iran.
Lot 346: World Banknotes, British Honduras, Government, Ten Dollars, 1 January 1958, F/1 000000, perforated specimen, Vickers-Oates-Melhado signatures, notations in top margin (Pick 31as). About uncirculated to uncirculated. GBP 240-300.
Also on offer is Part VIII of A Good Group of Specimen Banknotes.
Lot 200: British Banknotes, The Central Bank of Ireland, Ten Shillings, 7 April 1943, 39G 053863, code letter L, Brennan-McElligott signatures (LTN 21; Pick 1D). Good very fine. GBP 150-200.
Among the special collections one must mention the third part of The Collection of Irish Ten-Shilling notes (1928-1968) formed by the late Anthony Lenny.
You can browse the online catalogue on the DNW website.
More information on the auction and a PDF of the printed catalogue are available there too.