[bsa_pro_ad_space id=4]
24-04-2018 – 01-01-1970
Important Collection of British Coins at Dix Noonan Webb
Important Collection of British Coins at Dix Noonan Webb's Live Auction
On 25 April 2018 Dix Noonan Webb will be holding their Live Online Auction of The North Yorkshire Moors Collection of British Coins formed by Marvin Lessen Part I with room bidding available at their London offices starting 13:00 (GMT).
Lot 267: Danes of York, St Peter coinage, Penny, Phase III, Sword type. Obverse very fine, reverse extremely fine but light trace of surface corrosion by initial cross, very rare. GBP 3,000-4,000.
This important collection of British coins, spanning the Iron Age, Roman, medieval and early modern periods, with select later additions, …
Lot 227: Kings of Wessex, Alfred the Great, Penny, Phase III, London Monogram type. About extremely fine and toned, rare. GBP 8,000-10,000.
was begun in 1962 when its creator, Marvin Lessen, first moved to Scarborough to work at the early warning radar site at RAF Fylingdales.
Lot 6: Celtic coins. Catuvellauni, Cunobelin, Stater, Classic type, series A. A well-struck coin of fine style and exceptional quality, trifling marks, otherwise extremely fine, rare. GBP 2,000-3,000.
This catalogue will demonstrate the wide variety of sources from whom Mr Lessen developed his collection.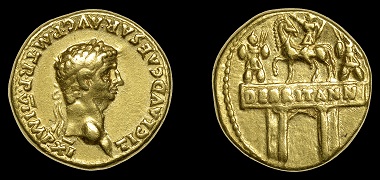 Lot 19: Roman Imperial Coins. Claudius (41-54), Aureus, Rome, 46-7. About very fine, rare. GBP 3,000-4,000.
Mr Lessen has been a frequent contributor to the pages of The British Numismatic Journal, The Numismatic Chronicle and Spink's Numismatic Circular, as can be seen from the bibliography below. His favourite period of numismatic study centred on the mid-17th century – the coins, medals and seals of Oliver Cromwell and the early years of Charles II.
You can browse the online catalogue on the DNW website.
More information on the auction and a PDF of the printed catalogue are available there too.