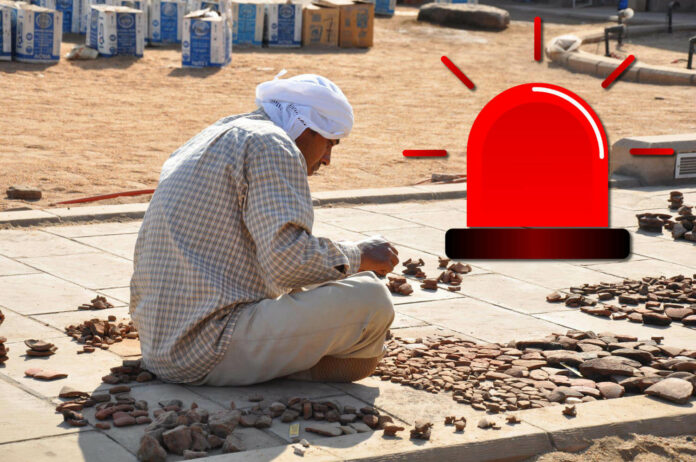 [bsa_pro_ad_space id=4]
If you want to take home a piece of marble or a shard from an excavation site as a vacation souvenir, you should first find out what the local authorities think about such behaviour. What may appear to be a trivial offence at first glance is punishable by long prison sentences and even by death in Iraq. That's what a British and a German tourist had to learn the hard way.
Cultural Tourism with Severe Consequences
The retired British geologist James (Jim) Fitton, 66, had travelled the world throughout his life – both for professional and recreational purposes – and always liked to bring home little souvenirs. He obviously wasn't a criminal, his family clarified in numerous press reports.
In March, Jim Fitton visited Iraq and the excavation site Eridu. Next to the road he saw a pile of stone and ceramic fragments. The British tour guide explained that the shards were of no financial or historical value and that tourists could certainly take a few of them home. The tour guide was unable to confirm this account because he died from a stroke at the end of the trip, as Fitton's family state in their online petition.
Anyway, Fitton helped himself that day and took home a handful of shards and stone fragments. For reasons of space or weight, he later asked a fellow German traveller to carry a few of these objects in his suitcase. 60-year-old Volker Waldmann was glad to help Fitton out.
On 20 March 2022, the group wanted to leave the country, but customs officials found the objects. Fitton and Waldmann were arrested on suspicion of trying to smuggle ancient objects out of the country and were committed for trial.
Especially Fitton's family intervened. His children and his son-in-law Sam Tasker contacted the British consulate, asked the Foreign Office for support and started an online petition. For by then they had learned that the charges could not only carry high fines and up to 15 years in prison, they could also be eligible for death penalty.
A Harsh Sentence
The court convened on 15 and 22 May 2022. According to RTL News, the defendants stated that they had not been aware of doing something forbidden. Some of the shards had been smaller than his fingernail, Fitton said, and as a geologist it was his hobby to collect and take home stones and the like. He also did not want to sell them. The judge was not impressed, to him this was a clear violation of Iraqi law. Possessing, trading in and illegally exporting antiquities carries severe sentences under Iraqi law, and the country's legal framework even requires people to immediately report it to the authorities if they receive an object as a gift that might be more than 200 years old.
Waldemann argued that he hadn't known where the objects came from and that he certainly hadn't been a complicit. Fitton confirmed this statement.
Ignorance of the Law is No Excuse
By now, James Fitton was sentenced to fifteen years in prison. Thus, he will be over 80 years old by the time he is released. The court claims that his advanced age has already been taken into account when deliberating on the sentence.
Volker Waldmann got lucky: the court accepted the presentation of his defence attorney and said that they could not prove that he had knowingly committed a crime. Waldmann was acquitted and wanted to return to Germany immediately.
For Fitton and his family, the fight continues. His relatives are disappointed about the fact that British authorities did not intervene. Indeed, the BBC mentions a statement of the British Foreign Office according to which "they cannot interfere with the judicial process of another country". Fitton can still appeal the sentence. By the way, the judge is said to have stated that the shards and marble fragments would go to a museum.
Plan Your Vacation Well!
As early as about ten years ago, we collected reports on draconian penalties in Turkey. People were sentenced to heavy fines and prison time for collecting or purchasing something somewhere.
What may seem to be an innocent act might be considered a crime in other countries. Smuggling antiquities and the illegal trade in antiquities is a problem in many Middle East countries. Whether harsh penalties will solve the problem may well be doubted. But if you want to avoid sitting in a courtroom by the end of your vacation, inform yourself thoroughly in advance.
You can find advice about travelling abroad on the website of the Foreign Office.
There you will find references to severe penalties that apply e.g. in Turkey and Iraq. Take this advice seriously!
The Guardian and the New York Times covered the case.
You can also read about it in the Daily Mail and on the BBC website.
Fitton's relatives also made a statement to the BBC and launched an online petition that is still ongoing.