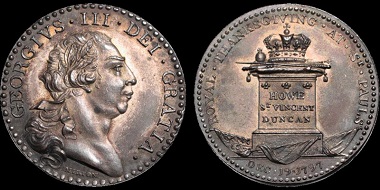 [bsa_pro_ad_space id=4]
02-02-2016 – 01-01-1970
Auction 35
British coins and tokens, along with unusual Americana and choice Roman Imperial in Davissons Auction
The February 3, 2016 closing date sale from Davissons in the United States has 423 lots of coins, tokens, and medals, mostly of British interest. (There is no buyer's fee in Davissons Ltd sales.)
Lot 345: Middlesex 192 (Scarce). National Series. Silver penny. Good Extremely Fine; attractive old toning with luster evident around design and devices. Estimate: $500.
One of the most comprehensive offerings of British coins Davissons has offered in over 40 years, including Scottish rarities, anchors their Auction 35. Every reign from the Norman Conquest on is well represented, going beyond single examples to include many varieties.
Anglo-Saxon is well represented, with coins ranging from an affordable Edward the Martyr up to many exceptional pieces such as Coenwulf, Æthelstan, Harold I, and Harthacnut, many with well-established pedigrees.
The Viking section includes the very rare St. Peter sword type penny with central cross.
Lot 167: Edward IV/V. 1483. Groat. S. 2146. N. 1672. Good Very Fine; beautifully toned. An exceptional example of a groat of this rare and historic era. Estimate: $5,000.
Hammered gold opens the sale, but the real strength is in high-quality silver, including an exceptional and very rare Edward IV/V groat from the 1913 Walters sale, lot 167. The collection was based almost entirely on American sources beginning in the 1960s. The consignor commented, half-kiddingly, that he bought coins from whoever would send him catalogs, so large firms such as Coin Galleries are more represented. Davissons also provided him with some better material during the early years of their business.
Lot 291: SCOTLAND. Mary Stuart (after Abdication). 1542-1567. Ryal. Dated 1566 but probably struck around 1572. S. 5425 type. SCBI 58, Edinburgh: 1189 (same dies). Good Very Fine. Estimate: $1,500.
One of the most fascinating pieces in the sale is the Henry and Mary ryal of 1566, lot 291. Allan Davisson has only been able to trace three examples in his 40 years in business – one in the Lockett collection, one in the National Museum of Scotland, and this piece. He writes: "Henry Darnley, a cousin of both Elizabeth I and Mary, became Mary's husband in 1565. A dashing but dissolute spouse, Henry began scheming early on to become the real rather than the titular king on the Scottish throne. In these intrigue driven times, there was little problem finding influential backers. Protestant nobles like the Earl of Morton and Sir William Maitland brought a plan to gain the throne for Darnley.
Their effort to traumatize Mary by murdering her confidante and secretary, David Riccio, in front of her failed. Mary, pregnant at the time with the future James VI/I rallied an army and routed the plotters. Maitland may have been defeated but was apparently not daunted. An article on Marian coinage (BNJ 1987. Joan Murray, "The Coinage of the Marians in 1572") cites him as involved in the 1572 counterfeiting of half merks and quarter merks during the reign of James.
Darnley was assassinated in 1567 in a plot that became a significant factor in Mary's downfall.
This article and a subsequent article in the 1989 BNJ (Rampling and Murray, "An Addendum…") notes that the piece "has none of the properties of the ryal now provisionally attributed to a Marian source."
While neither of the BNJ articles suggests it, it does seem a reasonable assumption that this coin issued with Henry's name first, HENRIC & MARIA, was issued by the pro-Henry plotters. An issue date of 1566 using a genuine 1566 reverse die matched with a "custom made Henry primary" die does not require much of a speculative stretch. Interestingly enough, the weight, particularly of the piece in this sale, was within the tolerance range for a regular issue. The genuine die does not show the rust or deterioration that might be expected from a die that sat around for several years before its use. The piece itself is very rare. I have been able to trace only three examples: the Lockett example (Oct 1930:913.) (Lockett also had a two-thirds ryal with the same reading, lot 911.); the SCBI National Museum of Scotland example, 1189; and this piece." (Allan Davisson, January 5, 2016)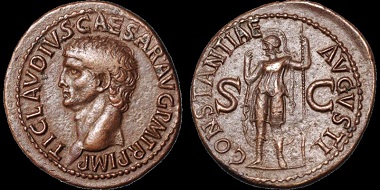 Lot 24: Claudius. A.D. 41-54. As. Rome mint. Struck circa A.D. 41-50. RIC I 95. Near Extremely Fine; light red-brown patina. An exceptional coin with a fine portrait and a particularly well detailed reverse, on a broad flan. Choice coin. Estimate: $1,000.
Other important numismatic areas are also broadly covered. A group of exceptionally high grade Roman silver and bronze coins precede the British section. While there are rare pieces such as a good VF example of Gordian I, there are also exceptionally fine coins of other reigns such as Claudius, Galba, and the usurpers Laelianus and Constantine III.
An extensive listing of British trade tokens includes several lots that have not been on the market for at least 50 years.
An unusual and historic group of Americana – mining ingots, 19th century silver and copper presidential medals, even a set of dies for a medal – conclude the sale.
Estimates are at the conservative end of the market. Grading is conservative as well. A few bids from specialists finding unusual pieces have already come in.
Davissons have been in business for over 40 years. British clients can do business in pounds with their UK account to make transactions simple. A high quality print catalog is available at no charge on request. They can be reached by phone at (001) 320-685-3835, email, or mail at PO Box 323, Cold Spring MN 56320 USA. The whole sale is available to view and bids can be placed online here.