[bsa_pro_ad_space id=4]
01-08-2017 – 01-01-1970
E-Auction 21
Davissons Ltd E-Auction 21
E-Auction 20 from Davissons Ltd, featuring 201 lots of ancient Greek and Roman, and British hammered and milled coins, tokens, and medals is currently available for bidding. This auction has no buyer's fees. It closes August 2nd 2017 starting at 10 AM CDT.
Lot 3: George III. Sovereign 1820. Good Very Fine. Estimate: 1,100 USD.
The auction opens with a small but diverse offering of gold.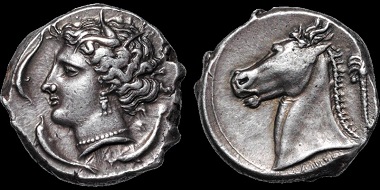 Lot 9: Siculo-Punic. Tetradrachm. Ex Lockett. Good Very Fine. Estimate: 2,500 USD.
Moving forward, the Greek section includes a number of attractive large silver pieces.
Lot 45: Julia Domna. Denarius. Good Extremely Fine. Estimate: 200 USD.
The Roman section includes a high quality run of Severan Dynasty denarii, and a group of nice Constantine the Great folles, all with different reverses.
Lot 176: Ireland. Charles I. Ormonde siege sixpence. Very Fine. Estimate: 950 USD.
The British section completes the offering of the Frank Robinson halfpenny collection. It also includes some choice silver and copper, such as a George III emergency countermark dollar on a scarce 8 reales variety, a very nice Scottish James VI sword and balance half merk, and an Irish Ormonde siege sixpence that is the Dowle and Finn plate coin.
none
Lot 200: The Art Union of London. Christopher Wren. AR medal. 58 mm. Uncirculated. Estimate: 450 USD.
The sale closes with an interesting selection of British trade tokens, a select group of U.S. coinage, and three unusual medals: Sir Rodney capturing St. Eustatius, and Christopher Wren and St. Paul's Cathedral in both silver and copper by the Art Union of London.
Bids can be placed online, or via mail, email, or phone (320 685 3835). There is also a high quality print catalog available for every E-Auction.
Browse through the online catalogue for the E-Auction here.