[bsa_pro_ad_space id=4]
29-03-2017 – 01-01-1970
E-Auction 19
Davissons Ltd E-Auction 19
E-Auction 19 from Davissons Ltd, featuring 173 lots of ancient Greek and Roman, and British hammered and milled coins, tokens, and medals is currently available for bidding. This auction has no buyer's fees. It closes March 30th 2017 starting at 10 AM CDT.
Lot 13: Boeotia. Thebes. AR Stater. Aeginetic standard. Late issue. Rare. Very Fine. Estimate: 1.200 USD.
The ancient section includes less actively collected pieces with interesting designs, along with some unusual and more valuable things too-rarities like the Theban stater with an infant Hercules, and an evenly worn and handsome Alexandrian drachm with Nilus and a crocodile on the reverse.
The English section has a few pieces that came from a collection formed in the 1950s with coins bought primarily from Seaby's.
Lot 82: William and Mary. AR farthing proof. Good Very Fine. Estimate: 750 USD.
Several choice pieces from the Frank Robinson collection anchor the milled part of the English section. The silver proofs are highly desirable for their beauty as well as their rarity. But the key pieces in this section are the very rare and seldom seen 20th century pennies from the Heaton and King's Norton mints (lots 103 to 106). A related piece is the very rare 1926 modified effigy penny (lot 107).
Lot 111: Ireland. Henry VII. AR groat. Late portrait issue. Good Very Fine. Estimate: 650 USD.
Next, a few rare Irish including a Henry VII groat with a wild portrait design just at the same time as the English were refining their portraiture from a simple medieval style to a realistic Renaissance style.
Coin weights in high grades come next. Choice examples are scarce and these are choice. They are also inexpensive so you can easily include them with your collection and have a sense of how weights and values were checked at the time the coins were issued.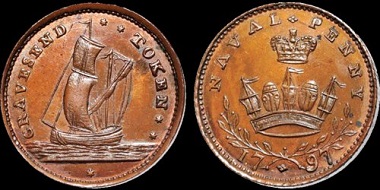 Lot 123: Kent 1a (RRR). Gravesend. AE halfpenny. Uncirculated. Estimate: 2.000 USD.
The token section begins with two Irish rarities from the early 18th century. This is a short series of appealing pieces on fairly substantial flans. Then one of the more significant late 18th century pieces, Kent 1 begins the section offering Dalton and Hamer issues. Following that are ten choice 19th century tokens, which are seldom offered.
Lot 164: Scotland. The Battle of Culloden. AR medal. Good Very Fine. Estimate: 350 USD.
Near the end of the sale you will find a fascinating collection of medals related to Culloden, the last of the long string of major battles the Scots lost against the English. There is also a brief history placing the medals in context.
Bids can be placed online, or via mail, email, or phone (320 685 3835). There is also a high quality print catalog available for every E-Auction.
Browse through the online catalogue for the E-Auction here.