[bsa_pro_ad_space id=4]
28-04-2015 – 01-01-1970
E-Auction 9
Davissons E-Auction 9 online
Davissons Ltd. of Cold Spring, Minnesota announces E-Auction 9, closing Wednesday, April 29, a live internet and mail bid sale.
This 100 lot sale features a selection of higher quality items, in addition to a range of attractive pieces at affordable estimates to appeal to a broad range of collectors. Some highlights include:
A run of mints of Edward I and a sampling of the different coinages of Elizabeth I
Lot 11: ATTICA. Athens. Tetradrachm. New Style coinage. 187/6 B.C. Good Extremely Fine. Estimate: $800.
Attractive Greek silver including a high grade early New Style tetradrachm of Athens and some BCD pieces of Sicyon
Greek bronzes from stock held in the back of the safe for many years – better material for the dollar than much of what is available now
Judaic coinage from the era of the New Testament
Late Roman in minty condition
Lot 42: CELTIC BRITAIN. Southern: Regini and Atrebates. Verica. Circa A.D. 10-40. Mint State. Estimate: $400.
A few British Celtic pieces including two mint state pieces from a recently acquired collection
Lot 76: William III. Sixpence. 1696/o – variety unlisted in ESC. 1694-1702. Good Very Fine. Estimate: $150.
A few appealing milled pieces
Some high grade "Conders"
A couple beautifully toned US commemorative halves from a small collection that had been stored in a Wayte Raymond board for several decades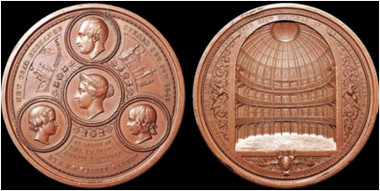 Lot 99: Corporation of the City of London. Coal Exchange Opened 1849. 90 mm. Good Extremely Fine. Estimate: $400.
Four striking medals including the final two City of London medals out of a consignment offered over the course of the last few auctions, and two Mint State Napolean medals
The sale is posted on the website of Davissons, where you can bid live. You may also request a print catalog. Contact them or bid by emailing or fax (320) 685-8636 or phone (320) 685-3835, or mail at PO Box 323, Cold Spring MN 56320 USA.
As with all Davissons auctions this sale has no buyer's fee.