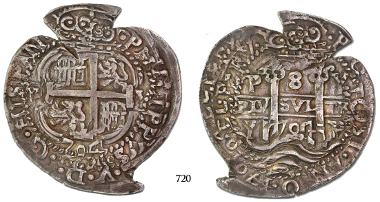 [bsa_pro_ad_space id=4]
28-10-2015 – 01-01-1970
Treasure, World & U.S. Coin Auction 18
Hearts and Royals at Sedwick's Auction 18
Sedwick's Treasure, World and U.S. Coin Auction#18 will take place on October 29, 2015, at the DoubleTree Lake Buena Vista (Walt Disney World) in Orlando, Florida, USA, with simultaneous Live Internet bidding and educational seminars during lot viewing the day before (October 28) and lot pick-up the day after (October 30).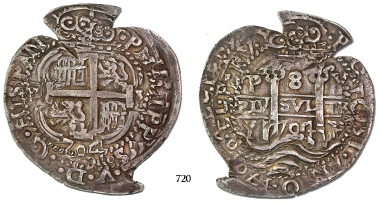 Lot 720: Potosi, Bolivia, cob 8 reales Heart, 1704Y, unholed and arguably finest known, very rare, ex-Pena, Craig, Karon. S-P43a; KM-unl.; CT-848.
This sale will go down in history as the "Hearts and Royals" auction. Never before have so many Hearts (14) and Royals (46) been offered at the same time. These are very special silver cob coins from Potosí, Bolivia – made in tiny numbers for presentation, not circulation. Many dates are represented by single-known specimens. Sophisticated cob buyers know that an opportunity like this is unique, with enough specimens to satisfy the casual trophy hunters as well.
In addition to the Hearts and Royals, in this auction you will find prizes in virtually every area. Here is a quick run-down: In Gold Cobs Sedwick features a date collection of Lima 8 escudos among selections from nearly all the New World mints and even several Spanish mints, including a few rarely seen Cartagena 2 escudos. Be sure to check out the usual offerings of 1715-Fleet gold cobs, still in their prime with the 300th anniversary celebration this year.
Lot 232: Complete gold "finger" bar #1575, 726 grams, marked with fineness XXIII: (23.5K) and serial number 158, from the Atocha (1622).
In World Gold Coins you will find a healthy mix of Latin American material (including several "finest knowns" recently encapsulated by NGC) with a smattering of worldwide pieces. For this auction Sedwick is also offering a section of U.S. Coins, including some branch-mint gold and some early silver dollars. Next up is the section of Shipwreck Ingots (and related precious metals), featuring several gold bars from the 1622 Fleet (Atocha and Santa Margarita), one of which is over 2.3 kilograms! Then we come to the ever-popular Shipwreck Silver Coins section, this time brimming with sizable selections from the Atocha and Santa Margarita (1622), the Capitana (1654), the Consolación (1681) and, of course, the 1715 Fleet, featuring a unique contraband clump of Mexican cobs neatly stacked to fit in the false bottom of a chest (with Real Eight Pedigree to boot!).
Lot 436: Mexico City, Mexico, cob 8 reales, 1714J, new style, ex-Real Eight Co. S-M22; KM-47; CT-743. Superb full shield (small and fine) and cross, clear date, full oMJ, solid flan with no corrosion and nice toning but three edge-splits. Recovered from: Spanish 1715 Fleet, east coast of Florida.
The silver-cob sections, as mentioned at the beginning, are loaded with Hearts and Royals, but you will also find a small collection of Charles-Joanna ½ reales in Mexican Silver Cobs, some choice Early Pillars and Shield-type cobs of assayers Rincón and Xinés Martínez in Lima Silver Cobs, and a fully dated 1647 8 reales of assayer Ramírez (who was executed for debasement) in Potosí Silver Cobs, the latter two sections also stocked with a reference collection of cob ¼ reales (cuartillas).
Lot 805: Bogota, Colombia, cob 8 reales, 1651, assayer PoRMOS, lions and castles transposed, rare, finest known example for the date and type. Restrepo-M46.6; S-B7; KM-7.1; CT-527.
You will also find a superb 1651 8 reales from Bogotá and even some silver cobs from Santo Domingo and Panama in the Other Silver Cobs section. After a small but varied section on Ancient Coins comes World Silver Coins, dominated (as usual) by Latin American material, including many trophies (rarities and top grades), with emphasis this time on Cuba, Mexico and Venezuela, the last-mentioned featuring another reference collection of ¼ reales. Following that is an important offering of (mostly) Latin American Medals.
The Shipwreck Artifacts and Non-wreck Artifacts sections are typically loaded with goodies, this time featuring several 1715-Fleet gold items (snuffboxes, chain, cross and rings), a shipwreck astrolabe, lots of shipwreck emeralds, a choice Dutch cannon, many flintlock Pistols and treasure chests, and even a couple lots of pre-Columbian gold.
To browse through the complete auction catalogue please
click here
.