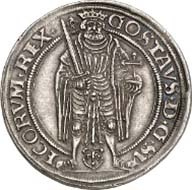 [bsa_pro_ad_space id=4]
25-09-2011 – 29-09-2011
Autumn auction No. 193-198
Autumn sale at Künker's: 180,000 Euros for a gulden of Gustav Vasa
The Julius Hagander (1925-2009) collection of Swedish coins continues to be a show-stopper. While its six ducat piece, struck in Riga in 1644 under the reign of Christina, Queen of Sweden, reached the record price of 260,000 Euros in March, the autumn auction followed up with further peak results.
No. 5001: SWEDEN. Gustav Eriksson Vasa (1521-1560). Gyllen 1528. Ahlström 34 a (XR, this specimen). Appelgren 476. Dav. 8690. Hagander 1. Of utmost rarity. Magnificent patina, EF. Estimate: 50,000 Euros, Hammer price: 180,000 Euros.
This time's bestseller was the unique gulden of King Gustav Vasa from 1528. Künker had estimated the Swedish "gyllen" at 50,000 Euros. Only the mail-bids rose to 120,000 Euros. At the day of the auction the bids continued to climb up to a final hammer price of 180,000 Euros. It was pretty exciting. Whereas auctions usually are a rather quiet business, this result caused loud cheers.
No. 5051: SWEDEN. Christina (1632-1654). Rose royal (4 ducats) n.d. (after 1648), on the Peace of Westphalia. Ahlström 31 (this specimen, XR). Deth./Ord. 83. Fb. 14 a. Hagander -­. Neumann ­-. Only known specimen in private collection, very attractive, EF. Estimate: 50,000 Euros, Hammer price: 170,000 Euros.
That was to be witnessed again with catalog 196, a couple of lots later – and once more it was Christina. 50,000 Euros were expected for her four ducat piece (rose royal) n.d., minted in 1648 in Riga on the Peace of Westphalia. That estimate was exceeded roughly three times in Osnabrück, the City of Peace, with the result of 170,000 Euros. After the autumn auction of Künker, this splendid, almost 14 gram heavy gold coin is and shall remain the only specimen in private hands.
All 219 lots of the Hagander Collection were sold, the total estimate surpassed by 111 per cent. All in all, that made approximately 1.7 million Euros. Dozens of Hagander's coins and medals reached five-figure results. These and all other results of the one-week auction with its six catalogs can be viewed on the Internet. Of the almost 8000 lots only 224 went into the post-auction sale. The estimate of 7.6 million Euros was exceeded by roughly 60 per cent, and in the end all added up to no less than 12 million Euros. That bears witness to Hagander not having dominated the entire auction week.
No. 4279: AUSTRIA. Franz-Joseph I (1848-1916). Ducat 1881 KB. Fb. 240. J. 360. Schl. 36. Only 43 specimens were minted, EF. Estimate: 5,000 Euros, Hammer price: 24,000 Euros.
Likewise high-quality material came for example from the period of Franz Joseph I, emperor of Austria 1848-1916, who is known even to non-collectors thanks to his side whiskers and his famous wife Sisi (Sissi). Künker dedicated an entire catalog (catalog 195) to the emperor featuring 788 lots.
The collectors were able to draw from unlimited resources, which they did in fact: the total result of almost 900,000 Euros surpassed the expectation by about 80 per cent. Two examples: 4 ducats 1859 Vienna, estimate 3,000 Euros, hammer price 9,500 Euros; as well as a ducat 1881 Kremnitz, estimate 5,000 Euros, hammer price 24,000 Euros. Hagander and Franz Joseph are two special collections, therefore, whose catalogues will become works of reference.
No. 202: BITHINIA, Kios. Stater 334/323 B. C. Waddington, Rec. gen. 1, pl. XLIX, 4. Probably the only specimen on the market. Av. slightly decentered, good VF. Estimate: 15,000 Euros, Hammer price: 65,000 Euros.
The week had started with 1200 ancient lots in catalog 193, whose estimation was surpassed by around 40 per cent, which made roughly 1.8 million Euros. A tetradrachme from 450/425 B. C. from Thrace, Abdera, reached the impressive result of 30,000 Euros on its estimate of 7,500 Euros. A stater from 334/323 B. C. from Bithynia, Kios, brought 65,000 Euros (estimate: 15,000 Euros).
No. 2435: POLAND. Stephen Bathory (1576-1586). 3 gröscher 1582. Iger O.82.1 a (this specimen, R7). Kopicki -. Of utmost rarity, small die crack, VF. Estimate: 2,000 Euros, Hammer price: 18,000 Euros.
Speaking of silver: catalog 194, containing approximately 1800, lots reached a total hammer price of roughly 1.6 million Euros. That was more than 60 per cent over the estimate. Surprisingly, a Polish 3 gröscher 1582 from Stephan Bathory, very rare, estimated at 2,000 Euros, sold for 18,000 Euros.
The reichsthaler 1629 of Albrecht Wallenstein from Jicín, which the catalog listed with 5,000 Euros, demanded one grand less. It should be pointed out at this point, albeit only by way of example, that likewise bracteates from Halberstadt, Helmstedt and Hesse were good sellers. A pfennig of Meinhard of Kranichfeld (1241-1252), Bishop of Halberstadt, which had started off at 100 Euros, was sold for 2,000 Euros.
As usual, the comprehensive lots were very popular. By the way, the winner of no. 3840 (estimate 2,000 Euros, hammer price 5,500 Euros) had to lug something around: 17.5 kilograms of 19th/20th centuries from all over the world.
At the moment, gold is very much in demand, which was testified by catalog 197. 3,400 lots reached a bit less than 3.5 million Euros that is a surplus of roughly 40 per cent. Ahead by a nose was Casimir, King of Poland (1649-1668). His double ducat 1650 from Fraustadt reached exactly the estimate of 75,000 Euros, and the same denomination 1656 from Cracow brought four times its estimate, 40,000 Euros. As was to be expected, in the section of imperial gold a "goldfuchs" of 20 marks 1875 from Reuss was front-run, although not at the estimated sum of 30,000 Euros, but at 50,000. Imperial coins (gold and silver alike) were good sellers altogether, the estimate was exceeded by approximately 40 per cent.
It only remains to mention the final auction day with the heavy weight Russia and China in catalog 198. Here, the total estimate for roughly 1300 lots was doubled to almost 2.6 million Euros. As part of the catalog of Russia, the half roubel (poltina) 1701 of Peter the Great made it big, it gained 20,000 and brought 70,000 Euros in the end. The pattern rouble of Peter II from 1727, estimated at 100,000 Euros, was sold for 85,000 Euros, while the 2 rouble piece of Catherine I from 1726 improved from 12,500 to exactly 40,000 Euros.
China came up with some a surprise, too: a dollar of the Pei Yang Province from 1896 ("year 22"), estimated at 5,000 Euros, was available for purchase only for 55,000 Euros. A five year old Gold Panda bear of 10,000 Yuan – after all one kilogram of fine gold –, changed hands not for 35,000 but for 65,000 Euros.
Record hammer prices mustn't hide the fact that there were quite a number of two- to four-figure sums in Osnabrück. After all, Francis Joseph and his Sisi came in rather modestly: towards the end of catalog 195 5 (five!) Euros were enough for a nice bronze counter 1867 on their coronation as reigning couple of Hungary. What about Julius Hagander? The collectors eagerly await the auction in March 2012 when the third part of his collection will come to Osnabrück.
All results and the detailed auction catalogs you may find online.