[bsa_pro_ad_space id=4]
29-06-2011 – 30-06-2011
Auction 151: Numismatic Rarities / Privy Council Diez Collection – Auction 152: Coins before the Turkish Assault, RBS Collection
Provenances and quality: Privy Council Diez Collection and Coins before the Turkish Assault at Numismatik Lanz
Shortly before the summer break, Numismatik Lanz conducted two notable auctions: auction 151 was devoted to numismatic rarities from antiquity to modern times, including the Privy Council Diez Collection with a big selection of Greek coins with impressive provenances from the early 20th century like "Jacob Hirsch", "Seltman" or "Imhoof-Blumer" Collection. Auction 152, under the heading "Coins before the Turkish Assault", took the collector to Eastern Europe, mainly to the Balkan states with its numerous city states and principalities, which only illustrious names recall today.
It comes as no surprise, then, that such an offer was rewarded with great buyer's interest. Many a piece was hotly competed for, before the hammer fell at a five-figure Euro price. Anyone who couldn't keep up with such dizzying prices wasn't left with simply watching with amazement but was offered ample opportunity to bid for one of the numerous "bargains".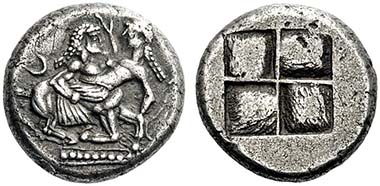 No. 17: DIEZ COLLECTION. Orrescii. Stater, c. 500-480 B. C. Centaur snatches nymph away. Rev. Quadratum incusum. SNG ANS 980 var. Ex Jacob Hirsch sale XIV (November 27, 1905), no. 297. Very rare. Hammer price: 32,000 Euros.
One of the highlights of Auction 151 no doubt was a stater of Thracian-Macedonian Orrescii from the beginning of the 5th cent. B. C. with its enchanting depiction of a nymph snatched away by a Centaur (no. 17), stylistically still adhering to Archaic times. 30,000 Euros were estimated for that coin from a Jakob Hirsch auction from 1905; it changed hands for 32,000 Euros. A similar representation of a satyr and a nymph from the city of Lete in Macedonia wasn't far behind and reached 28,000 Euros (no. 23).
Let's stay in the Greek world of the 5th cent. B. C. with its extraordinary art works: a very rare didrachm from Klazomenai in Ionia with a winged boar protome achieved 12,000 Euros (no. 160), just like a splendid tetradrachm from Macedonian Akanthos (no. 345) with high relief did. A gorgeous collection of electrum coins from Asia Minor covers the beginnings of coin production until the 4th cent. B. C., including an early hekte with a griffin head and the seal Phokaia derived its name from, seldom found in this visual clarity (no. 471: 15,000 Euros).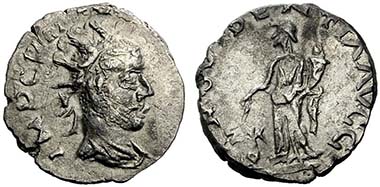 No. 876: ROMAN IMPERIAL TIMES. Regalianus. Antoninian, Carnuntum, 260. Rev. PROVIDENTIA AVGG. RIC V 2, 587, 8. Of utmost rarity. Hammer price: 14,000 Euros.
As one would expect, in Roman Imperial section an antoninian of ephemeral Emperor Regalianus was the sensation (no. 876): after Valerian had been captured, Regalian assumed emperorship in Carnuntum against Valerian's son Gallienus, but was defeated soon. His coins range amongst the big rarities of Roman coinage. The price? The estimate was 8,000 Euros, but the bidding continued until the hammer fell with 14,000. Even higher rose a solidus of late Roman Emperor Leo I, minted in Thessaloniki (no. 937): its modest estimate read 3,000 Euros. The hammer fell when 17,000 Euros were offered, i.e. almost six times the sum!
No. 943: BYZANTIUM. Justinian I (527-565). Solidus, Alexandria, 537-540. Rev. VICTORIA AVGGG A / ALEXA OB. 2nd specimen known to exist! Hammer price: 54,000 Euros.
Shortly after that, the most expensive piece of the auction followed, a solidus of Justinian from the Alexandria Mint, which had been ascertained as mint of the very emperor only recently – for the second specimen known to exist his new owner paid no less than 54,000 Euros (no. 943).
From the byzantine Empire we arrive at Bavaria: an extremely rare double ducat of Maximilian II Emanuel nicknamed "Blue Elector" from 1687 exceeded its estimate of 5,000 Euros by far and was auctioned off for 13,000 Euros (no. 1044).
Auction 152 presented a rarely offered, broad selection of coins on the subject of "Europe before the Turkish Assault". Numerous rarities led from Northern Italy via the Balkan states to Eastern Central Europe. The most beautiful and most sought-after coins came from Hungary and Bohemia, but Russia likewise attracted much buyer's interest.
No. 615: HUNGARY. John Hunyadi (Gubernator) (1446 – 1453) Gold gulden n.d. (1446 – 1447), Nagybanya. Saint Ladislaus with battleaxe and imperial orb between mintmarks. Rev. Four-part coat of arms (Hungary/Hunyadi) in border of dots. Pohl G 1-1, Huszar 615. Hammer price: 9,500 Euros.
Hungary was represented amongst the highlights with three gold gulden showing, according to tradition, King Saint Ladislaus I on the obverse and the responsible ruler's coat of arms on the reverse: like, for example, the two-part coat of arms of Hungary-Anjou on a gulden struck under the reign of Mary of Anjou in 1383/84 (no. 581: 3,400 Euros).
As rare as high-quality was a gulden of Wladyslaw I (1440-1444) from Hermannstadt in brilliant uncirculated which rose from its estimate of 2,000 Euros to 5,250 Euros (no. 613). Let alone the third gold gulden, John of Hunyadi had minted in Nagybanya in 1446/47, showing the four-part coat of arms of Hungary and the Hunyadi family with the raven King Mathew later took its surname Corvinus from (no. 615): the estimate of 5,000 Euros became 9,500, which an admirer of this extremely fine coin paid in the end.
Silver belonging to sought-after collector coins, too, was testified by two Bohemian denarii from around 1000: Boleslaw IV Chrobry, strictly speaking Duke of Poland, ruled in Prague for only one year. In the end, the result for this rare piece was 6,000 Euros (no. 692). Even higher, to 6,500 Euros, rose a denarius of Jaromir who soon replaced Boleslaw as ruler of Bohemia (no. 693). Amongst the big rarities of the auction were the anonymous civic coins of Russia. An extremely rare kopek from Karachev, imitating a coin of legendary Golden Horde, with its price of 2,600 Euros exceeded its estimate two and a half times (1,000 Euros – no. 859).
Consequently, two intriguing auction days caused happy faces with auction house Lanz and the collectors alike who may well look forward to the next offer already. As customary, the list of results can be viewed at www.lanz.com. Anyone who likes to browse through the catalog without ruffle or excitement may do so at www.sixbid.com.