[bsa_pro_ad_space id=4]
Company Record at Stephen Album Auction 41
Stephen Album Rare Coins held its Auction 41 on 16th-19th September 2021 at its offices in Santa Rosa, CA. The total realized was a new record for the company at $2.14 million (including buyer's fees) with a sell-through rate of 96%. Many items went for multiples of their estimates, including some world record results. While all areas performed well, the Chinese, Indian, and World Coin sections were standouts. Several collections helped achieve those totals, namely the Dick Nauta Collection of Giray Khans, Part II, the Charles Opitz Collection of Ethnographic Money, Part II, and the Allan F Pacela Collection of Chinese Coins. A selection of highlights follow (prices include buyer's fees):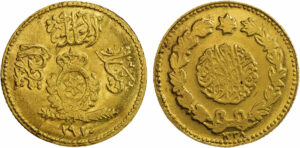 Lot 1503: World. Syria. Faisal I (1920). AV dinar, 1920/AH1338. Crowned royal coat of arms with Arabic legend, dinar al-mamlakat al-suriyat (dinar of the Kingdom of Syria) around, date below // Faysal al-awwal (Faisal the First) tughra in Arabic within floral wreath, voided heptagram above, date below; a superb lustrous specimen and the finest-graded example by either NGC or PCGS; an estimated mintage of only 12 pieces, a coin of tremendous rarity and great historical significance! PCGS graded MS64 (Secure Holder / Gold Shield). Extremely rare. Estimate: $30,000-40,000. Realized: $57,000.
Lot 951: China. Warring States. State of Chu. AV block money, 400-200 BC. Ying yuan in archaic script stamped on cut section of two pieces. Extremely fine. Very rare. Estimate: $8,000-12,000. Realized: $28,400.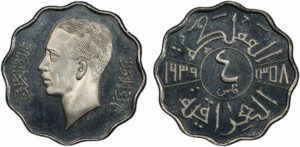 Lot 1409: World. Iraq. Ghazi I (1933-1939). 4 fils, 1939/AH1358. An amazing quality proof example! PCGS graded Proof 67 CAM. Estimate: $3,000-4,000. Realized: $15,600.
Lot 905: British India. George V (1910-1936). AR ½ rupee, 1911(c). With the so-called "pig"-style elephant, proof restrike, PCGS graded Proof 63. Estimate: $800-1,000. Realized: $13,200.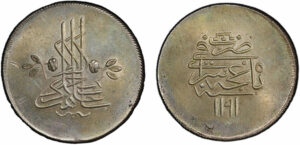 Lot 572: Islamic. Giray Khany (Crimea). Shahin Giray (1777-1783). AR 40 para, Baghcha-Saray, AH1191 year 5. Second Series coinage, with the toughra obverse, tooled fields, lustrous! PCGS graded Uncirculated details. Very rare. ex Dick Nauta Collection. Estimate: $1,200-1,500. Realized: $12,000.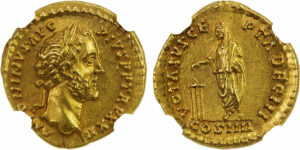 Lot 78: Ancient. Roman Empire. Antoninus Pius (138-161 AD). AV aureus, 158-159 AD, Rome. Laureate bust right, ANTONINVS AVG PIVS P P TR P XXII // Emperor standing left, togate and veiled, dropping incense onto lighted tripod with his right hand and holding volumen in his left, VOTA SVSCE-PTA DEC III / COS IIII, fantastic strike with lovely highlight, Strike 5/5, Surface 5/5, NGC graded choice AU. Estimate: $5,500-6,500. Realized: $7,200.
Ancient Coin specialist Hanbing Feng noted "It seemed as though all segments did well. We certainly are seeing an up cycle in almost all areas of the market."
Stephen Album Rare Coins is preparing for a 1st November 2021 internet auction which will be available online in early October. They are also taking consignments for their Auction 42, which will be held 20th-22nd January 2022. For more information please visit Stephen Album's website.
In the online catalog you can find all prices realized.