[bsa_pro_ad_space id=4]
CNG's Triton XXIII Realizes Over $13 Million
Classical Numismatic Group, LLC (CNG) of Lancaster, Pennsylvania and London, England held their annual Triton auction in conjunction with the 48th Annual New York International Numismatic Convention (NYINC) on January 14-15, 2020. The pre-sale estimate total for Triton XXIII was just over $7.8 million, and the total of actual prices realized was $13,154,220, including the buyer's fees, with 98.8% of all lots sold (all prices given include the buyer's fee).
Triton XXIII featured 1453 lots of Greek, Celtic, Oriental Greek, Central Asian, Roman Republican & Imperatorial, and Roman Imperial coinage. Additionally, there were featured selections of Byzantine, Islamic, Indian and Related Coinage, Early Medieval, World, and British coinage and medals, as well as a nice selection of large lots.
Highlighted by a number of collections and numerous individual rarities, several collections in Triton XXIII stood out:
Selections from the Jack A. Fraser Collection of Ancient, World, and British Coinage: realized $103,410 on $60,000 estimate.
Further Selections of Ancient Coins from the Matthew J. Curtis Collection: realized $886,920 on $316,250 estimate.
Greek and Roman Coins from the Jonathan P. Rosen Collection: realized $2,589,720 on $1,429,250 estimate.
The Richard A. Jourdan Collection of Medieval European Coinage, Part I: realized $1,074,390 on $715,850 estimate.
Anglo-Saxon & Tudor Gold Coins from the G.W. Trow Collection: realized $343,980 on $221,000 estimate.
British Gold from the G.W.K. Roberts Collection, including a William IV Pattern Five Pounds from the Murdoch and Copp Collection: realized $815,100 on $394,500 estimate.
Selections from the James & Martha Robertson Collection of British & Scottish Coinage: realized $272,340 on $128,000 estimate.
A few of the individual highlights from Triton XXIII are: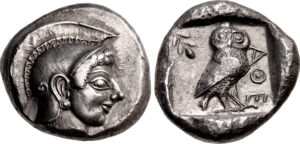 Lot 252 – Attica, Athens. Circa 510-500/490 BC. AR Tetradrachm (26mm, 16.98 g, 9h). Lightly toned, a few small cleaning marks on reverse. EF. From the Jonathan P. Rosen Collection. Ex Gemini XIII (6 April 2017), lot 41. Realized $90,000 on an estimate of $20,000.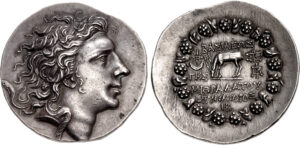 Lot 293 – Kings of Pontos. Mithradates VI Eupator. Circa 120-63 BC. AR Tetradrachm (35.5mm, 16.62 g, 12h). Pergamon mint. Dated month 12, year 223 BE (September 74 BC). Virtually as struck, with a lovely old cabinet tone. Superb EF. Undoubtedly the finest specimen known. A spectacular portrait struck on an exceptionally broad flan. From the Jonathan P. Rosen Collection. Ex The Numismatic Auction II (12 December 1983), lot 122. Realized $90,000 on an estimate of $30,000.
Mithradates is the Hellenistic monarch par excellence, his career driven by megalomaniacal ambitions leading to murderous assaults upon family and followers and disastrous foreign adventures against superior forces. His idealized portraiture attempts to mimic the gods with its bold staring gaze and unruly, free-flowing hair, but at its most extreme is a personification of hysteria in its Dionysiac sense. The wreath of ivy on the reverse reinforces Mithradates' link with the god as well as making a connection with the cistaphoric coinage that circulated in the area. The stag probably represents the civic center of Ephesos and the mintmark is of Pergamon, all part of the new Pontic kingdom, symbolized by the star and crescent. His empire collapsed before the armies of Sulla and Lucullus, and Mithradates ended his own life in exile in the far region of the Crimea, pursued to the end by vengeful Romans and family.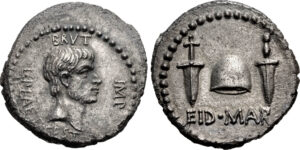 Lot 620 – The Republicans. Brutus. Late summer-autumn 42 BC. AR Denarius (18mm, 3.49 g, 12h). Military mint traveling with Brutus and Cassius in western Asia Minor or northern Greece; L. Plaetorius Cestianus, magistrate. Lightly toned, minor porosity. With NCG Photo Certificate 4936619-007, graded Ch AU, Strike: 5/5, Surface: 3/5. Very rare. The most famous of all Roman coins. From the Jonathan P. Rosen Collection. Ex Tklaec AG (8 September 2008), lot 188. Realized $360,000 on an estimate of $200,000.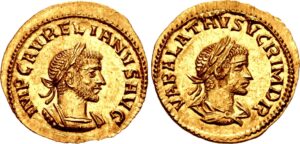 Lot 840 – Aurelian, with Vabalathus. AD 270-275. AV Light Aureus (17mm, 2.09 g, 6h). Antioch mint. Struck November AD 270-March AD 272. Unpublished. Fully lustrous, scratches beneath Aurelian's bust, small metal flaw on Vabalathus' face. Superb EF. Unique. A monumental discovery piece. Realized $300,000 on an estimate of $200,000.
Vabalathus was the son of Zenobia, queen of Palmyra, and her husband, Odenathus. He came to the throne in 267 at the tender age of eight, following a period of intense unrest, which claimed the lives of his father and older brother. Upon his accession, the emperor Aurelian was chiefly concerned with the breakaway Gallic Empire and incursions by the Vandals, thus he initially tolerated this new young ruler, which seems to have encouraged Zenobia to have coins produced that declared the authority of both Aurelian and her son. Although Mattingly and Sydenham are of the opinion that the issue was struck as an "admission of vassalage," the ambiguity created by the double obverse could only have worked in the young king's favor. His father had not minted coins in his own name at all. A Greek papyrus in the Berlin Museum (see Ulrich Wilcken, "Die Titulatur des Vaballathus," ZfN 15 [1887], p. 331) helpfully clarifies the meaning of the unusual letters in the legend: Vir Clarissimus Rex Imperator Dux Romanorum ("Most renowned man, King, of Imperatorial rank, Commander of the Romans"). Vabalathus here allows Aurelian to be designated as Augustus rather than claiming the title for himself, although he does subtly describe himself as Imperator.
This coin must have been issued by the mint in Antioch in the small window between Aurelian's accession in 270 and when he set out to subdue the renegade Palmyrenes in late 271 or early 272; there would have been little point in continuing to claim mutual recognition between Aurelian and Vabalathus when one was marching to depose the other. We know that as of September AD 268, Zenobia and Vabalathus continued to strike coins at Antioch in the name of Claudius. It only follows that the present coin represents a continuation of previous practice at the Antiochene mint, including the issuance of gold coinage. Unlike the joint-issue antoniniani, this gold coin does not have an officina letter, which may indicate that it is the introductory issue for the new type that was presumably issued to announce the policy – no doubt devised by Zenobia – of acknowledging Aurelian as the emperor while proposing an official position for Vabalathus.
It is unclear what happened to Vabalathus once he was deposed by Aurelian in AD 272. He and his mother were captured and taken back to Rome to be paraded in the emperor's triumph, but Vabalathus, now fifteen-years-old, never arrived, having died on the journey by means natural or unnatural. Zenobia, by contrast, settled in Rome, married a senator, and had more children.
Lot 906 – Licinia Eudoxia. Augusta, circa AD 439-490. AV Solidus (20mm, 4.48 g, 5h). Commemorative issue. Ravenna mint. Struck circa AD 439 or 444-445. Lightly toned. Superb EF. One of the finest known. From the Provence Collection. Ex Palombo 17 (20 October 2018), lot 117. Realized $168,000 on an estimate of $100,000.
Licinia Eudoxia was the only surviving child of the Eastern Roman Emperor Theodosius II, and in 424 AD, at the age of two, was betrothed to her four-year-old cousin, the future Emperor of the Western Roman Empire Valentinian III, in order to reunify the two halves of the Roman world. Their marriage produced two daughters, but was abruptly terminated when Valentinian was killed by two Scythians, Optelas and Thraustelas, at the behest of the usurper Petronius Maximus. After buying off the military and palace officials, Maximus cemented his claim to the throne by forcibly marrying Eudoxia only a few days after her husband's murder. At least one historian theorized that Maximus' marriage to Eudoxia was motivated by revenge against the late Valentinian in return for the Emperor's rape of Maximus' first wife. Maximus also married his son Palladius to Eudoxia and Valentinian's daughter Eudocia, thereby severing her engagement to Huneric, the son of the Vandal king Gaiseric.
Deeply unhappy, Eudoxia somehow managed to contact Gaiseric to beseech him to depose Maximus. The Vandals successfully besieged Rome and carried Eudoxia off to Carthage, along with her daughters; Maximus was assassinated by members of the Imperial household during the siege and his body thrown into the Tiber. In 462 AD, after seven years in Carthage, Eudoxia and her daughter Placidia were ransomed by Leo I and moved to Constantinople, while Eudocia remained in Carthage and married Huneric as her parents had originally intended. The rest of Eudoxia's life passed unrecorded; even her exact date of death is unknown.
Lot 1025 – Carolingians. Charlemagne (Charles the Great). As Charles I, King of the Franks, 768-814. AV Tremissis (18mm, 1.00 g, 12h). Lucca mint. Struck after the defeat of Desiderius in 774. A coin of great historical and iconographic interest. Areas of light toning, trace of lamination, a couple of hairline flan cracks. EF. Extremely rare. From the Richard A. Jourdan Collection of Medieval European Coins. Ex CNG Inventory 520231. Realized $132,000 on an estimate of $100,000.
The only gold coin to bear a portrait of Charlemagne, one of the most important figures in world history. His deeds shape Europe to this day. Following Charlemagne's conquest of the Lombardic kingdom in 774 AD, a short-lived issue of gold tremisses was struck at a range of mints across northern Italy in his name. These rare coins are all of the same star/cross potent type of the defeated Desiderius, except for an extremely rare issue at Lucca that remarkably depicts the King of the Franks on the reverse. Rossini records only six specimens of the portrait issue, four of which are damaged and incomplete. Only one other example has previously appeared at auction. That coin, from the Adams collection (Triton XIX, lot 2207), realized $180,000 in 2016.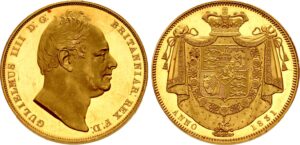 Lot 1346 – Hanover. William IV. 1830-1837. Pattern AV Five Pounds (38mm, 39.87 g, 5h). London mint. Dated 1831. In NGC encapsulation 4747472-001, graded PF 62 Ultra Cameo. A magnificent coin. Attractively toned with a deep cameo finish. Extremely rare. From the G.W.K. Roberts Collection. Ex A. E. Copp Collection, sold privately in 1887. Realized $510,000 on an estimate of $200,000.
Struck to the exact weight of five Sovereigns from the dies used for the proof Crown of 1831, this pattern Five Pounds of William IV is one of the great rarities of the British series. For any collector attempting to form a complete collection of Five Guinea and Five Pound pieces by monarch, from Charles II to Elizabeth II, the Five Pounds of William IV is by far the most challenging coin to obtain.
The specimen offered here is in superb condition and has not been on the market for over 40 years. It once graced the celebrated cabinet of John Gloag Murdoch, one of the finest collections of British coins ever assembled. Murdoch acquired the coin in 1887 from Alfred Evelyn Copp, the Treasurer of the Numismatic Society of London and distinguished collector of rarities.
CNG is currently accepting consignments for its next Public Auction, CNG 114, scheduled for May 13-14, 2020 in Lancaster, PA, and to be held at the Marriott at Penn Square, 25 South Queen Street, Lancaster, PA 17603. The consignment deadline is Friday, January 31st, 2020.
For further details and any additional information, please contact CNG, LLC at:
Classical Numismatic Group, LLC
P.O. Box 479
Lancaster, PA 17608-0479
Telephone: (717) 390-9194
Fax: (717) 390-9978
Visit the CNG website.
You can see all results here.
And click here, if you want to read what else was going on at the NYINC.