[bsa_pro_ad_space id=4]
CNG's Classical Numismatic Review Winter 2023
Once again Classical Numismatic Group has published their Classical Numismatic Review Winter to present a choice of coins and medals available in their online shop. Enjoy their premier selection of quality ancient, world, and British coins. As for the coins in this CNR, CNG has some outstanding pieces on offer that have been acquired over the past year specifically to be offered at the NYINC.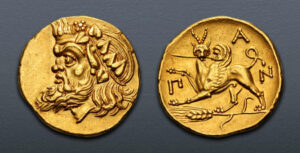 The Pantikapaion gold stater is in fabulous condition and has an incredible provenance dating back to 1901-4. CNG thanks Dr. Ute Wartenberg Kagan for her help in researching this coin.
The CNR offers two outstanding Kaulonia Nomoi of the desirable incuse type in this list. Both have wonderful toning and excellent provenances. The design of this type is arguably the most artistic in the entire Magna Graecia incuse series.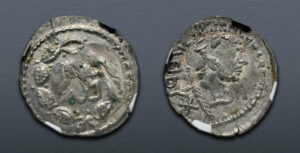 One of the favorite types is represented by several examples in this CNR: Bar Kochba zuzim overstruck on Roman denarii showing clear undertypes of the host coin. On each example herein the Roman emperor portrait is quite distinct and easily discernable.
The Roman republican offering is very nice. Most coins fall into the top tier for their respective types. In particular, the denarius minted under L. Plautius Plancus – a CRI plate coin – is really superb and certainly among the best survivors of this issue.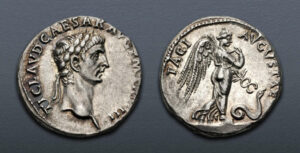 The Claudius denarius is also among the finest known for its type. This coin would be a perfect fit for a high grade Twelve Caesars portrait set. As those that collect this series know, a truly exceptional Claudius denarius is the most difficult portrait coin to find to complete a set.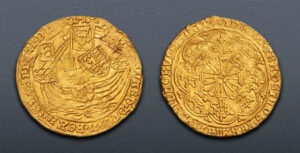 The World and British sections of the CNR also have some noteworthy highlights. The Philip IV Petit Royal d'or is a wonderful coin in high grade. The Queen Cynethryth Penny is simply outstanding! And, certainly, the Edward VI sovereign is a coin to get excited about.
Perhaps most importantly, there are coins in this CNR at all price levels. It is fun to point out the expensive rarities but there are many exceptional collector coins in this Review at lesser pricing tiers.
You can browse online through the CNR Summer 2022.
All coins are available in the CNG online shop.