[bsa_pro_ad_space id=4]
16-09-2014 – 01-01-1970
Auction 97 Internet and Mail Bid Sale
Superb Berenike II Pentadrachm at CNG
Classical Numismatic Group presents Auction 97, an Internet and Mail Bid Sale closing electronically on Wednesday, September 17, 2014, from 9 AM ET.
422: PTOLEMAIC KINGS of EGYPT. Berenike II, wife of Ptolemy III. Pentadrachm (25mm, 21.40 g, 12h). Attic standard. Alexandreia mint. Struck under Ptolemy III, circa 242/1-222. Svoronos 978; van Driessche 978, dies D2/R3; Jameson 1819 (same dies). Superb EF. Very rare, only nine examples noted by van Driessche. Estimate $50,000.
The Greek section of the sale opens with a hoard of Eastern hacksilber, followed by selections from the Trinacria Collection of Sicilian Bronze, an offering of Judaean coinage from the Patrick H. C. Tan Collection, a pair of rare gold coins of Berenike II, and an exceptional array of early issues from Sidon.
672: Lucius Verus. Aureus (19mm, 7.25 g, 12h). Struck AD 164. RIC III 512 (Marcus); MIR 18, 92-12/10; Calicó 2154 (same dies as illustrated coin); BMCRE 302 note; Biaggi 956 (same dies). FDC, light cabinet tone. A superb example of an important historical coin. Estimate $30,000.
Collectors of Roman coinage will be pleased to browse through further selections from the RBW Collection of Republican Coinage, a group of Judaea Capta issues, and an exceptional and diverse offering of Roman Imperial gold.
748: Anastasius I. Solidus (20mm, 4.49 g, 6h). Constantinople mint, 9th officina. Struck 498-518. DOC 7i; MIBE 7; SB 5. EF, minor obverse die scratches. Estimate $500.
Following that, the Byzantine and Islamic sections present additional pieces from the Iconodule Collection and new offerings from the Warden Family Collection of Pictorial Islamic Coinage.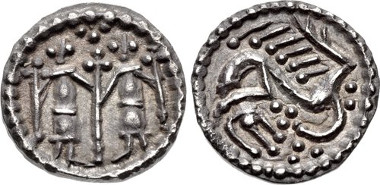 971: ANGLO-SAXON, Secondary Sceattas. Circa 725-745. Sceat (12mm, 0.86 g, 9h). Series QIB var. 2. Abramson 63-20; SCBI 63 (BM), -; Metcalf p. 489, fig., and n. 9 = SCBI 16 (Norweb) 61; SCBC 808. EF, attractively toned. Estimate $2,000.
Finally, the sale is rounded out with a pair of important British collections: the Collection of an Underwriter, featuring numerous important and rare East Anglian issues from the Anglo-Saxon period; and the D. F. Alder Collection, formed primarily through purchases from Seaby and Spink between the late 1950s and early 1980s.
You can browse the virtual catalogue here.
The sale is online on CNG's website.