[bsa_pro_ad_space id=4]
25-03-2014 – 01-01-1970
Electronic Auction 323
CNG's Electronic Auction offers rarities at fair prices
CNG's Electronic Auction 323 closing on March 26, 2014 offers 897 lots. The sale opens with a selection of Greek coinage from the Demetrios Armountas Collection, followed by an array of Baktrian and Central Asian issues.
316: Augustus. Denarius, 2 BC-AD 4, Lugdunum (Lyon) mint. RIC I 207. Superb EF. Estimate $500.
The Roman section offers a number of provincial issues, among which are a group of Antiochene silver and bronze coins, as well as numerous Imperial bronze and silver coins, with a particular emphasis on issues of the early Empire.
493: Constantine V Copronymus, with Leo IV and Leo III. Solidus, circa 756-764, Constantinople mint. Füeg 5.A.2. VF. Estimate $500.
Following that is a broad offering of Byzantine and Islamic gold, accompanied by additional Islamic issues from the Righetti Collection.
705: ITALY, Milano (Duchi). Carlo I di Spagna (Carlo V, Sacro Romano Impero). Scudo d'argento, 1552. CNI V 6. VF. Estimate $500.
The World and British sections round out the sale, providing 19th-20th century German issues, additional Italian coinage from the Huntington Collection, and British hammered, …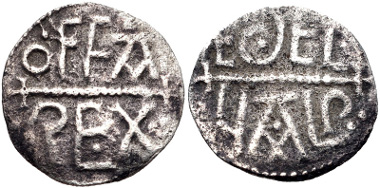 814: ANGLO-SAXON, Kings of Mercia. Offa. Penny, circa 780-792, London mint; Aethelweald, moneyer. North 287/1. Good Fine. Estimate $1000.
… featuring a rare penny of Offa and a choice Henry I Pax penny. More than fifty large lots are also available, closing the sale.
You can find the sale with all lots available for online bidding on the CNG website.