[bsa_pro_ad_space id=4]
27-01-2015 – 01-01-1970
Electronic Auction 343
CNG's Electronic Auction 343 online
Classical Numismatic Group's Electronic Auction 343 will be closing on 28 January 2015 from 10 AM ET offering 802 lots.
Lot 86: THESSALY, Larissa. Circa 365-356 BC. Drachm (19mm, 5.80 g, 11h). BCD Thessaly II 316. Good VF, lightly toned. Estimate $200.
This auction presents a handful of interesting collections, including further selections from BCD …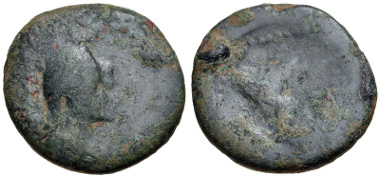 Lot 222: KINGS of ARMENIA. Tigranes IV, with Erato. Second reign, circa 2 BC-AD 4. Chalkous (19.5mm, 4.96 g, 11h). Kovacs, Armenia II 5; CAA 128 (Tigranes II); AC 122 (Tigranes II). Good Fine. Extremely rare. Estimate $500.
… a group of bronze and silver issues of ancient and medieval Armenia …
Lot 233: SELEUKID KINGS of SYRIA. Antiochos III 'the Great'. Tetradrachm (30mm, 17.08 g, 12h). Struck circa 204-197 BC. SC 1044.1; Le Rider, Antioche, Series III-IV, 23?54 (obv. die A4); HGC 9, 447u. VF, toned. From the collection of a Southern Pathologist. Estimate $300.
… and additional pieces from the Collection of a Southern Pathologist.
Lot 348: SYRIA, Seleucis and Pieria. Antioch. Augustus. Tetradrachm (26mm, 15.18 g, 12h). McAlee 184; Prieur 54; RPC I 4155; DCA 400. Good VF, some porosity. From the Colin Kirk Collection. Estimate $200.
The Roman section in particular is well-stocked with coins from the Colin Kirk Collection. In addition, a number of coins with pedigrees dating to the 80's and early 90's can be found scattered throughout the sale.
To browse through the complete auction catalogue click here.