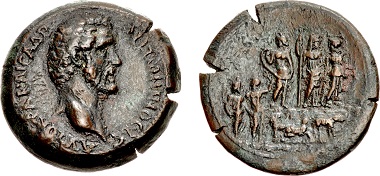 [bsa_pro_ad_space id=4]
08-01-2018 – 09-01-2018
Triton XXI auction during 46th NYINC
CNG's Triton XXI Realizes Almost $15 Million
CNG held their annual Triton auction in conjunction with the 46th Annual New York International Numismatic Convention on January 9-10, 2018. The pre-sale estimate total for Triton XXI was $10,209,500 million, and the total of actual prices realized was $14,971,166, including the buyer's fees, with 98% of all lots sold. Triton XXI featured 1570 lots of Alexandrian (Roman Egypt), ancient Greek, Celtic, Oriental Greek, Central Asian, Roman Republican & Imperatorial, and Roman Imperial coinage. Additionally, there were featured selections of Byzantine, Early Medieval, Islamic, World, and British Coinage, as well as British Medals and a nice selection of large lots. Please find here below a few of the individual highlights from this auction.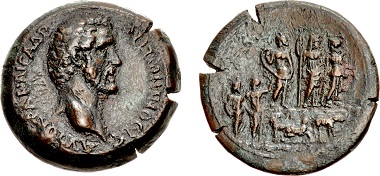 Lot 161: The Judgment of Paris. Egypt, Alexandria. Antoninus Pius, AD 138-161. Drachm, dated RY 5 (AD 141/142). Extremely rare. Ex G. M. Staffieri Collection. Sold for $39,000.
The Alexandrian drachm "The Judgment of Paris" artistically stages a mythical "beauty contest" of sorts, as a prelude to the Trojan War. Eris, goddess of discord, was excluded from a feast thrown by Zeus, but the scorned deity arrived uninvited with a golden apple inscribed "for the fairest." Hera, Athena, and Aphrodite each claimed the apple, and Zeus was asked to award it to the most beautiful. Zeus, wishing to avoid this uncomfortable situation, appointed the mortal Paris as judge, as the shepherd and prince of Troy had a reputation for his fairness. Each goddess attempted to sway Paris with a bribe in order to win the apple: Athena offered him incredible skill in battle, Hera offered him an immense kingdom, and Aphrodite offered him the most beautiful woman in the world, Helen of Sparta, the wife of the Greek king Menelaus. Paris could not refuse Aphrodite's offer, setting in motion the war between the Greeks and Trojans.
Lot 245: Egypt, Alexandria. Zenobia. Usurper, AD 268-272. Potin Tetradrachm, dated RY 5 of Vaballathus (AD 272). Ex Dattari Collection. Sold for $28,800.
While a nominal ally of Rome, Odenathus, ruler of the wealthy eastern trade center of Palmyra and husband of Septimia Zenobia, took advantage of Rome's internal and external conflicts to expand his territories. The circumstances surrounding the assassination of Odenathus around 267 are uncertain, but we do know that Zenobia soon after took the title of Augusta and bestowed on her infant son Vaballathus the title of Augustus. Zenobia continued to expand the Palmyrene kingdom, seizing control of Egypt in 269 and, with it, the Roman grain supply. To further bolster her position, Zenobia claimed to be the descendant of such illustrious figures as Cleopatra VII of Egypt and the legendary Queen Dido of Carthage. When Aurelian rose to the purple in 270, he pragmatically acquiesced to Zenobia and Vaballathus' rule in the east, while he concerned himself with stabilizing the situation in the west. By 272, he was prepared to campaign against the usurpers. Palmyra was sacked, and both Zenobia and Vabalathus were captured as they tried to make their way to Persia. Zenobia was brought to Rome and paraded in Aurelian's triumph in 274. According to a later tradition, Aurelian, impressed by her beauty and dignity, later freed her and granted her a villa in Tibur, where she spent the rest of her life.
Lot 327: Bruttium, Rhegion. Tetradrachm, circa 415/0-387 BC. Ex Eddé and Gillet Collections. Sold for $90,000.
This magnificent tetradrachm is from a series at Rhegion that is regarded as having the most finely engraved dies of all the numismatic output of the mint. The earliest phase features dies signed by the artist Kratesippos, but the later unsigned dies, such as were used here, are regarded as the pinnacle of this period at Rhegion. Herzfelder called the engraver of these dies "the Master of the Rhegium Apollo." While the style of Apollo on these dies was conventionally considered to have been influenced by the "Master of the Leaf" of the slightly earlier issues of Katane, R.R. Holloway suggests that there was actually a common prototype for both issues, which served as a model for coinages as far away as the Chalkidian League. This high period of artistry at Rhegion coincides with the famed issues of the "signing artists" of Sicily, and was only brought to a conclusion with the sack of the city by Dionysios I of Syracuse in 386 BC.
Lot 419: Attica, Athens. Didrachm, circa 475-465 BC. Ex Harald Salvesen Collection. Sold for $90,000.
A very rare example of the Iconic Classical Athens didrachm. This coin features the head of Athena right, wearing earring, necklace, and crested Attic helmet decorated with three olive leaves over visor and a spiral palmette on the bowl. / Owl standing right, head facing; olive sprig to left, letters to right; all but one leaf of olive sprig within incuse square, the totality within incuse circle.

Lot 501: Kings of Lydia. Kroisos. Stater, circa 564/53-550/39 BC, Sardes mint. Heavy standard. Regular issue. Sold for $132,000.
Another highlight was the Heavy Standard Kroisos Gold Stater, regularly sought-after by coin collectors.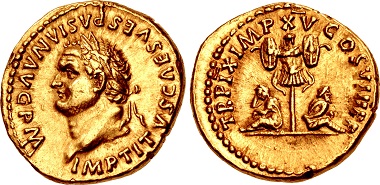 Lot 739: Titus, AD 79-81. Aureus, Rome mint, struck 1 January-30 June AD 80. Sold for $144,000.
This important Jewish Reference Aureus is Hendin Plate coin 1579a.
Lot 1063: Hungary, Holy Roman Empire. Károly III (VI), 1711-1740. 10 Dukat, Pozsony (Pressburg / Bratislava) mint, 1715. Paul Wodrich, mintmaster. Unique. From the Jonathan P. Rosen Collection. Sold for $444,000.
This unique Hungarian 10 Dukat 1715 from the Jonathan P. Rosen collection is the one, Friedberg cites and illustrates as number 176a. Sold in NGC encapsulation graded MS 63.
Lot 1127: Poland, Monarchy. Zygmunt III Wasa, 1587-1632. 100 Dukat, Bydgoszcz (Bromberg) mint, 1621. Jacob Jacobson van Emden, mintmaster, and Samuel Ammon, engraver. Ex Kroisos Collection. Sold for $2,160,000.
As King of Poland, Zygmunt's primary goals were to create a strong and stable Polish government, as well as combating heresy in all its forms. While such policies were unsuccessful in Sweden, he was more successful against the Ottomans. Viewed as a Christian bulwark against the Turks, Zygmunt was eager to assist Austria. Promised territorial gains for the kingdom in return for his assistance, Zygmunt sent mercenaries to the Principality of Moldavia to extricate the Ottomans from the area. At the Battle of Chocim (modern Khotyn) in 1621, the Polish-Lithuanian Commonwealth held the forces of Sultan Osman II and his Janissaries at bay until the first autumn snows. Aided by the Polish hussars, a heavy cavalry known as winged, because their armor included a pair of wings on their back, the Ottomans, sustaining heavy losses, were forced to abandon the field. Although indecisive in its outcome, the battle – the largest in the history of the Commonwealth to date – was proclaimed a great victory over the "heathens", and became subsequently an event of great cultural pride in succeeding years.
Struck by Jacob Jacobson van Emden, with dies engraved by Samuel Ammon, this impressive gold 100 Dukat was struck to commemorate this victory. Six examples of this issue are known, all from a single pair of dies:
a) Muzeum Narodowe w Krakowe (Emeryk Hutten-Czapski Collection, donated in 1903)
b) Sigismund von Chelminski Collection (Helbing, 25 April 1904), lot 206 (hammer 3000 Gold Marks)
c) F. S. Guggenheimer Collection (Stack's, 22 January 1953), lot 497 (hammer $3000)
d) Stack's (1 February 1957), lot 1031 = Stack's (8 April 1954), lot 1151
e) Stack's (7 December 1989), lot 2207 = Stack's (17 September 1980), lot 2207 = Stack's (7 November 1974), lot 255
f) Kroisos Collection (Stack's, 14 January 2008), lot 3091 = G. Hirsch 53 (26 June 1967), lot 210 (the present example).
Lot 1504: Anne Stuart, 1702-1714. 5 Guineas, Tower of London mint (Pre-Union issue), dually dated RY quarto and 1705. From the Jonathan P. Rosen Collection. Sold for $216,000.
Choice 1705 Five Guineas. The rarest Five Guineas of Anne after the celebrated 1703 VIGO. In our opinion, this specimen is conservatively graded.
Visit the CNG website here.
Find further information about Triton XXI here.