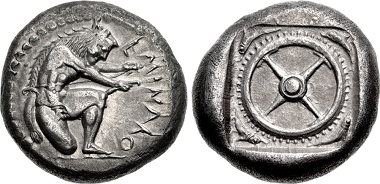 [bsa_pro_ad_space id=4]
09-01-2017 – 10-01-2017
Triton XX
CNG's Triton XX Realized Over $11 Million on the Hammer
Classical Numismatic Group of Lancaster, Pennsylvania and London, England held their annual Triton auction in conjunction with the 45th Annual New York International Numismatic Convention (NYINC) on January 10-11, 2017. The pre-sale estimate total for Triton XX was $8,575,200 million, and the total of actual prices realized was $11,292,580 on the hammer (buyer's fees not included, which were either 19 or 21%, depending on the method of bidding) with 97.8% of all lots sold.
Triton XX featured 1696 lots of ancient Greek, Celtic, Oriental Greek, Central Asian, Roman Provincial, Roman Republican, and Roman Imperial coinage. Additionally, there were featured selections of Byzantine, Early Medieval, Islamic, World, and British Coinage, as well as World Medals and a nice selection of large lots.
Just a few of the individual highlights from Triton XX are: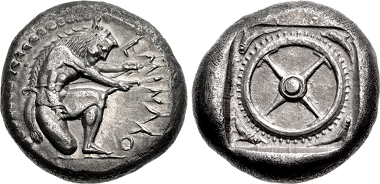 Lot 86: Silver Stater of Eminakos. Among the Finest Known. Estimate: 30,000 USD. Realized: 75,000 USD.
Skythia, Olbia. Eminakos. Circa 440-437 BC. AR Stater (21mm, 11.87 g). Herakles, nude but for lion skin draped over his head and back, kneeling right, stringing bow with both hands; EMINAKO to right / Studded wheel with four spokes; four dolphins swimming counterclockwise around; all within incuse square. Karyshkovskij Group I, alpha; V&K pl. 85, 6; Anokhin 167; SNG BM Black Sea 358 corr. (legend) = G. F. Hill, "Greek coins acquired by the British Museum in 1925" in NC 1926, 2; SNG Pushkin 52; SNG Stancomb 342; Boston MFA Supp. 79 = Jameson 2536; Frolova & Abramzon 248; Gillet 861; Hermitage Sale I 139; Kunstfreund 46; Rosen 147; Traité IV 1771. EF, toned, very slight granularity in spots. Rare, and among the finest known (better than the Prospero piece, which realized $45,000).
Eminakos is known only from his coins. Most authors speculate that he was a local dynast based in Olbia, which is almost certainly the mint for this issue, as the types appear on other coins of Olbia and almost all examples known have been found in the vicinity of that city (see G. F. Hill, op cit, pp. 117-8). In his 1968 doctoral thesis, Karyshkovskij noted 21 known staters of this type, to which a few have been added over the past 48 years. It would seem, thus, that this is not an extremely rare coinage, but the vast majority are in public collections; they very rarely appear at auction – only two examples are in CoinArchives, sold in 2012 and 2014, over a decade after the previous example, the Kunstfreund specimen sold in Leu 76 in 1999.
Lot 483: Unpublished Julia Mamaea Drachm with Nilus in Hippopotamus Biga. Estimate 3,500 USD. Realized: 9,500.
Egypt, Alexandria. Julia Mamaea. Augusta, AD 222-235. AE Drachm (34mm, 28.84 g, 12h). Dated RY 10 of Severus Alexander (AD 230/1). Draped bust right, wearing stephane / Nilus, raising his right hand and cradling a cornucopia with his left, standing left in a biga of hippopotami; the hippopotamus in the background is raising its head, looking back at Nilus; palm frond in the exergue. Apparently unpublished. Near EF, tan-brown patina with touches of red, pierced in antiquity. Extremely rare. From the Dr. Patrick H. C. Tan Collection.
Lot 519: Gold Aureus Honoring Sulla as Dictator. Estimate: 200,000 USD. Realized: 475,000 USD.
A. Manlius A.f. 80 BC. AV Aureus (20mm, 10.75 g, 8h). Uncertain Eastern mint. Crawford 381/1a (same rev. die); Sydenham 762 = BMCRR East 16; Calicó 20 (this coin illustrated); Biaggi 13 = Bahrfeldt 12/4 = A. Blanchet, Les monnaies romaines (Paris: 1896), p. 121, 9 = Babelon II 9 (this coin); Kestner –; RBW –. Near EF, warm reddish toning. Extremely rare, and the only issue naming Sulla as dictator. From the collection of a director. Ex Leo Biaggi de Blasys Collection, 13.
This aureus, struck during the third consulship of the dictator Sulla in 80 BC, offers an intriguing glimpse of the Realpolitik of the Roman Republic in the early first century BC. The obverse depicts a purely Roman version of the goddess Roma, complete with the archaic Republican helmet decorated with a pair of plumes. The reverse features the statua Sullae, which was located near the Rostra in the Roman Forum, and which was dedicated by King Bocchus I of Mauretania to commemorate the role of Sulla (and Bocchus) in the capture of Jugurtha. It was the Jugurthine War (112-106 BC) that set in motion the subsequent period of internal political conflict between various generals and deep division within the Senate between the patricians and the novi homines, or "new men," all of which culminated in the civil wars of the second half of the century and the establishment of the Principate under Augustus.
The coin's moneyer, A. Manlius A. f., also participated in the Jugurthine War. In addition to serving as a legatus to the Roman commander-in-chief, Gaius Marius (Sall.Iug. 86.1; 90.2; 102.23), he was appointed by Marius – along with Sulla – to meet with Bocchus, which resulted in the betrayal and capture of Jugurtha. Although his cognomen is unknown, Aulus Manlius was a member of the gens Manlia, one of the oldest and most patrician families of Rome. The gens boasted numerous holders of high office throughout the Republic, including a number of consuls. When the bloody civil war between Marius and Sulla broke out following the Social War (91-88 BC), Manlius allied himself with the conservative patricians who supported Sulla, rather than his old commander Marius, who was a novus homo. Nothing more is known of Manlius until 80 BC, when he struck this aureus. Why he did so remains the subject of speculation. A explanation is that the coin commemorates Sulla's resignation of the dictatorship he held the previous year. In keeping with his traditionalist sentiments, Sulla resigned his office (including disbanding his legions) and re-established consular government; he then dismissed his lictors and entered the Forum unprotected to give an account of himself to any citizen (Plut. Vit. Sull. 34). Thus, his action may have been viewed by his adherents (and certainly Manlius), as the victorious denouement of a great man who fought to preserve the values of the ancient Republic.
Lot 800: The Circus Maximus. Estimate: 75,000 USD. Realized: 140,000 USD.
Caracalla. AD 198-217. AV Aureus (20mm, 6.90 g, 6h). Rome mint. Struck AD 213. ANTONINVS PIVS AVG BRIT, laureate, draped, and cuirassed bust right / P M TR P XVI, COS IIII P P in exergue, view of the Circus Maximus, with spina, metae, and obelisk in center. RIC IV 211B; Calicó 2710 (same rev. die as illustration); Biaggi –. Near EF. Extremely rare and important architectural type.
While gladitorial combat is the sport that most people today would associate with ancient Rome, chariot races held at tracks, or circuses, were the real passion of the populace. The Circus Maximus ("largest" or "greatest circus") lived up to its grand name, with modern scholars estimating that the building could hold some 150,000 spectators, or roughly three times the number of people that the Colosseum could accommodate (Pliny's statement that the Circus could hold 250,000 appears to be an exaggeration). Caracalla renovated the Circus in AD 213, and rare aurei and sestertii were issued to celebrate the project.
This artistic aerial view depicts the Circus as it would be seen from the Palatine Hill. According to Pliny, the Circus was established during the reign of the Tarquinius Priscus, Etruscan king of Rome (circa 616-579 BC), although a permanent structure may not have existed until 329 BC, when the starting gates (carceres) were erected. By the early 2nd century AD, the structure was very close to the form that we see on our coin. In the center of the Circus we find the spina ("spine"), upon which is the obelisk of the Pharaoh Ramesses the Great that Augustus brought to Rome and erected in the Circus (it is located today in Rome's Piazza del Popolo). At each end of the spina is a meta, or conical column situated where the charioteers would make their harrowing turns, while an equestrian statue of Trajan and a shrine of Cybele can be found immediately to the left and right of the obelisk, respectively.
In the foreground and to right are arcades and a prominent arched gate, while on the left we find the semicircular end of the structure, with the attic statuary of a triumphal arch of Titus visible. The temple of Sol and Luna, built into the seating, is visible on the far end of the structure, to the left of the obelisk's peak.
The coin cited in RIC and BMCRE was in Baldwin's stock in 1927. The example plated in Calicó, with which our coin shares the same reverse die, was sold by Freeman & Sear in 2005 (FPL 10, no. 111), while another specimen was recently sold by Künker (Auction 270, lot 8855). Our coin may be only the third or fourth known, depending on whether or not the 1927 Baldwin's piece is distinct from the other known examples.
Lot 1043: Extremely Rare Alexandria Mint Solidus of Justinian I. Estimate: 50,000 USD. Realized: 85,000 USD.
Justinian I. 527-565. AV Solidus (22mm, 4.45 g, 6h). Alexandria mint. Struck circa 527-538. D N IVSTINI–ANVS P P AV, helmeted and cuirassed bust facing slightly right, holding spear over shoulder in right hand, shield over left shoulder / VICTORI–A AVCCC, angel standing facing, holding long cross in right hand and globus cruciger in left; star in right field; A//ALEXAOB. Unpublished, but for other examples that have recently appeared on the market, see Gemini IX, lot 528; Lanz 151, lot 943; and Lanz 148, lot 167. Superb EF. Extremely rare and unpublished in the standard references. Possibly only the sixth known. From the Goldman Collection, purchased from Antiqua, August 2011.
This type has only recently come to light and is of great importance. Previously only copper coins of Justinian were known from Alexandria, which feature the mintmark in Greek rather than Latin.
Lot 1219: Pedigreed to 1862. Estimated 5,000 USD. Realized: 12,000 USD.
Germany, Quedlinburg (Abtei). Beatrix II von Winzeburg. 1138-1160. AR Bracteate Pfennig (28.5mm, 0.85 g). Abbey with two towers and two domes, two nuns on second floor; below, confronted busts of Beatrix, holding gospel, and bishop, holding gospel and raising hand in benediction; cross above, pellets around / Incuse of obverse. Theodor Stenzel, Der Baktreatenfund von Freckleben im Herzogthum Anhalt (Berlin, 1862), 63 = J.J. Leitzmann, "Die älteren Münzen der Abtei Quedlinburg mit Bezugnahme auf deren Beschreibung durch H. Ph. Cappe, Dresdehn 1851," in Zeitschrift des Harz-Vereins für Geschichte und Alterthumskunde 5 (1872), 30 = H. Dannenberg, "Mittelalterliche Denkmünzen," in ZfN 21 (1898), p. 115 = Mehl 74 (this coin cited and illustrated); Kestner –; Löbbecke –; Bonhoff –. EF, toned. Extremely rare – one of two known and the only example in private hands (the other in Berlin). From the Estate of Thomas Bentley Cederlind. Ex Münzen und Medaillen AG 35 (16 June 1967), lot 74; Cahn 70 (15 July 1931), lot 91 (photo clipped in plates); 1862 Freckleben Hoard.
Lot 1400: Impressive Transylvanian Gold 10 Dukát. Estimate: 50,000 USD. Realized: 85,000 USD.
Transylvanian, Principality. Gábor Bethlen. 1613-1629. AV 10 Dukát (44mm, 34.30 g, 12h). Gyulafehérvár (Karslburg / Alba Iulia) mint. Dated 1618 AI. Resch 25; MBR 1233; KM 117; Friedberg 347. Near EF. Extremely rare. From the Princeps Collection. Ex Bourgey (7 May 1963), lot 75.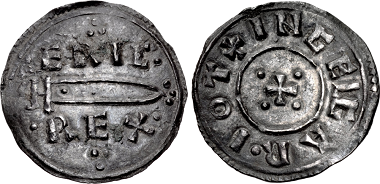 Lot 1519: Eric Bloodaxe, King of (New) York. Estimated: 30,000 USD. Realized: 130,000 USD.
Anglo-Saxon, Anglo-Viking (Hiberno-Norse Northumbria). Eric Bloodaxe. Second reign, 952-954. AR Penny (20.5mm, 1.35 g, 10h). Sword type. York mint; Ingelgar, moneyer. CTCE Group XI, b-m; SCBI 4 (Copenhagen), 649–51 var. (rev. legend); BMS 1278–9 var. (same); North 550; SCBC 1030. Near EF, toned. A few deposits, slight bend in flan. Extremely rare and the most desirable of all Viking coins.
Estimated at $30,000; Realized $130,000 on the hammer. This is a new world record price for an English silver penny. Ex Sotheby's (24 April 1997), lot 695. Found in North Lincolnshire, 1987.
"…rise quickly and go and meet the prince. Invite him in, it is Eiríkr; it is he I am expecting… he has reddened his blade in many a land and borne a bloody sword… Good fortune to you now, Eiríkr: you will be welcome here, and go, wise, into the hall."
After falling in battle Eric Bloodaxe is greeted by Odin at the entrance to Valhalla. From the 'Eiríksmál', a skadlic pangeryic composed for Eric's widow, Grunnhild.
This coin is the only example of a Sword type Penny of Eric Bloodaxe to be offered at public auction since the sale of the famous R. C. Lockett collection in 1955.
CNG is currently accepting consignments for its next mail bid auction, CNG 105, scheduled for May 10, 2017.
For further details and any additional information, please visit the company's website or contact CNG, Inc. via email.
The complete list of prices realized at Triton XX is available on the website.