[bsa_pro_ad_space id=4]
04-01-2016 – 05-01-2016
Triton XIX
CNG's Triton XIX Part I Features Iconic Greek and Roman Rarities
Classical Numismatic Group of Lancaster, Pennsylvania and London, England presents Triton XIX, a Public, Internet, and Mail Bid Sale to be held in conjunction with the 44th Annual New York International Numismatic Convention (NYINC) on January 5-6, 2016. The NYINC is held at the Waldorf-Astoria Hotel, located at 301 Park Avenue, New York, NY 10022, between 49th and 50th Streets.
Lot 595: Septimius Severus. AD 193-211. Aureus. Rome mint. Struck AD 210-211. RIC IV 334; Calicó 2564; BMCRE 60; SCBC 649. EF. Very rare. Estimate: $50,000.
Triton XIX consists of two separate catalogs: the first catalog features 993 lots of ancient Greek, Celtic, Oriental Greek, Central Asian, Roman Provincial, Roman Republican, and Roman Imperial coinage.
Lot 712: ISLAMIC, Umayyad Caliphate. temp. 'Abd al-Malik ibn Marwan. AH 65-86 / AD 685-705. Dinar. Unnamed (Dimashq [Damascus]?) mint. Dated AH 77 (AD 696/7). AGC I 41; SICA 2, 1; Walker, Arab-Byzantine, 186; Album 125; W 155. EF. Very rare. Estimate: $200,000.
Additionally, there are featured selections of Byzantine, Early Medieval, Islamic, World, and British Coinage. The pre-sale estimate total for Triton XIX, Part I is $7.2 million. Part II of Triton XIX features the third part of the Dr. Lawrence A. Adams Collection of Ancient & World Gold Coinage. A separate preview of this sale will be published in CoinsWeekly next week.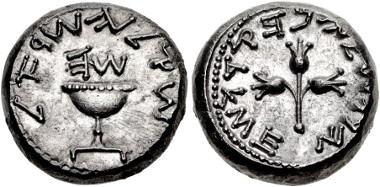 Lot 306: JUDAEA, Jewish War. 66-70 CE. Shekel. Jerusalem mint. Dated year 5 ([August] 70 CE). Meshorer 215; Kadman 45; Hendin 1370; Bromberg 389; Shoshana I 20221. EF, lightly toned. Very rare. From the David Hendin Collection. Estimate: $200,000.
Triton XIX, Part I, to be sold on Tuesday, January 5th, 2016, features selections from several important collections including: important Judaean coins from the David Hendin collection; Greek and Roman coins from the J. Eric Engstrom collection; Roman coins from the V. Robert Chiodo collection; and Part I of the Dr. Andrew Wayne collection of Anglo-Saxon coinage.
Lot 44: SICILY, Naxos. Circa 461-430 BC. Drachm. Cahn 55.1 (V40/R46); Rizzo pl. XXVIII, 13; SNG Lloyd 1151; Basel 385; SNG Lockett 841; Jameson 674; de Luynes 1063; McClean 2467. Superb EF. Charles Gillet Collection (1972), 484; Vicomte de Sartiges Collection, 110; Duplicates from the Berlin Königliches Münzkabinett (J. Hirsch XXVI, 24 May 1910), lot 81; Arthur Löbbecke Collection. Estimate: $150,000.
Additionally, Part I of Triton XIX features an exceptional offering of Greek coinage, including pieces from the former collections of Brand, Desneux, Gillet, Jameson, Löbbecke, Lockett, Moretti, Sartiges, Trampitsch, and Woodward.
Lot 421: The Republicans. Brutus. Late summer-autumn 42 BC. Denarius. Military mint traveling with Brutus and Cassius; L. Plaetorius Cestianus, magistrate. Crawford 508/3; Cahn 22; CRI 216; Sydenham 1301; RSC 15. Good VF. Very rare. Estimate: $100,000.
Other highlights include: a facing head Syracuse tetradrachm of Kimon; the Ghazzat Hoard of archaic Greek coinage; a Brutus portrait aureus and an Eid Mar denarius; an impressive selection of Roman aurei and solidi; a very rare Delmatius solidus from the Jameson and von Schulthess-Rechberg collections; an iconic Umayyad AH 77 gold dinar; and an extremely rare Chinese gold 1949 "Memento Dollar".
To browse through the complete auction catalogue please click here.
Lot viewing for Triton XIX will begin on Sunday, January 3rd, from 1PM until 7PM in the Carnegie Suite, located on the 18th floor of The Waldorf-Astoria Hotel. Auction lots will also be available for viewing at the Pennsylvania offices of CNG from Tuesday, December 1st, 2015 until Wednesday, December 30th, 2015 by appointment only, with the exception of Friday and Saturday, December 11-12, 2015.
The auction sessions for Triton XIX will be held in the Norse Suite, also located on the 18th floor of The Waldorf-Astoria Hotel. Triton XIX will be conducted over four sessions with the morning sessions beginning promptly at 9:00 AM on Tuesday, January 5th, and Wednesday, January 6th, 2015, and the afternoon sessions will start at 2 PM on the same days.
Printed catalogs for Triton XIX are already available. To order a catalog, please visit the website of CNG.