[bsa_pro_ad_space id=4]
05-01-2015 – 06-01-2015
Triton XVIII Sale
Masterwork of Sicilian numismatics at CNG's Triton XVIII Sale in New York
Classical Numismatic Group of Lancaster, Pennsylvania and London, England will conduct the Triton XVIII Sale, a Public, Internet, and Mail Bid Sale to be held in conjunction with the 43rd Annual New York International Numismatic Convention (NYINC) on January 6-7, 2015. The NYINC is held at the Waldorf-Astoria Hotel, located at 301 Park Avenue, New York, NY 10022, between 49th and 50th Streets.
One of the featured collections highlighted in Triton XVIII is the Sunflower Foundation / MoneyMuseum of Zurich Collection. The MoneyMuseum is selling 285 individual coins in Triton XVIII. A few of the individual highlights from the Sunflower Foundation Collection featured in Triton XVIII are:
Greek Coinage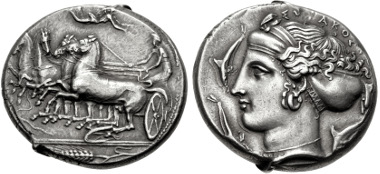 Lot 385: SICILY, Syracuse. Second Democracy. 466-405 BC. Tetradrachm (27mm, 17.23 g, 5h). Struck circa 413-405 BC. Tudeer 69 (dies 25/47); HGC 2, 1342 (same dies as illustration); Basel 471 (this coin); BMC 220 (same dies); Boston MFA 415 = Warren 387 (same dies); Giacosa pl. 34 (this coin illustrated [obverse]); Gillet 637 (same dies); Gulbenkian 288 (same dies); de Luynes 1212 (same dies); Rizzo pl. XLII, 17 (same obv. die). EF, toned, minor double strike on reverse. From the collection of the MoneyMuseum, Zurich. Ex Athos D. Moretti Collection. Estimated at $30,000.
Lot 332: BRUTTIUM, Kroton. Circa 480-430 BC. AR Nomos (22.5mm, 8.03 g, 10h). Gorini 27 var. (legend on right); Attianese 55 var. (ethnic not retrograde); HN Italy 2108; SNG ANS 288 (same dies): SNG Lloyd 599; Basel -; Dewing -; Gulbenkian -. From the collection of the MoneyMuseum, Zurich. Ex Leu 76 (27 October 1999), lot 19. EF, attractive even dark gray toning, minor flan flaw on obverse. Fine style, well centered and struck. Estimated at $5,000.
Roman Imperial Coinage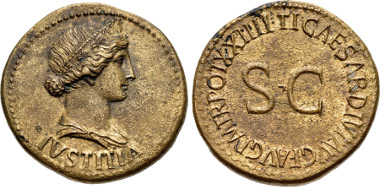 Lot 1008: Tiberius. AD 14-37. Æ Dupondius (29mm, 14.75 g, 12h). Rome mint. Struck AD 22-23. RIC I 46 (Tiberius); BMCRE 79-80 (Tiberius); BN 57-61 (Tiberius); AdG p. 39 (this coin). From the collection of the MoneyMuseum, Zurich. Ex Numismatica Ars Classica 15 (18 May 1999), lot 279. EF, lovely Tiber patina, minor surface roughness, traces of deposits. Fine style portrait. Estimated at $10,000.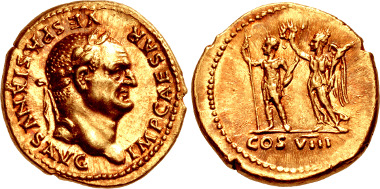 Lot 1048: Vespasian. AD 69-79. AV Aureus (19mm, 7.35 g, 6h). Rome mint. Struck AD 77-78. RIC II 935; Calicó 624-624a; BMCRE 204; BN 181-2; Biaggi 317; AdG p. 35 (this coin). From the collection of the MoneyMuseum, Zurich. Ex Leu 72 (12 May 1998), lot 423. Superb EF, attractively toned. Estimated at $20,000.
Byzantine Coinage
Lot 1322: Justinian II. Second reign, 705-711. AV Solidus (20mm, 4.44 g, 6h). Constantinople mint. Struck circa 705. DOC 1; MIB 1; SB 1413; Kampmann 21 (this coin). From the Collection of the MoneyMuseum, Zurich. Ex Münzen und Medaillen AG FPL 603 (Christmas 1998), no. 143; Leu 50 (25 April 1990), lot 407. Superb EF, lustrous, a few deposits on obverse. Well struck. Estimated at $3,000.
To browse through the complete auction catalogue click here.
Printed catalogs for Triton XVIII will be available after December 1, 2014. To order a catalog, please visit CNG's website. Catalogs are $50 to North American addresses, and $75 to the rest of the world. Payment may be made by U.S. $ check or Visa/MasterCard. Catalogues will be mailed to customers on CNG's active mailing list.
Lot viewing for Triton XVIII will begin on Sunday, January 4th, from 1PM until 7PM in the Carnegie Suite, located on the 18th floor of The Waldorf-Astoria Hotel. The complete lot-viewing schedule for Triton XVIII is:
Sunday, January 4, 2015 – 1PM until 7PM;
Monday, January 5, 2015 – 9AM until 7PM;
Tuesday, January 6, 2015 – 8AM until 6PM; and
Wednesday, January 7, 2015 – 8AM until Noon.
Auction lots will also be available for viewing at the Pennsylvania offices of CNG from Monday, December 1st, 2014 until Wednesday, December 31st, 2014 by appointment only, with the exception of Friday and Saturday, December 12-13, 2014, when the lots will be on exhibit at the San Francisco Historical Bourse (SFHB). The SFHB is held at the Holiday Inn Golden Gateway, Van Ness and California Streets, San Francisco, CA from 10AM until 6PM each day. Please note that CNG's office hours will be limited during the holiday season.