[bsa_pro_ad_space id=4]
27-03-2018 – 01-01-1970
Electronic Auction 417
CNG's Electronic Auction 417 online
CNG's Electronic Auction 417 closing on 28 March 2018, beginning at 10 AM ET, features 725 lots.
Lot 48: Kings of Macedon. Alexander III, 336-323 B.C. Drachm. Lampsakos. EF, lustrous. Estimate: 300 USD.
In the Greek section, collectors find another opportunity to acquire pieces from both the Colin E. Pitchfork Collection of Alexander-type coinage and the BCD Collection of Thessalian coins.
Lot 554: Kings of Northumbria, Aethelred II, 1st reign, 841-843/4. AE styca. York mint, Brother, moneyer. VF, brown surfaces. Ex Archbishop Sharp Collection (1644-1714); 1695 Rippon Hoard. Estimate: 75 USD.
Later in the sale, British collectors can once more seek specimens from the Archishop Sharp Collection (1644-1714), this time a selection of Northumbrian stycas pedigreed to the 1695 Rippon Hoard.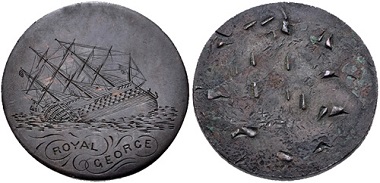 Lot 606: Great Britain. Hand engraved copper token. Ca. 1782. On the sinking of the Royal George. VF. Estimate: 150 USD.
The sale is rounded out by a lovely group of 17th century British farthing and halfpenny tokens, several of which are ex Norweb, as well as yet another large selection of group lots.
To view the sale online, click here.