[bsa_pro_ad_space id=4]
26-06-2018 – 01-01-1970
Electronic Auction 423
Classical Numismatic Group Electronic Auction 423
CNG's Electronic Auction 423 features 652 lots closing on 27 June 2018, beginning at 10 AM ET.
Lot 84: Kings of Macedon. Antigonos I Monophthalmos as Strategos of Asia, 320-306/5 BC. Tetradrachm in the name and types of Alexander III., dated RY 4 of an uncertain king (306/5 BC), Sidon mint. From the Colin E. Pitchfork Collection. Near EF. Estimate: $300.
This auction sees the return of the BCD, Pitchfork, and Belgica Collections, offering Thessalian bronze and silver issues, …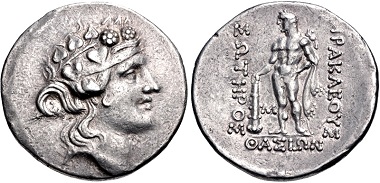 Lot 22: Islands off Thrace, Thasos. Tetradrachm, circa 140-110 BC. Good VF, toned. Estimate: $300.
… Alexander-type tetradrachms, and Thracian & Macedonian coinage, respectively.
Lot 10: Skythia, Geto-Dacians. Koson. Stater, mid 1st century BC. From the WRG Collection. EF. Estimate: $1,000.
The sale also presents initial offerings from the WRG Collection, scattered throughout the sale, …
Lot 525: German Empire. Silver medal on Paul von Hindenburg, 1914. Near EF. Estimate: $100.
… as well as further selections from "Mors in Nummis", a group of skeleton & death-themed coins, tokens, and medals from the HJR Collection.
To view the sale online, click here.