[bsa_pro_ad_space id=4]
12-09-2017 – 01-01-1970
CNG Auction 106
CNG Auction 106
Classical Numismatic Group presents CNG 106, an Internet and Mail Bid Sale closing electronically on Wednesday, 13 September 2017, from 10 AM ET (U.S.). This sale offers 1151 lots with a presale estimate of $2.14 million.
Lot 291. Pantikapaion. Circa 340-325 BC. AV Stater. EF. Estimated at $30,000. Only the Fifth Known.
CNG's annual autumn sale features Greek, Celtic, Oriental Greek, Central Asian, Roman Provincial, Roman Republican, and Roman Imperial coinage. Additionally, there are featured selections of Byzantine, Early Medieval, Islamic, World, World Medals, United States, British, and British Medals.
CNG 106 features Greek and Roman coins from the Bernert, West, and WN Collections, as well as diverse selections from the RAJ and Norman Frank Collections.
The Greek and Oriental Greek sections are highlighted by coins of Thrace and Macedon from the Belgica Collection, a Delphi tridrachm from the Ghazzat Hoard, a Kroisos prototype gold stater, selections of Oriental Greek and Central Asian coins from the Dr. Wilfried Pieper Collection, Persis and Sasanian coins from the Nisa Collection, and Kushan coins from the François Righetti collection.
The Roman Provincial section of CNG 106 also features coins from the François Righetti Collection, and a diverse selection of Roman gold coins, including a Caligula and Agrippina aureus, highlights the Roman coinage section.
Lot 1128. Tudor. Elizabeth I. 1558-1603. 'Portcullis' money. VF, toned. Rare. Estimated at $10,000.
The Byzantine section features another offering of coins from the Iconodule Collection, as well as an extremely rare Constantine VII and Zoe gold solidus. The World coins and medals section is highlighted by a contemporary boxed set of Napoleonic medals. The auction concludes with a diverse selection of British coinage and medals, including an extremely rare sceatt of Eardwulf, a Torksey penny of Cnut, and an exceptional emaciated groat of Henry V.
Catalogs for CNG 106 have been mailed to our active mailing list and bidding is open on the site. Some of the individual highlights from CNG 106 are:
Lot 280.
Ex Charles Gillet Collection
Lot 280: Elis, Olympia. 83rd-85th Olympiad. 448-440 BC. AR Stater (22mm, 12.18 g, 10h). Eagle, wings spread, in flight right, holding dead hare in its talons and tearing at it / Vertical thunderbolt with volutes above and wings below; A (F retrograde) flanking; all within incuse circle. Seltman, Temple 59 var. (dies AK/– [unlisted rev. die]); BCD Olympia 31 var. (normal ethnic; same obv. die); HGC 5, 302 var. (same; same obv. die as illustration); SNG Delepierre 2056 (same rev. die); Gillet 967 (this coin). Good VF, old collection tone, minor edge split. Estimated at $10,000.
From the RAJ Collection. Ex CNG Inventory 724938 (February 2001); K. Davis FPL 33 (January 2001), no. 51; Charles Gillet Collection, 967.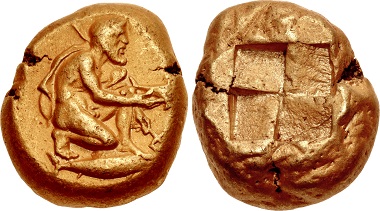 Lot 315.
Lot 315: Mysia, Kyzikos. Circa 450-330 BC. EL Stater (16.5mm, 16.02 g). Poseidon, nude but for cloak hanging over his left shoulder, kneeling right, holding dolphin in extended right hand, left hand holding trident downward, on tunny right / Quadripartite incuse square. Von Fritze I 146; Greenwell 6; cf. Boston MFA 1516 = Warren 1428 (hekte); SNG BN –; BMC 62; Gillet –; Gulbenkian –; Hunt II 462 = NAC 66, lot 50; Jameson –; Myrmekion 99; Rosen –; Weber –; CNG 105, lot 199; M&M AG 47, lot 489. VF, toned. Very rare, Greenwell noted only two examples (in the BM and a private collection), and CoinArchives includes only the Hunt and CNG 105 pieces. Traité notes an example in Paris, but this is erroneous, and the illustration listed for that example is actually the BM coin. Estimated at $5,000.
Lot 544.
Partially Inscribed Tetradrachm Vadfradad (Autophradates) II
Lot 544: Kings of Persis. Vadfradad (Autophradates) II. Early-mid 2nd century BC. AR Tetradrachm (25.5mm, 16.66 g, 12h). Istakhr (Persepolis) mint. Bearded head right, wearing diadem and kyrbasia adorned with eagle / Fire temple of Ahura-Mazda; above, half-figure of Ahura-Mazda; to left, Vadfradad standing right, trace of bow before; to right, eagle standing left on standard; pt (= "f(ra)t(arak?)") in Aramaic to right of altar. K&M 3/1 var. (no legend on rev.); cf. DeMorgan, p. 403 and pl. XXVIII, 8 (for obv.; same die); Sunrise 574 var. (same); cf. MACW 736 (drachm; wtprdt only); cf. CNG 97, lot 440 (tetradrachm with full Aramaic legend). Good VF, toned. Struck in high relief. Possibly unique variety of an extremely rare issue with reverse inscription. Estimated at $10,000.
Lot 705.
Caligula Honors His Mother
Lot 705: Gaius (Caligula), with Agrippina Senior. AD 37-41. AV Aureus (19.5mm, 7.77 g, 10h). Lugdunum (Lyon) mint. Struck AD 40. C • CAESAR • AVG • PON • M • TR • POT • III • COS • III, laureate head of Gaius (Caligula) right / AGRIPPINA • MAT • C • CAES • AVG • GERM, draped bust of Agrippina Senior right. RIC I 21; Lyon 178/2 (D182/R180); Calicó 327a (same obv. die as illustration); BMCRE 22; BN –; Biaggi 196; Mazzini 5 (same obv. die); Jameson 39. Good VF, toned, light marks. Well struck on a broad flan. Rare. Estimated at $50,000.
Caligula's coinage types are largely dedicated to honoring his deceased ancestors, conveniently thereby advertising his own august lineage.
Lot 716.
Bold Portrait of Galba
Lot 716: Galba. AD 68-69. AR Denarius (18mm, 3.18 g, 5h). Rome mint. Struck circa July AD 68 – January AD 69. IMP SER G?LBA AVG, bare head right / S P Q R/ O • B/ C S in three lines within oak wreath. RIC I 167; RSC 287; BMCRE 34 corr. (head described as laureate); BN 76-7. EF, toned, some iridescence, minor porosity. Bold portrait. Estimated at $5,000.
From the WN Collection. Ex CNG Inventory 948328 (May 2013); Tkalec (28 February 2013), lot 141; Gemini VI (10 January 2010), lot 431.
Lot 768.
Vota Pvblica Ceremonies Depicted on a Marcus Aurelius Æ Medallion
Lot 768: Marcus Aurelius. AD 161-180. Æ Medallion (41mm, 69.04 g, 12h). Rome mint. Struck AD 166–167. M ANTONINVS AVG ARM PARTH MAX, laureate and cuirassed bust right / Marcus standing left, wearing toga which is drawn up to cover his head, sacrificing over tripod; to left, victimarius about to strike bull and a child holding a simpulum; in background, hexastyle temple and three attendants, one playing double flute; TR P XXI IMP IIII/ COS III in exergue. Gnecchi 51, pl. 63, 2 (same dies); MIR 18, 1034-1/35; Banti 472. Good VF, green patina, light natural roughness, faint old scratch before portrait. Extremely rare, three recorded by Gnecchi. Estimated at $20,000.
This solemn and well-balanced scene alludes to the ceremonies in observance of the vota publica.
Lot 946.
When this you see, remember me
Lot 946: Australia, Private Token Issues. Thomas Brownhill, convict, transported 1831-1832. Æ Convict Love Token (35.5mm, 23.25 g). Man standing right on shore, doffing hat, holding irons attached to his legs; to right, ship under sail right; below, T Brownhill/ aged 20 april 1, 1831/ for get me not / ~/ When this/ you see reme/mber me tho/ banished from/ my count/ry ~, all engraved on a smoothed Cartwheel-type penny. Michele Field & Timothy Millett, Convict Love Tokens (Kent Town, South Australia, 1998), p. 110 (for another token of Brownhill). Good VF. Recently discovered in a house clearance in the UK. Estimated at $2,000.
Thomas Brownhill was tried and convicted at the Warwick Assizes on 26 March 1831 for housebreaking, and sentenced to transportation. He sailed from Portsmouth on the Isabella on 27 November 1831, bound for Sydney. The voyage was marked by a mutiny of the ships crew, with fourteen being executed upon their arrival in Australia. But the convicts, Brownhill included, remained well-behaved, and are even reported to have helped the captain. Following their arrival in Australia, Brownhill was assigned to one W.T. Morris of Batemans Bay, where he died on 13 December 1840.
Brownhill is surprisingly known from another token in the Peter Lane Collection, bearing the initials and ages of his family members. Other records describe him as as literate, a Birmingham-born Protestant, and a 'fancy plater' by trade, with a tattoo on his lower right arm of a man and a woman and his initials.
Lot 1023.
Ex 1715 Plate Fleet
Lot 1023: Peru, Colonial. Felipe V. King of Spain, first reign, 1700-1724. AV 8 Escudos (29.5mm, 27.06 g, 10h). Lima mint. Dated (1)712 L M. Coat-of-arms / Crowned Pillars of Hercules set on ocean waves. Calicó 438; KM 38.2; Friedberg 7. EF. Estimated at $5,000.
From the Norman Frank Collection. Ex Baldwin's 24 (9 October 2000), lot 401; Kip Wagner Collection (sold privately to F.S. Werner and Spink); 1715 'Plate Fleet'.
The 1715 Treasure Fleet was a Spanish fleet returning with some of the wealth from its colonies in the Americas to Spain. A hurricane sank most of the ships in the fleet (eleven of the twelve ships) in the early morning of 31 July 1715 near present-day Vero Beach, Florida. Because the fleet was carrying silver, it is also known as the 1715 Plate Fleet, since plata in Spanish means silver. The wrecks were salvaged by the Real Eight Company, founded by Kip Wagner, from whose collection this piece originates.
Printed catalogs for CNG 106 are now available. To order the catalog, please call our U.S. office at (717) 390-9194. Catalogs have been mailed to customers on CNG's active mailing list. Prospective bidders may also view the virtual catalogs at CNG 106 Virtual Catalog.
The sale can be viewed online at cngcoins.com, sixbid.com, and numisbids.com.
In addition to Internet & Mail Bid Sale 106, CNG will also feature over 1000 lots from many of the same collections listed above in their Electronic Auction 406, closing two weeks later on Wednesday, 27 September 2017, from 10AM ET (U.S.). Bidding for CNG Electronic Auction 406 will begin on 6 September 2017.
CNG is currently accepting consignments for future auctions sales. Please contact the firm for further details and consignment deadlines.