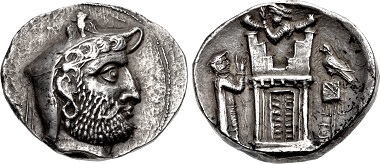 [bsa_pro_ad_space id=4]
12-09-2017 – 01-01-1970
CNG Auction 106
CNG Auction 106
Classical Numismatic Group presents CNG 106, an Internet and Mail Bid Sale closing electronically on Wednesday, 13 September 2017, from 10 AM ET (U.S.). This sale offers 1151 lots with a presale estimate of $2.14 million.
Our annual autumn sale features Greek, Celtic, Oriental Greek, Central Asian, Roman Provincial, Roman Republican, and Roman Imperial coinage. Additionally, there are featured selections of Byzantine, Early Medieval, Islamic, World, World Medals, United States, British, and British Medals.
CNG 106 features Greek and Roman coins from the Bernert, West, and WN Collections, as well as diverse selections from the RAJ and Norman Frank Collections.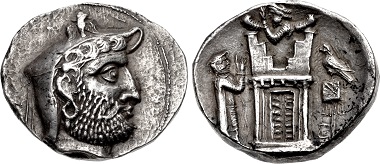 Lot 544: Kings of Persis. Vadfradad (Autophradates) II. Early-mid 2nd century BC. AR Tetradrachm. Istakhr (Persepolis) mint. Good VF. Estimate: 10,000 USD.
The Greek and Oriental Greek sections are highlighted by coins of Thrace and Macedon from the Belgica Collection, a Delphi tridrachm from the Ghazzat Hoard, a Kroisos prototype gold stater, selections of Oriental Greek and Central Asian coins from the Dr. Wilfried Pieper Collection, Persis and Sasanian coins from the Nisa Collection, and Kushan coins from the François Righetti collection.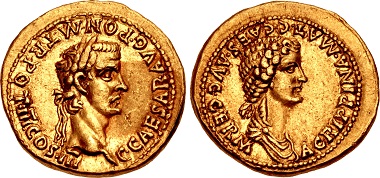 Lot 705: Gaius (Caligula), with Agrippina Senior. AD 37-41. AV Aureus, AD 40. Lugdunum (Lyon) mint. Good VF. Estimate: 50,000 USD.
The Roman Provincial section of CNG 106 also features coins from the François Righetti Collection, and a diverse selection of Roman gold coins, including a Caligula and Agrippina aureus, highlights the Roman coinage section.
Lot 890: Constantine VII Porphyrogenitus, with Zoe. 913-959. AV Solidus. Constantinople mint. Struck 6 February 914. EF. Estimate: 20,000 USD.
The Byzantine section features another offering of coins from the Iconodule Collection, as well as an extremely rare Constantine VII and Zoe gold solidus.
The World coins and medals section is highlighted by a contemporary boxed set of Napoleonic medals.
Lot 1128: Tudor. Elizabeth I. 1558-1603. AR Eight Testerns. 'Portcullis' money. Tower (London) mint. VF. Estimate: 10,000 USD.
The auction concludes with a diverse selection of British coinage and medals, including an extremely rare sceatt of Eardwulf, a Torksey penny of Cnut, and an exceptional emaciated groat of Henry V.
Printed catalogs for CNG 106 are now available. To order the catalog, please call our U.S. office at (717) 390-9194. Catalogs have been mailed to customers on CNG's active mailing list. Prospective bidders may also view the virtual catalogs at CNG 106 Virtual Catalog.
The sale can be viewed online at the company's website.
In addition to Internet & Mail Bid Sale 106, CNG will also feature over 1000 lots from many of the same collections listed above in their Electronic Auction 406, closing two weeks later on Wednesday, 27 September 2017, from 10AM ET (U.S.). Bidding for CNG Electronic Auction 406 will begin on 6 September 2017.
CNG is currently accepting consignments for future auctions sales. Please contact the firm for further details and consignment deadlines.