[bsa_pro_ad_space id=4]
05-09-2017 – 01-01-1970
Electronic Auction 405
Classical Numismatic Group Electronic Auction 405
CNG's Electronic Auction 405 features 759 lots and will be closing on Wednesday, 6 September, beginning at 10 AM ET.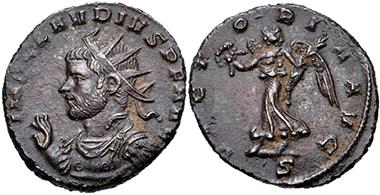 Lot 477: Claudius II Gothicus. AD 268-270. Antoninianus. Mediolanum (Milan) mint, 2nd officina. Near EF. Estimate: 150 USD.
The sale presents the first installment of the Finn Johannessen Collection of coins of Claudius II Gothicus.
Lot 237: Phoenicia, Tyre. 126/5 BC-AD 65/6. AR Shekel. VF. Estimate: 300 USD.
And selections from the Colin E. Pitchfork Collection of Carthaginian issues, further pieces from the BCD Collection of Thessaly,…
Lot 342: Cilicia, Syedra. Salonina. Augusta, AD 254-268. Good VF. Estimate: 300 USD.
…Greek and Roman Provincial from the Steve Cooper Collection, …
Lot 578: Tiberius II Constantine. 578-582. AE Three-quarter Follis-30 Nummi. Cyzicus mint. VF. Estimate: 200 USD.
…and additional Byzantine coins from the Iconodule Collection.
To browse the entire eAuction catalogue, please click here.