[bsa_pro_ad_space id=4]
08-08-2017 – 01-01-1970
Electronic Auction 403
Classical Numismatic Group Electronic Auction 403
CNG's Electronic Auction 403 features 801 lots and will be closing on Wednesday, 9 August, beginning at 10 AM ET.
Lot 205: Kings of Lydia. Kroisos, circa 564/53-550/39 BC. Stater. VF. Estimate: 20,000 USD.
The Greek section of this sale features a number of Alexander-type gold staters, mostly in mid to high grades, …
Lot 108: Thessaly, Thessalian League. Stater, late 2nd-mid 1st centuries BC. Good VF. Estimate: 100 USD.
…along with another installment of the BCD Collection of Thessalian coinage.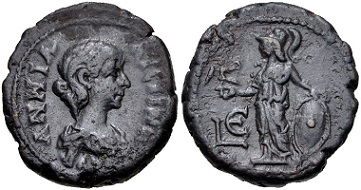 Lot 444: Egypt, Alexandria. Annia Faustina. Potin Tetradrachm, AD 221. VF. Estimate: 750 USD.
Also available again are selections from the Nisa Collection of Parthian coins and another large run of fantastic Roman-Egyptian tetradrachms from the Hermanubis Collection.
Lot 712: Egypt, Republic, 1953-present. 5 Pounds. Superb EF. Estimate: 1,000 USD.
The sale is rounded out by a selection of uncirculated and encapsulated world gold issues.
To browse the entire eAuction catalogue, please click here.