[bsa_pro_ad_space id=4]
11-07-2017 – 01-01-1970
Electronic Auction 401
Classical Numismatic Group Electronic Auction 401
CNG presents Auction 401 closing on 12 July, 2017 featuring 769 lots. This sale again offers a number of issues from the BCD Collection of Thessaly and the J. Cohen Collection, featuring the coins of Central Greece.
Lot 21: Macedon. Philip III Arrhidaios, 323-317 BC. Stater, circa 323-318/7 BC, Babylon mint. Good VF, underlying luster. Apparently unique. Estimate: $1,500.
An impressive group of Macedonian gold and silver is also available.
Lot 330: Egypt, Alexandria. Antoninus Pius, AD 138-161. Drachm, RY 13 (AD 149/150). Ex Robert L. Grover Collection. VF. Estimate: $100.
In the Roman sections, three significant collections are on offer: Roman Egyptian coinage from the Robert L. Grover Collection (Art Institute of Chicago), …
Lot 415: Cnaeus Pompey Jr. Denarius, Summer 46-Spring 45 BC, Corduba mint. From the Archer M. Huntington Collection. VF. Estimate: $300.
… Roman Republican silver and bronze from the Andrew McCabe Collection, and Roman Republican and Imperial issues from the Archer M. Huntington Collection.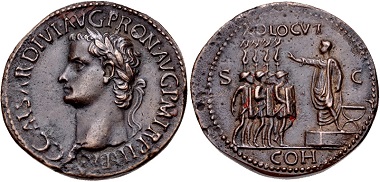 Lot 651. Gaius (Caligula). AD 37-41. Bronze Cast "Sestertius". Paduan type. Later cast after Giovanni da Cavino, 1500-1570. Good VF. Estimate $100.
The sale concludes with an extensive run of Paduan-type 'sestertii' and a group of English copper tokens.
To browse the entire eAuction catalogue, please click here.