[bsa_pro_ad_space id=4]
15-05-2018 – 01-01-1970
CNG Auction 108
CNG's sale 108 featuring a great selection of superb and exceptional specimens
Auction 108 of Classical Numismatic Group will be closing electronically on Wednesday, 16 May 2018, from 10 AM ET (U.S.). This internet and mail bid sale offers 1,243 lots with a presale estimate of $2.34 million.
CNG's annual spring sale features Greek, Celtic, Oriental Greek, Central Asian, Roman Provincial, Roman Republican, and Roman Imperial coinage. Additionally, there are featured selections of Romano-Byzantine weights, Byzantine, Early Medieval, Islamic, World, Siege, and British coinage, as well as a small selection of antiquities.
CNG 108 is highlighted by a number of collections and individual rarities, which make up the majority of coins on offer. Some of the individual highlights from CNG 108 are:
Lot 19.
Exceptional EL 100 Litrai
Lot 19 – Sicily, Syracuse. Agathokles. 317-289 BC. EL 100 Litrai – Stater (18.5mm, 6.98 g, 9h). Struck circa 310-306/5 BC. Jenkins Group D, dies a/a; BAR Issue 13; HGC 2, 1293; SNG Lloyd 1433; BMC 252 = GPCG pl. 26, 33; Jameson 844 (all from the same dies). Ex Palombo 12 (6 December 2013), lot 11. EF, hairline flan crack. Fine style. Better centered and as well struck as the Prospero specimen that recently resold in New York Sale XXXII (lot 100) for hammer $50,000. Estimated at $30,000.
Lot 171.
Extremely Rare Kyzikos Stater with Impressive Portrait of Zeus Ammon
Lot 171 – Mysia, Kyzikos. Circa 450-330 BC. EL Stater (17mm, 15.99 g). Horned and bearded head of Zeus Ammon facing slightly left / Quadripartite incuse square. Von Fritze I 183; Greenwell –; Boston MFA 1559 = Warren 1425 = Traité II 2624, pl. 173, 32; SNG BN –; SNG von Aulock –; BMC –; FSD –; Gillet –; Gulbenkian –; Jameson –; Myrmekion 100 (same die and punch); Rosen –; Weber –; Sotheby, 8 July 1996, lot 60 = Leu 59, lot 125. Good VF. Exceptional for this extremely rare issue, apparently the fourth known. Estimated at $20,000.
Lot 282.
Tetradrachm of Seleukos I Nikator
Lot 282 – Seleukid Empire. Seleukos I Nikator. 312-281 BC. AR Tetradrachm (26mm, 17.05 g, 10h). Susa mint. Struck circa 305/4-295 BC. Head of hero (Alexander or Seleukos?) right, wearing helmet covered with panther skin and adorned with the ear and horns of a bull, Nike standing right, placing wreath on trophy; monogram to lower left, monogram in lower middle field. SC 173.4; ESMS Tr.7 (A4/P1 – this coin referenced and illustrated); ESM 426; HGC 9, 20; CSE 1023 (this coin); SNG Spaer –. From the MNL Collection. Ex Jonathan K. Kern Collection; Numismatic Fine Arts XXVI (14 August 1991), lot 96; Numismatic Fine Arts XVIII (31 March 1987), lot 276; Arthur Houghton Collection, 1023. EF, toned. Estimated at $15,000.
There is much debate concerning the identity of the hero on the obverse of this type. The most common suggestions are Alexander the Great, Seleukos I, or a personification of Dionysos. See O.D. Hoover, "The Identity of the Helmeted Head on the 'Victory' Coinage of Susa," SNR 81 (2002), for the most recent treatment of this debate.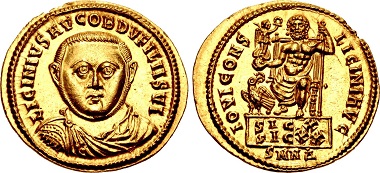 Lot 678.
Among the Finest Known – Licinius I Facing Aureus
Lot 678 – Licinius I. AD 308-324. AV Aureus (21.5mm, 5.33 g, 11h). Decennalia issue. Nicomedia mint, 4th officina. Struck AD 321-322. LICINIVS AVG OB D V FILII SVI, bareheaded, draped, and cuirassed facing bust / IOVI CONS LICINI AVG, Jupiter, holding Victory on globe in right hand and scepter in left, seated facing on high-backed throne set on platform; at feet to left, eagle standing left, head right, holding wreath in beak. RIC VII 41; Depeyrot 31/1; Calicó 5094; Hunter –. Ex Tkalec (24 October 2003), lot 412. Superb EF, fully lustrous. Exquisitely detailed and artistically important facing portrait struck in high relief, paired with an equally skilled and evocative Jupiter. Among the finest known. Estimated at $75,000.
Earlier facing head portraits can be found on aurei of Postumus, Carausius, Maxentius, and Constantine I, but the great rarity of these issues today suggests they were only struck in very limited quantities for special occasions or were experiments that failed to gain traction. The facing head aurei of Licinius I and II, struck for their tenth and fifth anniversaries, respectively, thus mark the first effort to put facing-head aurei into general circulation in somewhat sizeable numbers and set a precedent for what will eventually become the norm for later Roman and Byzantine issues.
It is often remarked that while earlier portraits of emperors attempt to capture individuality (not necessarily reality), late Roman portraits subsume individuality in favor of a quasi-divine image. While the Licinian issues are not devoid of individualized features (see for example, NAC 62, lot 2093, which shares the same reverse die as our coin but carries a more mature portrait of Licinius II wearing long sideburns), through their rigid frontality and intense gaze they transfix the viewer in a startlingly bold and immediate way. They are, like the religious icons of their time, both didactic and devotional.
Lot 1043.
Siege AV 4 Gulden Klippe from Brussels
Lot 1043 – Dutch Revolt (Nederlandse Opstand), Low Countries. Brussel. Blockaded by the Spanish, 1584-1585. AV 4 Gulden Klippe (23x23mm, 3.39 g). Dated [15]84. Vanhoudt I 275; Gelder, Noodmunten, 185; Delmonte, Or 132; Maillet 7; Lasser –. In NGC encapsulation, 4212881-001, graded MS 61. Estimated at $15,000.
Ex Archer M. Huntington Collection, ANS 1001.1.1246 (Numismatica Genevensis SA VII, 27 November 2012), lot 593 (hammer 20,000 CHF on an estimate of 4000 CHF).
Reportedly, a total of 661 examples of this denomination were struck.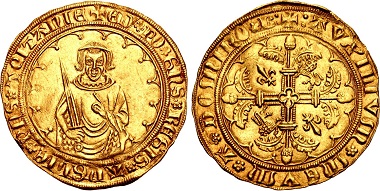 Lot 1143.
Superb Edward 'the Black Prince' AV Hardi d'Or
Lot 1143: Plantagenet (Anglo-Gallic). Edward the Black Prince. As Prince of Aquitaine, 1362-1372. AV Hardi d'Or (26.5mm, 3.95 g, 6h). Bordeaux mint. Struck circa 1368-1371/2. AGC 178, 3/a; Elias 161; Elias Collection 250 var. (obv. legend); Schneider 60 var. (same); Duplessy, Féodales 1122; Poey d'Avant 2940; SCBC 8128. Superb EF, unobtrusive mark in obverse legend. Well struck and with remarkably detailed portrait. Estimated at $15,000.
Humphrey Sutherland praised the restraint and foresight of the unknown master who designed this type, who "in [an] age when sumptuous decoration of all redundant space was the normal fashion, was content – and dared – to leave the field totally devoid of ornament within its encircling tressure. By this means, he concentrated upon this larger and more personal portrait, so lifelike in its almost voluptuous forms, an emphasis which the Italian artists themselves were only just beginning to estimate and enjoy." Art In Coinage, p. 154.
Printed catalogs for CNG 108 are now available. To order the catalog, please call CNG's U.S. office at (717) 390-9194. Catalogs have been mailed to customers on CNG's active mailing list. Prospective bidders may also view the CNG 108 Virtual Catalog.
The sale can be viewed online at the CNG website, Sixbid and Numisbids.
CNG is currently accepting consignments for future auctions sales. Please contact the firm for further details and consignment deadlines.
For further details and any additional information, please contact CNG, Inc. at:
Classical Numismatic Group, Inc.
P.O. Box 479
Lancaster, PA 17608-0479
Telephone: (717) 390-9194
Fax: (717) 390-9978
Email