[bsa_pro_ad_space id=4]
10-10-2017 – 01-01-1970
Electronic Auction 407
Classical Numismatic Group Electronic Auction 407
CNG presents Electronic Auction 407 featuring 870 lots. The auction will be closing Wednesday, 11 October, beginning at 10 AM ET.
Lot 69: Thessaly, Ainianes. Hemidrachm, circa 350s-340s BC. VF. From the BCD Collection. Estimate $100.
This sale offers additional coins from several notable groups – the BH Webb Collection, the BCD Collection of Thessalian, the Johannessen Collection of Claudius Gothicus, the Hermanubis Collection of Alexandrian, …
Lot 602: Constantius II. AD 337-361. Siliqua, AD 351-355, Sirmium mint. Good VF. Ex 1887 East Harptree, Somerset Hoard (IRBCH 1424). Estimate $300.
… and siliquae from the 1887 East Harptree Hoard.
Lot 287: Cyrrhestica, Hierapolis. Severus Alexander, with Julia Mamaea. AD 222-235. VF, brown patina. From the François Righetti Collection. Estimate $100.
Additionally, the current auction presents an impressive array of Roman provincial issues from the François Righetti Collection, …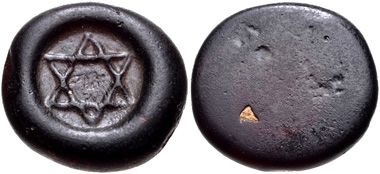 Lot 790: Islamic, Commercial Weights. Fatimid Egypt. Circa 7th-12th centuries. Glass 2 Dirham Weight. Intact, deep red-brown hue. Estimate $200.
… as well as a selection of ancient and early modern weights.
You can browse through the complete auction catalogue by clicking here.