[bsa_pro_ad_space id=4]
07-11-2017 – 01-01-1970
Electronic Auction 409
Classical Numismatic Group Electronic Auction 409
Featuring 987 lots, CNG's Electronic Auction 409 will be closing on Wednesday, 8 November, beginning at 10 AM ET.
Lot 320: Ptolemaic Kings of Egypt. Arsinoe II Philadelphos. AV Mnaieion – 'Oktadrachm'. Alexandreia mint. Struck under Ptolemy II, circa 253/2-246 BC. Good VF. Estimate: 7500 USD.
This sale features a number of impressive groups and individual pieces. Beginning in the Greek section, CNG is are excited to present a selection of Alexandrine tetradrachms from the Will Gordon Collection, a further offering of Thessalian issues from the BCD Collection, and an impressive group of Ptolemaic gold oktadrachms.
Lot 328: Baktria, Greco-Baktrian Kingdom. Diodotos I Soter, circa 255-235 BC. Tetradrachm. In the name of Antiochos II of Syria. Mint A (near Ai Khanoum). From the Dr. Wilfried Pieper Collection. VF. Estimate: 300 USD.
The Oriental Greek and Central Asian sections offer an array of coins from the Dr. Wilfried Pieper Collection, many of which are illustrated or cited in his work/Ancient Indian Coins Revisited.
Lot 487: Anonymous, circa 225-217 BC. Aes Grave Semis. Rome mint. VF. Estimate: 1000 USD.
Roman section forms the impressive core of this sale, featuring a notable selection of aes grave from an European collection, a number of Imperial bronzes purchased from European dealers in the early 20th century, and another portion of Claudius Gothicus issues from the Finn Johannessen Collection.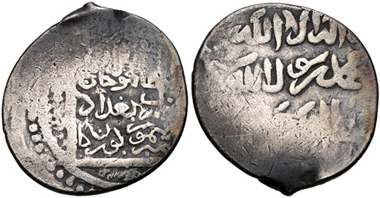 Lot 850: Islamic, Persia (Post-Mongol). Timurids. Timur (Tamerlane). AH 771-807 / AD 1370-1405. AR Tanka. Citing Chagatai khan Mahmud. Baghdad mint. (Dated AH 795; AD 1393). From the BRN Collection. Very rare. VF. Estimate: 300 USD.
Finally, Electronic Auction 409 presents a significant offering of Islamic issues, including figural bronzes from the Norman Frank Collection and a historically important group of Timurid issues from the BRN Collection.
To browse the entire eAuction catalogue, please click here.